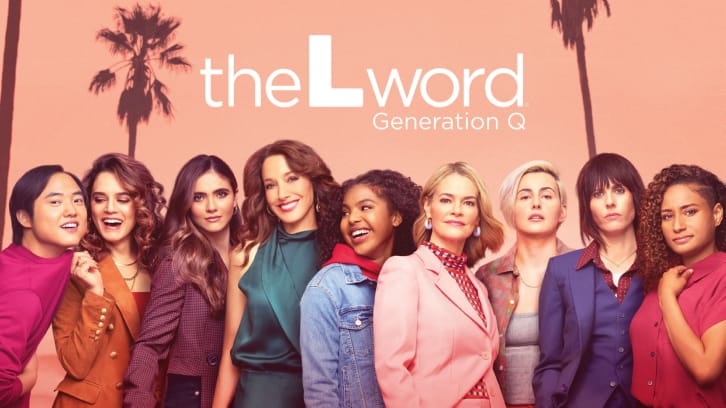 Welcome to this week´s review of The L Word: Generation Q. Only one more left folks. We start outside of the California Arts Center, the world-renowned former host of "Provocations," an art exhibit which inspired counter-protests from religious conservatives which inspired Bette (Jennifer Beals) and her progressive friends to create a human chain to protect the controversial artists attempting to enter the building against formidable odds — a situation that eventually landed Bette Porter in jail overnight where she got to have IRL phone sex with her secret lover, The Carpenter. Today the CAC is hosting a different kind of protest — it's not conservatives protesting the artists, it's artists protesting the museum. The artists chant "Hey Hey, Ho Ho, Núñez has got to go!" Pippa (Vanessa Williams) embraces Bette and tells her "this will be your legacy." I would like to suggest that perhaps it is also Pippa's legacy because it was her idea? Not sure how i feel about this plot on the show, mainly because it took a fight between Bette and Dani (Arienne Mandi) to get here and also because it just feels like the stakes remain very low, which is usually a good thing when it´s well written but i don´t think that´s happening here, with that said i will watch any episode ever made of this show, should they continue to make it, they haven´t renew it for a third season yet and i am scared, but i am not starting on a negative note.
After last week´s launch party for Alice's book, cleverly entitled Don't Ask Alice (Leisha Hailey) , we cut to a hot reporter from Out Magazine is interviewing her about the memoir. This writer has got very hard-hitting questions such as, "were you hoping to inspire anyone with your book?" Her follow-up question is more of a statement: she notes that a big chunk of the book was about Nat, and then asks if Alice is seeing anybody now. Alice finds herself immediately flustered. Mainly because the reporter assumes there´s a lucky "lady" so Alice feels conflicted to say she´s dating a man.
We go to the hospital, Angie's (Jordan Hull) sitting with her Moms nervously awaiting the big face-to-face with her donor, Marcus Allenwood, and entertaining prom-related chit-chat with Mama B and Mama T, the latter of whom cannot believe Angie's old enough to go to prom! Bette can't wait to see Angie in her suit! Angie relays that she's borrowing cufflinks from Carrie, and Bette offers her own cufflinks, but listen, Angie is wearing Carrie's cufflinks okay? Cufflink Chat is interrupted by the arrival of Kayla's Mom, Sheila (Leslie L. Miller), who pulls Bette aside for a very brief one-on-one. Bette returns from their discussion with the news that Angie's not gonna be able to meet Marcus today because his family has been "struggling with this kind of in the way that we were before and they're still kinda going through it and she seemed really really sorry but today is just not a good day." We then jet back to the Marriot where Sophie's (Rosanny Zayas) experiencing ambient anxiety and carrying a lot of binders and confirms to Alice that she doesn't have anything in her teeth. Then Sophie asks if Alice has heard from Finley (Jacqueline Toboni) at all, but Alice has not — the last time she saw Finley was at the launch party the night before. Alice suggests that perhaps Finley took a wrong turn on a scooter, as drunk Birders are wont to do. Sophie tries to laugh it off but her devastation and genuine concern is all over her sad face.
Onto a better plot to a resplendent morning in a mysterious ground floor location in which Dani and Gigi (Sepideh Moafi) are having strawberries for breakfast and Dani's losing it over Bette Porter's protest making the cover of the LA Times. Gigi reminds her that Bette was almost mayor, so she probably knows people who know people. Remember that reporter Bette went on a date with at the end of Season One? I wonder what happened there. Dani's got a hot evening ahead of her, though: attending Eli's recorder concert with her gorgeous girlfriend Gigi! She promises Dani she'll bring edibles for them both to enhance the sound of music. Gigi reassures Dani — who isn't hurt re: Bette, simply angry re: Bette — that she'll find a way to spin this little tiff because that's what she does so well! I can not express how much i love these two as individuals and as a couple, definition of healthy rigth here everybody take notes. Can we just please give them more screen time next season, which i am manifesting to happen.
At Bette's Hollywood Dream House, Tina (Laurel Holloman) and Bette are prepping for a pre-prom party and Angie is actively mad at them because Marcus didn't want to meet her. I do honestly enjoy the Bette and Tina Parenting Together scenes, even when they are inevitably riddled with tension. Which i think is just fan service at this point, these two have gone through so much together, i don´t think i want to re live the whole will they, won´t they, not at this point, so hopefully it gets resolved by the season finale. Meanwhile Dani's knee deep in trial prep, answering questions about whether or not her Dad was a good Dad and if he ever lied to her about anything. In the dead center of a generous statement about his worthiness as a father, Rodolfo (Carlos Leal) charges into the room yelling about The LA Times cover story. Dani says her contacts at the CAC have assured her that if they lay low, it'll blow over. Rodolfo says there are artists out there protesting their own art! "Make it go away," he commands. Men should not be allowed in this show honestly. Except Tom, he´s okay.
Let us now return to Porter's Pre-Prom Party of a Lifetime at Bette's Hollywood Dream House! Jordi's (Sophie Giannamore) struggling to properly affix a boutonniere while Angie complains about Bette not fighting hard enough for her to meet Marcus. Jordi softly suggests Angie save her anger for tomorrow because you cannot be angry today, not on Prom Day! Angie smiles and says she'll give it a whirl, but the look she gives her Mom shortly thereafter suggests she is not trying very hard. Guess who's here? It's Shane (Katherine Moennig) and Tess (Jamie Clayton) and everybody's stoked to see their fave ship sail through the doors exuding mutual shared affection. Everybody's so very happy for Tess and Shane. Bette is disappointed to learn that Shane's contribution to the party, like Alice's, is alcoholic — she's brought an entire case of Heineken.
We go to Maribel´s (Jillian Mercado) family house, Micah's (Leo Sheng) like, um, does your Mom not know that we're dating? Honestly this seems like something they should've gone over in the car ride there. Or like way before that. Back at the Artists Revolution at the CAC, Mister CAC tells Dani the board is in a tizzy and that Bette Porter turned all of the artists against them and now nary a painting is willing to be hung in the Núñez Wing. Back at Bette´s Tina thanks Tess and Shane for getting Carrie home the other night, explaining that she seemed "really down" when Tina got back. Tess really just thinks that Carrie had too much to drink and wants Tina to know that for what it's worth, she really liked her. Did she? Tess continues that Carrie seems like a sweet girl who just need a little bit of help being happy sometimes, similar to legendary lesbian misanthrope Eeyore. Furthermore, Tess feels that Shane is also an Eeyore. Tina's curious if Bette said anything to Carrie 'cause she's getting vibes that something went down. We then cut to the laundry room where Tess implores Shane to tell Tina that Carrie told her she was having doubts. Shane refuses, insisting Carrie was simply drunk and having a bad night. I agree that Shane shouldn't relay this specific scoop to Tina, but she really ought to tell her that Carrie seems to be struggling a bit with fitting in to L.A. and had an unsatisfactory encounter with Bette!
Tess and Shane start making out but are immediately interrupted by a teenage boy opening the wrong door into the wrong room. But an additional distraction appears: it's Sophie, giving Tess a ring-a-ling. And then another call. And then once again a call — so Tess takes it as Alice, Shane and Bette gather in the living room to take as many cell phone pictures of these strange children from as many angles as possible, indoors, in front of a large picture window. Meanwhile Jordi and Angie are In Conflict because Angie's too in her feelings to focus on the monumental event taking place that evening. By the end of the episode Dani arrives home to her Castle in the Sky after an unpleasant day attempting to get Black artists on board with her Dad's evil corporation, one airpod still decamped inside her busy ear. She's de-booting when Gigi rings to check in on Dani — Eli's recorder concert is about to begin and she might miss Frarajaca!
Angie's Gay Aunties have taken up the torch of chatting with Angie in place of her Gay Mommis. Shane says it's okay to be mad at her Moms, for example I personally am often mad at her Moms and I still would have gone to prom. Angie feels like Marcus doesn't wanna know her. Tina stands awkwardly beside a table of items while Pippa and Bette play tonsil hockey in the foyer, and then Shane and Alice clatter downstairs with Angie in tow, ready to go have an unforgettable night at prom. Tina wants to know why Bette can't be happy for her and Carrie. Bette claims that she is but Tina simply does not buy it! It's time for Tina to ask Bette about what Carrie has been telling Tina is the deal all along: "Are you still in love with me?" But before Bette can answer, Shelia is here to usher them back to Marcus's Room! At Finley's Last Dance, Finley stumbles around Dani´s apartment, she sees Gigi´s there, commenting on how nice it is and also noting, accurately, that it makes sense and "fits" that Gigi and Dani are dating now because "you're both very hot." And i agree.