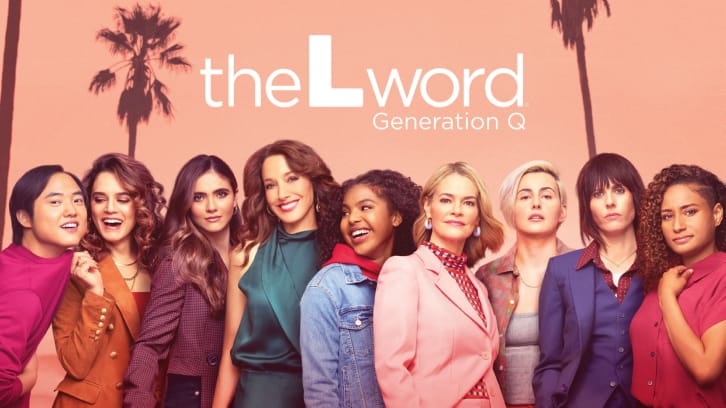 Welcome to The L Word: Generation Q last review of season two. The finale is here. As we come to the final episode of this season I just want to say that it has been an honor and a privilege to dissect this show with y'all every week and even though the past three episodes have been pretty rough (and yes, I am including the finale in that number), I will be devastated if Showtime does not renew it! (Speaking of things that will devastate me if they are not renewed: I read all your insightful and hilarious comments and remain pleased that this franchise continues to be a point of connection and community for us as lesbians but also for us as bisexuals, queers and otherwise-identified people. I love this cast and these characters and these actors and want to see them continuing to live their messy problematic lives!
I will cry forever if the show doesn´t get renewed because even with all of the streaming services and all of the content out there, The L Word, really feels like the only queer show, written, produced, directed and acted by queer folks for queer folks. Anyway, let´s get into the episode, we open in what Finley (Jacqueline Toboni) will eventually accurately refer to as "a surprise party with really bad vibes," where all of Finley's fans have assembled to stage an intervention, a very logical next step following all of the preceding steps they've leapt right over with the gusto of Olympic long jumpers. Sophie´s (Rosanny Zayas) not sure this is the best idea, perhaps because she knows Finley better than the rest of these people and knows she's not gonna respond well to a group confrontational approach! "It seems fast," Sophie accurately points out. "I don't wanna scare her and I don't wanna force her to go if she's not ready." Shane (Katherine Moennig) insists there's never a good time to do this, and Tess (Jamie Clayton) says not to worry, Finley for sure will go to rehab. Has anybody tried like, talking to her one-on-one? First? Before um, rehab? Thus Finley arrives home from soccer, flushed and sober and bitten, to find all her friends in earth tones humming around her living room like paternalistic flies.
Here's what happens: everybody sits down, tells Finley they love her and are worried about her, and invite her to attend an Alice (Leisha Hailey) financed rehab at a beautiful oceanside vista, replete with pool and a Top Chef runner-up concocting delicious meals! Alice is ready to drop around 40 grand on this kid okay. Finley says she doesn't need to drink spa water by a pool to get her shit together, which is one way in which Finley and I are different. Generally an intervention is an absolute last resort, when all prior avenues have been exhausted and the addict has failed at multiple sobriety attempts. Furthermore, an intervention serves as an opportunity for the addict's friends to share specific, detailed reports of how the addiction has impacted them and the repercussions for the addict if they refuse the offer of help.
We cut to Pippa's (Vanessa Williams) Topanga Canyon retreat, where Bette (Jennifer Beals) and Pippa are lying in bed for a little morning tongue kissing and to discuss the impending CAC opening. "I love it when we step out together all fly," Pippa says. Bette asks if Pippa would like to attend the going away party Alice is throwing herself tomorrow evening but they're interrupted by a phone call from the one and only Tina (Laurel Holloman)! The gulf between how Pippa and Bette handle relationships is well-lit here. Pippa plays with chaos and uncertainty in her work and prefers stability and clear outlines in her personal life. Bette finds order and power in her work — even her unrestrained emotional response to the art she loves is reigned in by plugging that artist into the familiar structure enabled by the Art Business — and revels in mess, impulsivity and uncertainty in her emotional life. She constantly charges head-first into relationships she's plainly unready to show up for, and she's never prioritized "getting over Tina" as a pre-condition to make commitments to others. Back at Bette's very own home, her teenage daughter Angie (Jordan Hull) is obsessing over preparations for perhaps a school trip of some kind with Jordi (Sophie Giannamore) who´s not being very understanding about Marcus dying. Jordi's curious if Angie wants to attend Marcus's funeral, but Angie refuses, saying she's not his daughter, she's not anything to him, and she could've saved him but did not.
We cut to an important building, where Gigi's (Sepideh Moafi) distracting Dani (Arienne Mandi) from the impending trial by prepping Dani for an upcoming meeting with her family, full of delightful characters including her favored brother. Also, Dani shouldn't tell Gigi's family that they've slept together. A heckler tells Dani that her Dad is guilty, typical city hall stuff. The most important thing about this scene is how hot they look together in their outfits. Dani says she's fine and will do great in court today because she has been prepped within an inch of her life. Next we have Shane and Tess having sex, which is interrupted by a call, Tess tells Shane they've gotta hire a new GM because (surprise!) Tess is planning to move to Vegas to be with her Mom. Completely out of nowhere, please keep these two together. Shane seems open to Tess's proposal of a long-distance relationship but then Tess plows further forward, with a leap towards commitment that feels unearned — Shane, who's struggled all her life with finding a place that feels like home but has made one for herself in L.A., could move to Las Vegas with Tess. Back to The Aloce Show, where our favorite Bisexual Talk Show host has dressed up like Julia Child for an undoubtedly exciting segment with Paul Hollywood. Alice tells Sophie she's welcome to stay at her luxury apartment if necessary, but Sophie declines. "I'm not doing that to her, she doesn't deserve it," Sophie says, perhaps mired in guilt from the unsuccessful intervention.
Alice volunteers to speak to Sophie further on this topic if necessary but is then interrupted by the arrival of Tom (Donald Faison) Sophie asks if they're gonna celebrate the article and Tom announces that yes indeed, they are doing the swan boats. We then transition to a store where Bette, Shane and Alice are shopping for Tina and Carrie's (Rosie O'Donnell) wedding gifts. Bette's shares that she simply cannot believe Pippa would accuse her of holding a torch for Tina! Shane and Alice and also me personally can 100% believe that Pippa would accuse her of holding a torch for Tina. Shane tells Alice it's okay to be preoccupied by negativity following her bad book review, 'cause it's the first time she really "put herself out there." Alice says dating Tess is making Shane objectively more introspective which segues into Shane noting that her relationship with Tess "might be over before it begins" now that Tess is moving back to Vegas.
At court Dani´s moments away from going on record? and begins to have a panic attack, whispering to Gigi that she's not fine and needs to get out of there. Gigi's the perfect girlfriend for what Dani needs — she was understanding of why Dani's destructive relationship with her father, her only living relative, had landed her atop the mountain of this corrupt company, but now that Dani's ready to step back, Gigi's there to usher her down that path as well. Maybe it's easier too that Gigi's never been pitted against her father how Sophie was, thus muddling her perspective on why she needed to cut herself out of her Dad's business. Rodolfo's (Carlos Leal) lawyer follows them into the corridor to threaten Dani with contempt of court. We then take a slow jog back to the Manor, where Father has arrived to yell at his daughter Dani. She apologizes for not being able to take the stand but he says it's okay — she can take the stand tomorrow instead! She's tough, she's his daughter, she can handle this! He screams in her face and she says she can't see him anymore. It's over! Thank G-d Dani has bagged the best girlfriend on this program because I think she just lost her last actual family member.
By the end of the episode, Finley starts apologizing, and Sophie says it's too late for that. But! It's not too late for Finley to agree to her rehabilitation spa vacation, and she does. They hold each other's heads and declare love and Sophie says she'll take Finley to rehab right this minute. We do a few night moves and land in a bustling little corner of this city where Gigi's enormous, warm, loving family is ready to meet Little Orphan Dani. Dani's not sure if she knows how to be normal or have a family, and Gigi is like tough cookies, you're abnormal and you're coming in with me and we're going to have a nice time. We then cut to Tess, awake as Shane slumbers. Tess scratches Shane's back lightly before taking a phone call and indicating that she is leaving, a departure truly pulled off in record time and with as little character development as possible! "I'm on my way, I'm leaving now," Tess says to the mystery man on the telephone.
As Dani settles easily into the warmth and acceptance of Gigi's neverending, loving family. It's a necessary jolt of joy into a series of blows. But this is interrupted by some cops coming to arrest Dani for contempt of court, how dare they? Bette is at home, getting all dressed up to attend the opening because we are all simply tiny mammals marching solemnly towards death. But then! She gets a knock at the door. Who perchance is on the other side of it? Tina.