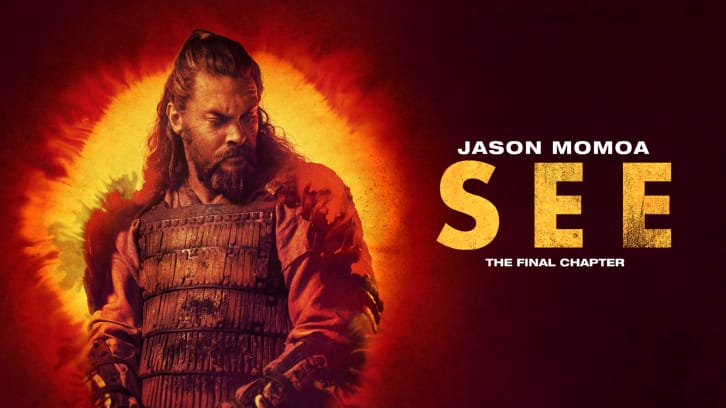 In this extended season finale of See, we finally got the confrontation between Baba Voss and his brother Edo that we were building towards all season long, and it more than delivered, with AppleTV+ flexing its heavy budget to make a grand scale epic fantasy battle look and feel epic, complete with the stunning cinematography and fight choreography that comes with it – the battle sequences were more like a combination of individual scenes stitched together, but as a collective whole there was enough threadbare narrative stringing them together – we got a variety of fight scenes for pretty much every character, and when shit hit the fan, it made stellar use of its locations – welcoming Edo Voss' army to the gates of hell.

The battle sequences were long and bloody, action packed and brutal. The casualties were minimal in the actual battle for our protagonists, we only lost Toad – who had returned with Paris and help after the previous episode for the last stand – but he never made it out alive, encouraging Kofun to kill some more of them. Much of Kofun's arc has been told to us rather than shown this season and hopefully, he'll get some better material next time out. There was just a surprising lack of actual main character deaths that Toad's didn't feel quite as shocking as it could have – or at least, not as shocking as the other big one – Paris – who was killed by Queen Kane after promising to take care of her child. I'm not quite sure what Kane's endgame is here as she's still behind bars and still a captive, but I wouldn't be surprised if she ended up being a major villain of Season 3 now.

We did get a bit of friction between Haniwa and Kofun in the finale. After Wren survives, Haniwa begs her to stay – but Wren would rather spend time with her family – wouldn't Haniwa, too? This tale of doomed lovers on wrong sides of the war has been a fascinating, if ultimately tragic arc of the season and I hope they can find something happier in Season 3. But Kofun did lash out at Haniwa, for bonding with the enemy child who can see and then letting Wren go – Haniwa believes that all those who can see are on the same side, and Kofun's not quite there yet. What this season has been putting in place is a war for the future of sight, and that will presumably be season 3's endgame. I wouldn't be surprised if the next season was the last too, as I'm certainly getting that vibes – although it's too hard to tell just yet.

Baba Voss and Maghra get their moment of shared happiness but Baba has never stayed still for too long and leaves into the wilderness, alone. Tamacti Jun has given his Witchfinders an offer of remaining with Queen Maghra but one by one, they refuse. They would rather forsake their rank than serve those with sight – despite the fact that those with sight fought alongside them. Presumably they will go to the big bad of Series 3, which we've seen hints of – especially when we learnt that Jerlamarel was still around, testing lethal explosives on a scale unlike this series has shown previously.

One thing that I do like about Season 2 to end this review is that it has largely dropped any pretence in its aloofness that dragged Season 1 down and made it feel so empty – it felt like it was going for a big sci-fi statement on the genre when it was clearly not. Here, Season 2 is grounded – much more down to Earth, much more to the point like a blunt-edge sword, emerging as a marked improvement over the first, benefiting from a much clearer – if heavily telegraphed vision that it stuck with until the very end. Whilst the midpoint could have been more exciting, the start and end both excelled – and overall, it's a fairly solid season if nothing spectacular - in no contention for the best of AppleTV+ (Dickinson, Ted Lasso) anytime soon but certainly anything but the worst.