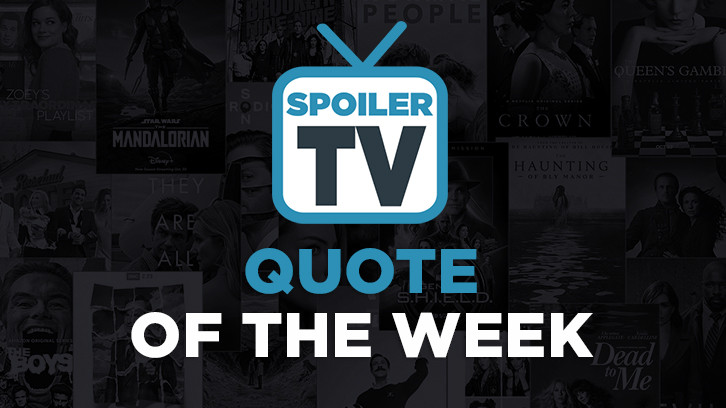 A weekly feature highlighting the best quotes on TV as picked by the SpoilerTV team. We'd love to hear your picks too so please sound off in the comments below.
1. Zach: "Tell me everyone got out safely!" (Nick looks over his shoulder to his assistant. Jessica shakes her head.) Nick: "Uh hey Zach, I got the Coast Guard on the other line, buddy. I'm so sorry. I gotta call you back, okay?" Zach: "Answer the question! Answer the ...." Jessica: "Ted and Eva refused to evacuate. They wanna win the prize money." Nick: "God, people are so dumb."
2. Nick, referring to the apple in his hand: "Why is this so small?" Alan: "You said you liked it when your hands looked bigger." Nick: "You're right. I did say that. Thank you."
3. Mallory: "Eyes up, Justin! Elbows lifted. Elbows Lifted!" Nick: "I don't know what her mother did to her, but I need to write her a thank you note!" Mallory: "Your posture's garbage; straighten that leg!"
4. Julia: "I feel old." Wayne: "Okay, let's feel that." Julia: "Oooh." Wayne: "Hmm. What comes with age?" Julia: "Osteoporosis, arthritis, saggy boobs, lack of sex drive…" Wayne: "I was gonna say wisdom." Julia: "Well, I was gonna say regret." (Dahne)
5. Wayne: "You slept with your subordinate in 2021?" Nick: "No, we're both EP's. We're equal." Wayne: "That's not what you said yesterday, but you better believe you're equal now."
6. Wayne: "You okay?" Julia: "Well, my marriage is falling apart and nobody likes me." Wayne: "I like you. You're just going through a little bit of a transition. It kind of feels like the whole world is right now. Transitions are hard and unflattering."
Chicago Med
- Joanna
1. Dr Charles, to a patient in distress who works advocating for children with UNICEF: "You can't give what you don't have" ~~~ I love this quote because I think it really speaks to the fatigue you can endure in a profession that cares for others, but also really speaks to how the world is really suffering from compassion fatigue during this COVID pandemic
2. Dr Charles, to Dr Scott: "Sometimes you've got to hang on to the wins" ~~~ This is so true in healthcare - sometimes you can do everything you possibly can, and the situation does not turn out the way you expect...you have to hang on to the small victories each day as this is what gets you through.
Chicago PD

- Jessica
1. Kim Burgess: "My memory just keeps playing tricks on me. It's the fear, I think. But the one thing that I do know is that he's still out there and I would do anything to bring him in."
2. Hailey Upton: "I got eyes and ears on you, sister." Kim Burgess: "Good."
3. Kim Burgess: "You're safe."
FBI; International
- Joanna
1. David Milgrave, the suspect who kidnapped his son: "I am sorry I don't speak Hungarian". Scott Forrester, the team leader in reply: "That's okay, neither do I. (flashes a badge) FBI". ~~~Just a really funny moment in the episode which was very tense.
Home Economics
- Folie-lex
1. Marina: "I really think the floor is tilted." Tom: "Aw, come on honey the floor isn't... [a bike rolls across the room] Well maybe the house is just haunted." Marina: "That'd be less expensive." Tom: "Look, can we put a quick pin in the house collapsing issue?"
NCIS Hawai'i
- Sarah
1. Armoured Truck Guard: "Doesn't even matter what time I wake up, that boy is in the hallway asking me questions like I memorised the encyclopedia in my sleep! Four in the morning, child in his dinosaur pajamas, staring at you…" Armoured Truck Driver: "Strong argument for living alone…"
2. Ernie: "Luck had nothing to do with it. I went down a rabbit hole of armoured truck construction...marvel of engineering. Forged and galvanised in stainless steel, with ballistic fibreglass woven into the interior." Kai: "And the security system?" Ernie: "Cradled in an equally impenetrable steel casing, controlling the electronic locks, the cameras, the comms with a static cross resistance of 5,000 pounds." Jesse: "In other words, the kaboom couldn't have taken it offline."
3. Ernie: "You think being self sufficient keeps you above the fray. You don't owe anyone and they don't owe you...That just makes you a man alone on an island with his dog. A metaphorical island, cause obviously we're all on a real island. The point is you're bumming us out." Kai: "Us? Us as in like everyone? Like Tennent too?"
Only Murders in the Building
- Folie-lex
1. Theo, in ASL: "People talk way too f***ing much in this city."
2. Mabel, in text: "Teddy is a Gray Roger!" Oliver, in text: "Are you having a stroke?" Maberl, in text: "Grace Robber! Teddy is a Graverobber!"
3. Zoe, in ASL: "I'm so bored with all of this." Theo, in ASL: "Maybe you're bored because all you have is touring through other people's lives. Maybe you need to ask what you want for your life." Zoe, in ASL: "Don't f***ing psychoanalyze me. You're very confused about which way the pity flows here."
Star Trek: Lower Decks
1. Ransom: "This all could have been avoided if you'd followed protocol and signed out your magnet boots." Mariner: "Or maybe that wouldn't have even mattered since lower decks are so expendable to you." Shaxs: "Ridiculous! We're all equals on this ship, right?" Ransom: "Uh, they sleep in a hallway." Shaxs: "Oh."
2. Captain Freeman: "You know, it's been so long since I've been an ensign, I forgot how hard it can be when you're not in the loop. In a lot of ways, taking orders is the more challenging job." Mariner: "That's nice to hear, but ditto. Commander level stuff is hard. Just the constant tightrope walk of protocol. Not worth the pesto."
Turner and Hooch
- Folie-lex
1. Xavier: "I never trusted background checks. A man's destiny isn't where he's been; it's where he's going."
2. Scott: "If I can't trust [Hooch], then he's not a reliable law enforcement tool." Xavier: "Nah, I get it. Makes sense. You know a tool doesn't work anymore, you get rid of it." Scott: "That's right." Xavier: "Yeah." Scott: "It's why I'm done working with Hooch." Xavier: "Question is, is Hooch your tool...or is Hooch your partner?"
3. Brooke: "Are you really choosing your dog over our future right now?" Scott: "Oh, please. You...I've wanted a future with you since I met you. For years, I dreamt about all this. I just...I don't think I can do it without Hooch." Brooke: "Scott Turner, if you walk away right now, it's over. We're over" Scott: "Well, then I guess we're over." Brooke: "Have you lost your mind?" Scott: "No, I lost my dog. But I know where to find him."
The Big Leap
(Pilot) - Dahne
1. Gina: "I know your depression is telling you terrible things about yourself and your future, but your depression is a liar. I love you so much. You deserve a little more in life, honey, Go, get it."
2. Gabby: "Can I ask you something? Are you happy?" Justin: "I work at a bowling alley." Gabby: "Okay so, maybe we're both living the wrong lives and this show could be a creative rebirth for us." Justin: "A what?" Gabby: "A creative rebirth." Justin: "I can't have a creative rebirth right now. I've got a ball jammed."
3. Monica, during contestant tryouts: "If I got in a car crash, do you think I could get out of my contract?"
Call You Mother
(1.12) - Folie-lex
1. Freddie: "Who roasts a whole pig for regular lunch? It was crazy. And then I looked into his eyes, and it was sad. But then I tasted it and it was delicious."
2. Lane: "What I don't understand is why you guys spend all of your time together arguing about when you'll get to spend more time together, instead of enjoying your time together. It's a waste of time. I haven't seen my brother for four years, so get over yourself and appreciate what you have 'cause it could all be taken away from you."
Murdoch Mysteries
- Sarah
1. Murdoch: "You tell the falcones you have Anna. You lead them to me and I won't pursue the matter further. Providing, you furnished me with proof that falcone authorised the murder of Anna Fulford." Hitman, tied to chair: "I can do that." Murdoch: "Good." Hitman: "Why are you willing to trust me?" Murdoch: "Oh, because if you renege or if any harm comes to Anna or the boy, I'll hunt you down and kill you." Hitman: "Ha ha." He coughs and looks at Murdoch with a joking smile which quickly turns to a serious look. ~~~Murdoch is very serious about commiting murder if this goes wrong. It sort of makes me laugh and get nervous at the same time.