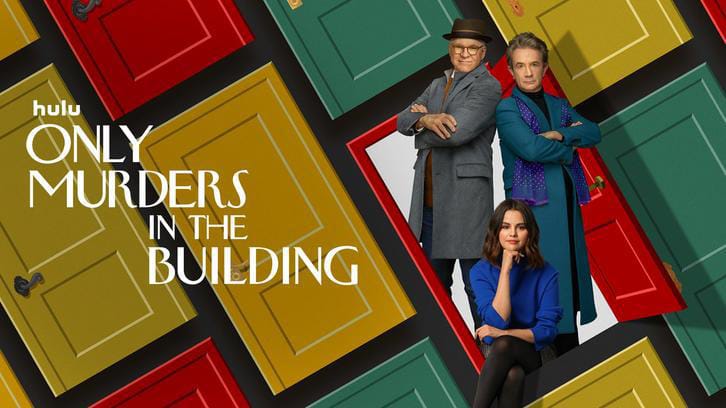 The killer is revealed on this week's episode of Only Murders in the Building, but that's not the only thing worth talking about in this decently eventful freshman finale.
If you saw last week's episode, you might find this a little anticlimactic (weren't you expecting a last-minute red herring?), but coming off of the revelation that Jan was formerly in a relationship with Tim Kono, we quickly discover that Tim's ex - and Charles' current girlfriend - was in fact the Arconia killer. As Mabel and Oliver break into her apartment and find the poison (kindly labeled so as to avoid ambiguity), while at the same time, Charles manipulates her into confessing in his apartment.
As it turns out, Tim had broken it off with Jan just around the time that he had acquired Zoe's emerald ring - although his reasoning was completely unrelated to his investigation into the Dimases. Jan had found one of Tim's black market rings and, assuming he had ended things to propose to another woman, soon began to plan his demise. On the night of the murder, Jan, tired of being second fiddle - er, bassoon - played a recording of her usual playing from her window so as to create an alibi for herself. She invited Tim over for a final goodbye, secretly drugged his drink, and sent him home. She then pulled the fire alarm to create a loud noise while she snuck into his apartment and finished him off. Evelyn the cat, unfortunately, began to "clean up" the crime scene - and ingested enough of the poison to do herself in as well.
As she spills her evil plan to him, Charles knows Jan will likely try to poison him as well, and has been taking "stage sips" of his drink accordingly. Too bad for Charles, though, because Jan apparently likes to switch up her MO, instead drugging the handkerchief she used to wipe his bleeding nose earlier in the night. She leaves a doped-up Charles alone in his apartment with the (newly reopened) fireplace on, and she runs down to the basement to engineer a gas leak that will consume the building conveniently getting rid of all of the neighbors who might know about her relationship with Tim.
After some top-notch slapstick in the elevator, a half-capacitated Charles manages to meet up with Oliver and Mabel, and shares a recording he made of Jan confessing to everything. The three rush to the basement, or as Oliver calls it, the "irritable bowel" of the Arconia, to save the building and stop the killer in the down-to-the-wire podcast finale of their dreams.
Just in time, Mabel and Oliver manage to turn off the gas, but are caught by Jan. Jan threatens the threesome with a gun, but Oliver catches her off guard by bravely shoving Charles into her, and Mabel punches her out using Zoe's emerald ring.
Because they saved the lives of quite literally everyone in the building, the trio's evictions are quickly reversed. With the podcast is finished, Oscar and Mabel officially get together, Oliver apologizes to his son, and Charles reaches out once again to his estranged pseudo-daughter, Lucy.
But even as our heroes celebrate, all is still not well at the Arconia. "Does anyone else feel like there's still a couple of loose ends?" Mabel asks - and she's right. Just after this, she heads to her apartment to grab more champagne. And a few minutes later, sirens once again blare in the Arconia parking lot, as Charles and Oliver receive matching texts from an unknown number telling them to get out of the building ASAP.
In the scene we saw in the very first seconds of the pilot, Charles and Oliver chase after Mabel to rescue her from...whatever is going on, only to find her covered in blood sitting over a body. The unfortunate victim, however, is not Oscar, as we were somewhat led to think, but Bunny, clad in an "Only Murders" hoodie and stabbed in the chest with Mabel's knitting needle. And right after Mabel told her, publicly and loudly, that she was the most hated person in the building - oops! Now the murder solvers are the murder suspects, and the Arconia sleuths are taken away by the police in handcuffs. And who is there to witness the arrest but Cinda Canning, having found the subjects of her newest podcast - "Coming this fall, only murderers in the building."
Aaaand that's that! There's quite a bit to say on this show - many have already rightfully praised its fresh, breezy writing style and profound depiction of intergenerational friendship, so I won't focus too deeply on that. I had plenty of doubts on it, but as a Martin/Short fan from early childhood, I was eager to give it a shot, and I'm certainly glad I did. The path this show goes down feels refreshingly untread, while staying familiar enough to not make you feel like a TV critic just by watching it. Only Murders markets itself as a clever riff on true crime, but much like a good mystery, the it goes much deeper than that; if you will, "in a whole new direction."
A capable whodunnit nestled inside a NY puff piece, Only Murders season 1 was never capital-G Great, but it was more than satiating, tickling the same yearning for the combination of urban life and late-year aesthetics that only Dimension 20's "The Unsleeping City" and reading The New York Times in a busy coffee shop can satisfy. And it's this very particular element of this show that, I think, sits at the baseline of why it works in the peculiar way it does. Much like the fabled New York immigrant, the series' main trio want to "be a part of it" - although "it," in this situation, might be the bringing to justice of cold-blooded murderers. They seek to find their purpose in the workings of the city around them, in a more twisted way than most, sure, but that glint in their eyes is the same as any other Tom, Dick or Jane, and it is ultimately what brings them together.
And is that not the spirit of NYC at its purest? Some shows - Amazon Prime's Modern Love is a great example - use their New York backdrop as a character in itself, its magic and disgusting mystique an actor the same as its star-studded cast. Only Murders in the Building, however, is not quite the same. The city may not be a character here, but it is undeniably ever-present, in its careful character design, the "unfathomable murk-meets-the magic of television" story at its core;it is stereotypically New York in its very way of being.
What did you think of "Open and Shut?" What are you looking forward to in season 2? Any lingering questions? Talk to me in the comments!