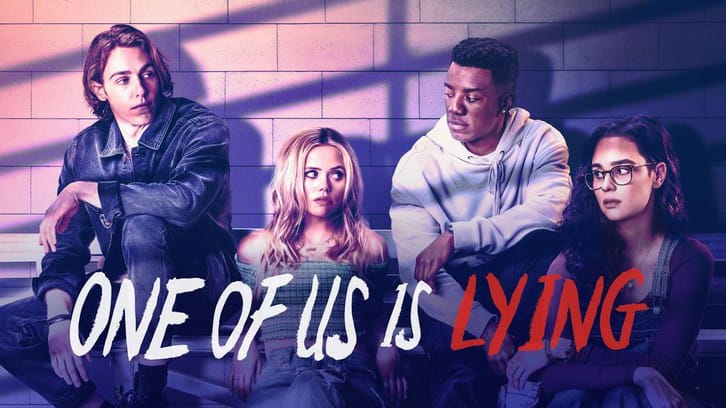 If you love mysteries set in high school, Peacock's One of Us Is Lying needs to be the next thing you watch. I haven't read the bestselling novel of the same name by Karen M. McManus the show is based on, so I'm telling you my perspective as someone who's just enjoying what happens on screen with no previous knowledge.
The show was first described as 'The Breakfast Club meets Pretty Little Liars': it's what instantly got my attention when the pilot was ordered and made me want to watch the show back in 2019 (two years and a pandemic later, finally here we are). I like that movie and love that show, and I can say the description is pretty accurate.

I watched 3 out of 8 episodes. I won't go into details of each episode, because I'm afraid that would spoil too much. But let me tell you that the show starts with a really strong pilot. There are pilots that become instant classics of their genre, and this could join them soon. There are several iconic scenes - my favorite being the last one - that I'm sure will get everyone hooked.
What One of Us Is Lying really nailed is the balance between the mystery and the development of each one of these characters. They are fully fleshed out, and I think each one of them has a lot more inside than what we see on the outside. You will root for each one of them. They're all relatable in some ways, and when they're not, they're still very likable. Which is a lot these days. As long as the show has this, I think that's what will always make the viewers want to stick around.
Of course, it's also a teen drama, so if you love to see some romance you won't be disappointed. There are two main characters in particular that I would really love to see together. Despite not being a couple - yet, because at some point that needs to happen! - they have a remarkable build-up, sharing some intimate and quite romantic moments (the first one barely 20 minutes into the pilot). I won't say their names, but who read the book probably ships these two together and will absolutely freak out on several occasions. Guaranteed.
Before you go, here's some fun lines to tease you. Can you guess who's saying what?
- Our secret died with him.
- Do you want more trouble, Rojas?
- Why do you always point the finger at other people?
- I think someone set us up.
- Weren't you calling me a nice guy like five minutes ago?
- It's like everyone's here to audition for the reboot of a John Hughes movie.
- They're already scrutinizing everything about me.
The show debuts on Peacock on October 7th with the first three episodes. Don't miss it!