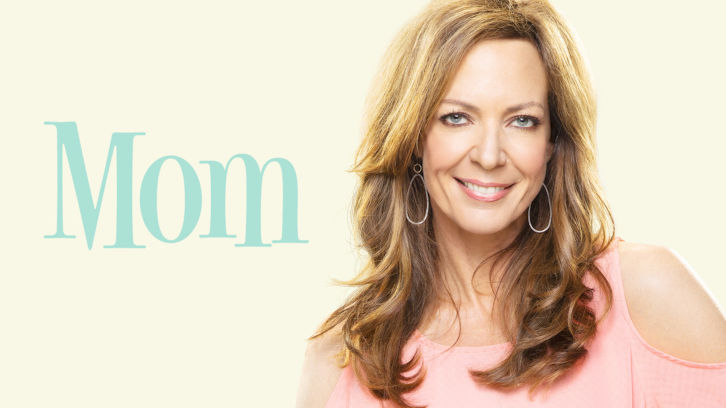 On Mom, several of the ladies are faced with difficult problems to solve. While Bonnie steps up to the plate to protect an absent Christy's reputation, Jill deals with the aftermath of her hook-up with Rod.
Bonnie's weekly plans for her and Adam's "Naked Picnic Monday" (Yep, that's a thing they do!) are interrupted when a worried Adam comes home and tells her she needs to see something he's found. He drives her out to a deserted highway and points to a billboard ad from "Mr. Naughty's Strip Club." Lit up for all of Route 29 to see is...a circa 1998 stripper Christy!
A horrified Bonnie takes the rest of the girls out to the billboard and swears them to secrecy. She says Christy has "come too far for her hu-ha to be a roadside attraction" and she resolves she's going to find a way to get the advertisement down before Christy is any the wiser. Adam, meanwhile, is bothered to realize that "every woman he's ever checked out is somebody's daughter." Yeah, I suppose seeing your own kid on a stripper billboard will probably do that!
Meanwhile, Jill isn't happy to find that Rod's avoiding her after their tryst. When Rod and Adam discuss Rod's hook-up with Jill, Adam tells him Jill probably doesn't see him not calling as the nice gesture Rod seems to think it is. Rod decides to invite Jill down to AJ's to talk.
A determined Bonnie, after being unable to reach the strip club on the phone, makes a trip down to Mr. Naughty's to plead her case in person. And despite the current manager actually remembering Christy (He was the DJ when she was there), he says the sign won't come down. Apparently, "people like the vintage, reminds them of the simpler time." So, Bonnie refuses to leave until the billboard comes down...and the manager has security carry her out kicking and screaming.
A desperate Bonnie goes over to Tammy and Marjorie's to enlist Tammy's help in painting over the billboard. As they're packing up the paint rollers, Marjorie returns from walking one of the cats (He's pre-diabetic, in case you're wondering!) Marjorie tells Bonnie she needs to go to a meeting before she does anything stupid and ends up getting herself (and Tammy) thrown in jail.
While Marjorie, Tammy, and a reluctant Bonnie head off to a meeting, Rod meets Jill at AJ's (where a still freaked-out Adam is mulling through various ways he can make the bar safer for women!). Rod apologizes for ghosting her, and Jill eventually accepts. Jill says she's not the kind of person who usually hook-ups with someone in a vacant apartment. Rod says that's exactly the kind of person he is, but then he usually leaves town to never see the woman again. Except now, he's stuck in town and stuck seeing Jill on the regular. He admits he didn't think their fling through. The two decide to reset and try being friends...until they get to the car and start making out!
At the meeting, Bonnie begins to share and quickly comes to the realization that her plan to vandalize the billboard has nothing to do with her being an alcoholic and everything to do with her being a mom. She runs out to do what she intended, leaving a worried Marjorie and Tammy chasing behind her.
Marjorie and Tammy hitch a ride with Wendy (who's excited to finally have a reason to use the siren that came on the car she bought off a fireman!) They call Jill for back-up and unintentionally interrupt her and Rod's little interlude.
The ladies meet on the side of the highway, where they find Bonnie scaling the side of the billboard, paintbrush in hand. Marjorie urges her to come down, but Bonnie counters that if it were her son Jerry up there, she'd be doing the exact same thing. Marjorie can't argue that point, and soon enough, all the girls are up on the side of the billboard, painting over the jumbo-sized Christy!
Random Thoughts:
-Marjorie's cat just flat-out laying down and refusing to move for his walk was hilarious. I feel ya Foz!
-Tammy's been on Cops? I want to see that episode!
-The best line goes to Bonnie when she sees the billboard, "It's some poor stripper looking confused and... oh my god that's my daughter!"