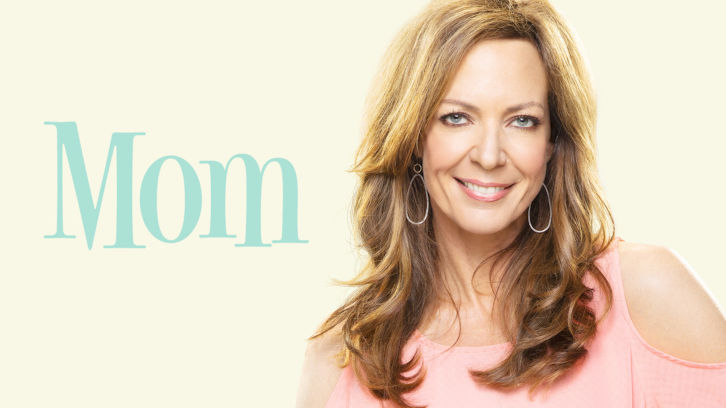 Worlds collide on Mom, as Bonnie's husband and Bonnie's sponsee meet and become...friends?
No, really, Adam and Rod are now besties. AA and Al-Anon hold a joint meeting with Bonnie and Adam as the speakers. Adam's share is a hit with the audience (thereby making Bonnie a little jealous) and in the process, he hits it off with Bonnie's rock-star sponsee Rod. Bonnie's not sure what to make of the new friendship, and although Marjorie and the other girls assure her that it's okay for Rod to have other sources of inspiration in his sobriety journey, Bonnie isn't too thrilled about the idea!
When Rod comes over to give Adam a guitar lesson, the two continue to connect, and Rod admits to Adam that between his father leaving when he was a kid, and his own near-constant chasing of women to hook up with, he's never really had a stable male friend. When Bonnie arrives, Rod quickly admits to her that he thinks he'd do better with a male sponsor, making a hasty exit before she can comment.
Bonnie, of course, blames Adam for Rod wanting a new sponsor, even though Adam argues that Rod's just finally realized he needs a sponsor who he's not unconsciously trying to sleep with. At the bistro later, Bonnie angrily tells the girls that Rod wants a new sponsor. Marjorie urges her to realize Rod wanting a new sponsor isn't a big deal and that she shouldn't make it about herself. Bonnie should want what's best for Rod, Marjorie says. Bonnie realizes that as uncomfortable as it makes her, Marjorie's right, Rod will do better with a male sponsor.
Meanwhile, Jill and Rod find themselves continually trading angry barbs - at meetings, at the fancy clothing store that they both frequent, and even in front of Bonnie and Adam's apartment, where the two end up rapidly trading insults. It's then that Rod realizes that's he's doing what he always does, and showing off for any woman he meets. Jill compliments him for realizing his fault and finally acting like an actual human being...and then they lock lips. (Who else saw that coming?)
Meanwhile, Bonnie takes a couple of potential renters across the courtyard to see a new apartment, and walks in on Jill and Rod, who have decided to make use of the vacant apartment for a quick hookup!
At an AA meeting later, Jill and Tammy eagerly gossip about Jill and Rod's hookup, while Bonnie temporarily redirects Rod to Marjorie for some much-needed advice about his relationship with Jill!
Random Thoughts:
-The best line goes to Bonnie, after discovering Rod and Jill - ""Whoopsie, it looks like the painters are taking a break..."
Were you surprised to see Rod again? Let me know below!