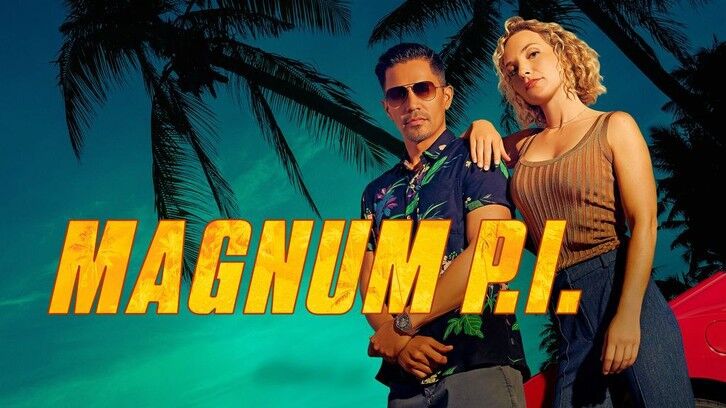 Magnum P.I. is back, and Robin Masters' newest novel is out – but that doesn't mean all is as it should be.
The season opens with Higgins in Kenya, and there isn't only distance between Higgins and Magnum, but distance between her and Ethan as she communicates with him via video calls.
She's filling in her downtime with Robin Masters' latest novel, which has a Juliet-inspired character to clash, and flirt, with the White Knight. Thomas seems displeased by the simmering attraction bubbling up between the characters based loosely on Higgins and himself. An attraction neither is ready to admit is just as present in reality as in fiction, it all feels an awful lot like Kate Beckett's reactions to Richard Castle's
Heat Wave
– only with even more denial.
In Hawaii, Magnum's about to start working on a case involving single mom Jenny Liu. Upon arriving at Jenny's place, it isn't Jenny that Magnum meets at the door, but her father. Jenny is missing.
Magnum calls Higgins for help with Jenny's financials, and of course he is terrible at telling her that he misses her, even though we know he does (and he does finally admit this to her by episode's end). He reverts to childish jabs, and while it's likely just his way to punish Higgins for leaving, it feels downright mean when its clear Higgins is moving in the opposite direction and has been working on opening up.

Magnum hasn't been lonely without his partner these past five months. He's been secretly dating Detective Lia Kaleo, which will be main excuse keeping Higgins and Magnum apart this season. Ethan's still around, but with distance between Ethan and Juliet while in Kenya, it's only a matter of time before that relationship fizzles out.
With Gordon's help, Magnum finds the last place Jenny's phone pinged was a rehab center. He visits, but Jenny hasn't relapsed, she's been helping others stay clean. Magnum tracks Jenny's car down, with help from TC – who has little else to do in this episode, apart from the opening scene, and reacting comically to fictional hook ups. Rick's around too, having a quick fling with Suzy before she leaves for San Diego.
Back in Kenya, vaccines have been stolen. Higgins is spurred into action, but finds her MI6 resources cut off, and she phones Magnum for help. When Magnum comes back with information for Higgins, he is more open in his concern for her, and by the end of the call she has lowered her guard and softened further. She's still as physically tough as ever, of course, taking out a room full of people to save the vaccines. It's a win, but MI6 aren't pleased. They've become aware of Higgins' mission, and call to inform her the gang she incapacitated had been feeding MI6 intel. Now the gang wants retribution, so it's time for Higgins to leave Kenya. MI6 will keep the team in Kenya safe - but it all comes at a cost for Higgins who should expect to be called upon as needed.

Jenny Lui is found. To rescue her, Magnum creates a distraction by rigging a car to explode with a little macgyvering. In the process, one of the kidnappers is killed and the lingering eye-contact as the surviving brother is put in the back of a police car suggests this may come back to haunt Magnum.
With MI6 looking to call upon Higgins to repay her debt, both may have some shadows following them this season. Ultimately, it all plays like a set up for future storylines, and while I appreciate that aspect, the separation of Higgins and Magnum took some of the magic out of the episode.
Island Vibes wasn't the strongest Magnum P.I. premiere, but with our duo reunited next week, the sparkle should soon return. And as for that kiss between the White Knight and Belle? Fake-outs like that just feel like shipper bait. It will keep some shippers happy a little while longer, while for others it is simply contrived and unnecessary. Here's hoping the next kiss between these characters is a real one – and not four seasons from now. Assuming this series has that kind of longevity.