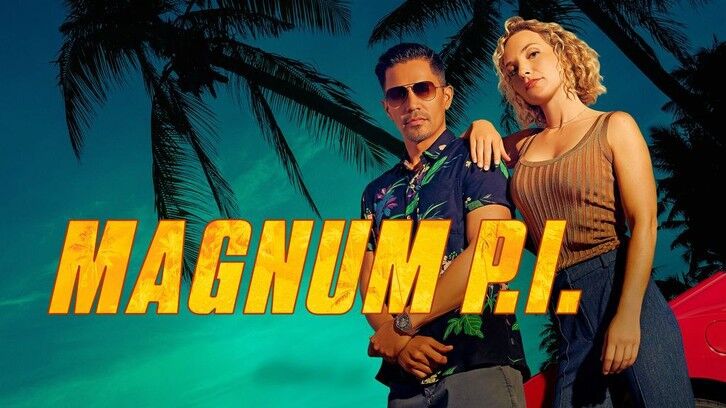 Higgins is back in Hawaii, jetlagged and missing her luggage, but there's no time to rest or sort that out as Magnum swerves the Ferrari down Hawaiian roads, following a man who's skipped on a $20,000 bond. Welcome back, Juliet. It's like you never left.
Shammy and TC:
It's time for Shammy to take his first solo flight. In addition to all his training, Shammy has been down some helicopter statistics rabbit holes on Google. He's also been working on some lava rock jokes too. He couldn't be more prepared, despite feeling nervous.
TC and Shammy meet their clients, Randall and Casey, two men from Michigan looking for some sweeping views. Seeming disinterested the longer the flight goes on, it comes as no surprise when it's revealed they're looking for more than just views. With guns pointed at TC and Shammy, they order the chopper to land. Randall takes TC with him in search of drugs, while Casey stays with Shammy. Shammy knocks Casey out and hauls himself into the chopper, forced into his first solo flight. He's understandably nervous, but he handles it with grace and skill - and a few quick prayers and a lot of adrenaline. He flies the chopper off to get help and comes back with a team to rescue TC right as he's on the brink of succumbing to injuries sustained before shooting Randall and radioing for help.
Kumu and Rick:
Kumu is helping Rick with a new drink. Suzy had been developing new drinks every week, but she's gone now, so Rick's trying to continue her work. It's about more than just drink concoctions though, as we learn Rick is conflicted in his feelings for Suzy and whether to express them or let her be as she settles into life in San Diego. With Kumu's help, Rick works through it all via a text message. What he ends up writing is a novella, but it's cathartic for him, a nice little bit of therapy that only cost him several drinks.
A buzzed Kumu is a joy.
Magnum and Higgins:
Higgins has come back to a changed Magnum. Or is he a Magnum who is hiding something? Higgins is perceptive, so the audience knows this won't take her long to figure out. It's unusual for Magnum to be locking his front door, and she knows that scent isn't air freshener. That's the smell of a woman's perfume lingering in the air. Magnum and Lia are delightfully awkward around one another as they try to act casual but fail miserably, and the pieces quickly fall into place. Higgins confirms she knows Magnum and Lia are dating, and with Magnum somewhat more distracted than usual, his new relationship will work in her favour. Her own secret may not come out as quickly as his did.
The case itself is a homage to Hitchcock's Strangers on a Train, with two men switching murders so that each has an alibi. It starts with Magnum and Higgins investigating an accident at a construction site, and ends with two confessions, with two grieving men having come together to help each other out in the most sinister of ways.
As the episode wraps up, our duos all share some nice moments. TC thanks Shammy for saving his life. Kumu and Rick share some wisdom and laughs, after Kumu pretends to have accidentally sent the text to Suzy. And Magnum and Higgins have a nice exchange, where she calls him out on his Lia secret, fixes his collar, and seems genuinely happy for him. But, as mentioned above, happy for him? Or happy for the distraction?
We'll see.