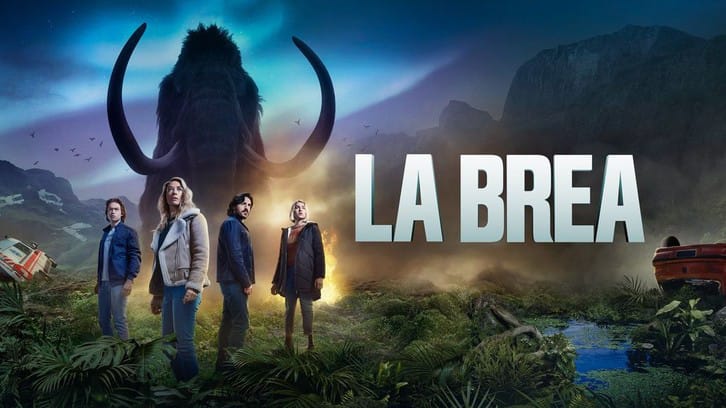 La Brea's fourth episode is home to some big turning points that set the stage for the next episodes to be bigger and better than ever and the central mysteries take huge leaps and bounds throughout the hour. This is very much a show where the characters roll with the punches. It was almost refreshing to see Lilly's horrified reaction to finding a dead body. Any of the other main characters really would have just taken it in stride.
The dead body (a man called Eddie who went to catch rabbits with Ty) is the big mystery the survivor camp gets to contend with while Eve and company head out in search of the plane and the pilot. Lilly stumbles across him while running away after a fight with Veronica (who still gives me bad vibes) and soon the whole camp knows about the dead body. Sam immediately takes charge and deduces that the man was killed via electric shock pointing out that the burn marks on his body are aligned with those caused by a lightning strike. Obviously there's been no lightning and so the only way to find out more is to talk to Lilly who everyone believes is a mute.
I'm glad she defied Veronica and told them what she saw. Turns out it's the same old man who was watching the survivors at the end of the first episode! He doesn't have a particularly evil or dastardly look to him so I'm interested in finding out why exactly he decided to kill Eddie - if he did kill Eddie at all, I'm not taking anything for granted in this show. Considering the handprint on his coat, does he also have something to do with the stone handprint Scott and Veronica found her father in?
This ends up linking nicely into the tail end of the plane story. Eve, Josh, Riley, Scott and Lucas set out early to find the plane and its pilot and they run into Levi a lot quicker than I thought they would. It's good for the pacing of the show because it meant Levi and Eve could have their heart to heart about the past before they get distracted by whatever's going to happen in the settlement they found in the next episode. It was incredibly refreshing that he was honest with her about everything from Gavin's visions being true, to giving her the ring, to letting her know Gavin knows about their history. This whole thing could have been really dragged out but Levi is just proving to be an all-around nice person. It sets the stage for the inevitable Gavin-Eve reunion as well, seeing as the biggest reason she separated from him was the visions and that obstacle is pretty much null-and-void now.
Scott and Josh have some great friendship bonding in this episode as well from Scott naming a planet after him to Josh keeping a hold of Scott in the river (lake?) because the latter is afraid of water and drowning. Really, is there anything Scott isn't afraid of? Kudos to him for still going out on all these adventures.
Of course, he has a slightly bigger problem to worry about now because Lucas has found out about the heroin! Was it just me or was that whole subplot incredibly funny? From Scott and Josh desperately trying to get Riley to stop talking about her epic surgery save on her dad to Lucas just staring at the back of Scott's head while Scott looks absolutely petrified. I'm 100% certain Scott isn't going to be shot by Lucas so I'm just going to enjoy the humour that comes when Scott's energy plays off whatever the heck Lucas has got going on. Lucas need to sort out his priorities anyway. He's trapped in 10, 000 BC with prehistoric animals and a group of settlers from other sinkholes who may or may not be a threat. Those drugs should be the last thing on his mind.
The group finds the plane but it won't be flying anywhere because they can't get the parts they need to fix it in 10, 000 BC. But all is not lost as Levi sees a ping on his plane's radar that leads them to the aforementioned settlement, that ominous handprint on the gate they pass under as they enter the village. They may or may not find the parts they need there - the Mojave research team did fly down as well so it's possible they have parts - but it hardly matters because Gavin has found a new way to get down to them anyway.
It's much the same as the old way, except better. For whatever reason, Levi's plane wasn't suited to going through the light but Drs Aldridge and Nathan have a plane with better technology and Gavin is the perfect pilot. My current theory for the end of the season is that they'll fly down into the sinkhole with no problems, they'll find the survivors, everyone will be happy, there'll be some tearful Harris reunions and then the light will close, leaving them all trapped there with a working plane but nowhere to go.
That seems to be how it went with the other four sinkholes which is another very interesting development to the mystery, giving us an extra three sinkholes along with the ones that opened at La Brea and in the Mojave. Just how long has this sinkhole business been going on? What's causing it? Why is it happening? And are these the only five sinkholes or are there more that no one knows about yet? Do all the sinkholes that have opened lead specifically to 10, 000 BC? And it continues to beg the question as to why Gavin has visions of the place, but only since the Mojave sinkhole. Did the other sinkholes happen before or after? There are so many questions and so few answers!
This episode brings the two main plots on a great collision trajectory and we're getting closer and closer to the inevitable reunion. We're finally going to be getting some more insight into the other survivors living down there and it definitely feels like the show is hoping for a second season, setting up a lot of pieces on the board for what could be a magnetic showdown and aftermath. I'm unclear on how many episodes this season has. I read somewhere it was 6 episodes (don't quote me on that!) and if that's the case, I suggest we all buckle in because the show is shaping up for an intense and dramatic climax.
What did you think of the episode? Excited to finally learn more about the older survivors next week? Sound off in the comments below!