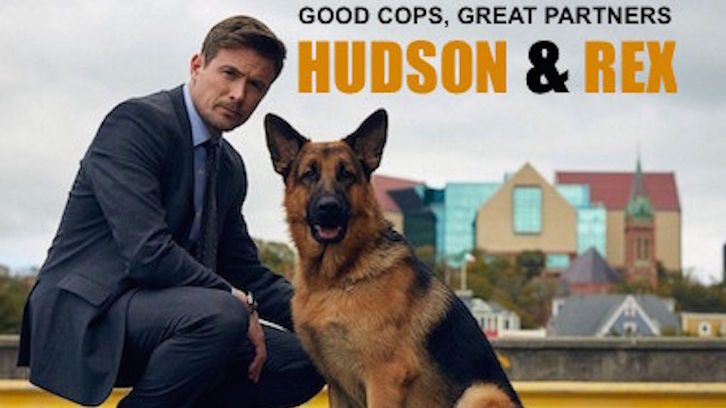 Oops I Bit it Again draws inspiration from one real popstar's struggle for freedom to tell us the story of fictional Mia Jerome. The episode is packed full of Britney-inspired moments, moves the story along as a solid pace, gives all five main characters meaningful jobs to do, and nudges the Charlie/Sarah relationship forward just a little more.
The Case:
TikToker and popstar Mia Jerome departs for St John's with her manager, Karina, and boyfriend Zaid. After clashing with paparazzi outside a club, Mia speeds off in her car, with the paparazzo - Richie - following. The body of Zaid is found the next morning, showing evidence of first being hit and then run over by a car. And it's possible Mia is responsible.
Richie leads Charlie to the Fresh Start Recovery Centre, where Mia is said to be. Charlie's plan to speak with Mia is thwarted by her controlling father. Later, when confidentiality is broken and Charlie is able to speak with her, he enters her room to find it empty.
Mia isn't being held at the centre on a court order, but at the insistence of her father. A father who controls every aspect of her life, and who lies about her supposed drug use to get her checked into a rehab centre.
Outside the centre, Rex finds Mia's dog Cujo. It isn't a good sign if she's left Cujo behind. While searching for Mia, Charlie becomes a substitute guardian for Cujo, and it also gives Rex a little extra companionship.
When Richie is found to be responsible for Zaid's death, Mia is free to go. Her father, while not guilty of the murder, is held on charges of obstruction and assault - and Mia gets the chance to start again.
Highlights:
Charlie's known for his lack of social media knowledge, but it seems he's also not a fan of pop music. When he asks who Mia is, the team – including Joe – look at him like he's sprouted another head. Charlie hasn't gained an interest in influencers since season two, but at least by the end of this episode he has more of an appreciation for pop music.
Charlie's Springsteen knowledge won't help him with his case, so it's up to Sarah to help fill in the Mia blanks. Why we follow celebrity gossip, why we gossip, and the culture of celebrity, are all aspects of social anthropology after all. Still, Charlie finds it amusing that Sarah follows the blogs and it lends to plenty of teasing and flirting throughout the episode.
Maybe it isn't 100% realistic for the head of forensics to interview suspects, but can we all just agree that Sarah having more to do each episode, and working like Charlie's partner, is going to make this season stronger, and can only lead to good things?
"Crazy fans are just a stereotype anyway. Most of them are normal people with a love for the arts. Some of them are even pretty cool." Jesse, you're the best. We love you.
Joe singing Mia's hit song is the GREATEST MOMENT of the episode. The joy the team gets from it gives me life.
PS: Sarah is all Charlie needs. Mia's song says so.



In Rex Marks the Spot, we finally meet Julia, find out that (apart from the cheating) she's not the absolute worst, get one of the most important steps towards a Charah relationship, and one of the cutest Rex moments ever. Oh, and the team momentarily forgets Charlie is a dive master, which is odd in an episode this full of references to previous ones.
The Case:


While out doing some amateur treasure hunting, Joe and his friend Reggie find a body. Guess Joe's day off has come to an end.
The SJPD team arrives in the Mobile Command Centre. Without Joe in the vehicle, Jesse gets to drive again - and has some help with the horn from Rex.
The victim is Ira Kirsch, a journalist from Toronto, who before his death had written an article on the Birch siblings, a brother and sister team with a treasure hunting business.
From there, it's time to meet Julia, Charlie's ex-wife. Julia happens to be excavating a site to continue her research on Peter Easton, a pirate she has written a book on. Charlie and Sarah's paths cross with Julia's at the site, and things get a bit tense. Sarah is intrigued, while Charlie is just annoyed.
Charlie still has a wall up around himself when it comes to Julia. He's distant, dismissive, and that along with his
"Don't get too attached"
line to Rex shows us just how much he's still hurting.
That evening, Sarah and Julia walk into the bar together, something Charlie isn't thrilled about. Further annoyed by Julia looking at evidence, Charlie leaves the table abruptly. Sarah goes to him and explains her reasons for Julia examining the coin. She's just trying to rule Julia out as a suspect.
Still, the events of the day are a lot for Charlie and he drowns his sorrows in rum at home, resulting in a very hungover Charlie the next morning at work.
Charlie heads to Leon's boat – to find Julia also there. Charlie is invited to lunch and hates every second of it. During this, we learn that Leon read Julia's biography and the two became partners. A little later, Charlie and Julia have some nice moments as they discuss Easton's treasure, and it's in these interactions you can see they once loved each other.
Joe has to consider Reggie murdered Kirsch, but it's more likely one of the Birch siblings. Quite possibly Frances.
Charlie catches up with Frances and Julia at the suspected site of the treasure where Frances is holding Julia at gunpoint. To defuse the situation and keep Julia safe, Charlie uses Rex to sniff out the treasure.
Frances swears she didn't kill Kirsch, she just wants the treasure because it's all her family has worked for. Rex disarms Frances during some tug of war with the treasure, but Frances isn't a murderer.

Charlie spots Leon's boat on the drone footage Jesse got from his new friend, the nameless videographer. With Julia having a solid alibi, Charlie sets his sights on Leon. After failing to bribe Charlie, Leon attempts to escape but Rex knocks him into the ocean, and Easton's treasure sinks out of sight.
Julia and Charlie have a final moment together, and it's clear some peace has finally been made.
The team catches up with Charlie. Joe, Jesse and Reggie discuss diving down to collect the treasure from the ocean, with Jesse offering to learn how to dive. He just wants to be part of this, but why not just send Dive Master Charlie down?
Sarah meets up with Charlie and checks in with him. He doesn't blame Julia anymore for the end of the marriage. He can move on now.
Charlie:
"I think I can turn the page on that part of my life, focus on what's next."

Sarah:
"Oh, what's that?"

Charlie:
"Your guess is as good as mine."
The loaded, pointed look he gives her right before the last lines says loud and clear what he can't yet say out loud. We may not have had as much Sarah this episode, but her scenes with Charlie – especially that final one – were all important for endgame Charah. Charlie is ready now to move on from his divorce. I don't think we should expect these two to get together by episode five, however something happening by season's end is looking quite possible.
Typically, when a ship starts getting close, another girlfriend/boyfriend is written in as an excuse to keep a ship apart. At the pace Charah are going,
Hudson & Rex
doesn't need to do this, and it would make no sense to do it because unlike other shows the relationship wouldn't be a main storyline. Fingers crossed Charlie's dating disaster with Michelle last season was that moment.
Final Thoughts:
We get a fun parallel to Tunnel Vision, with Jesse reading Julia's book. This one won't scare him quite as much.
Apart from the cheating, and the fact she's a bit of a poor judge of character in Leon, Julia was more likable than expected.
She feels like a one-and-done kind of character, with her role in Charlie's story having now come to an end, but it was important that we meet her, and that Charlie got his closure.
Kendra, on the other hand, is welcome back anytime.
Another little cameo by Diesel's trainer, Sherri. This time she's playing pinball as Rex watches.

Nice to hear Aunt Miranda is doing well, and that she and Julia are still on good terms.

Charlie seemed to be running on rum and caffeine this episode. But seeing as it's the first time he and Julia have spoken without lawyers in six years, I can't say I blame him.

In an episode as good as this one, it's tough to pick a favourite moment, but Bluebeard the pirate dog might just be it.
This season is three for three. Every episode has been well-written, with continued character growth for all, and some truly adorable Rex scenes. So far this season can do no wrong, and it's shaping up to be the best one yet.