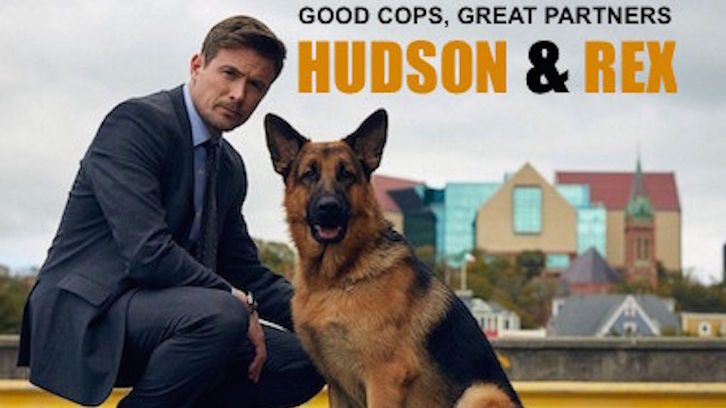 Paws up if you've missed the SJPD's Major Crimes division, and St John's beautiful scenery. Yes, Hudson and Rex is back with Sid and Nancy, and one of the shadiest police constables you'll ever meet.
We open to rugged, windswept landscapes, and watch as a happy couple, Paul and Molly, become newly engaged. It's a joyous moment, but sadly it isn't to last. Two tarps amongst the rocks tell us they did not survive the opening.
Charlie and Rex arrive at the scene and are met with disdain and annoyance by local police. Not everyone is as charmed by Charlie and his canine partner as you might expect.
It appears notorious killers Sid and Nancy are in town. On a killing spree, heading east, it's possible they've now arrived in Newfoundland.
The first suspect for the murder of Paul and Molly is Quinn Carter, a friend of the victims, and the person who found the bodies. But the killer will turn out to be one of the more obviously suspicious characters this week.
The SJPD has a new mobile command centre, which Jesse is driving. That's an error none will repeat again as Jesse doesn't quite understand the urgency.
There's a different feel to the show now that the team is out in the field in the mobile unit. The bonds are tighter. They may need to go a bit easier on Jesse though. He's hurt by Donovan not letting him drive, despite the two having quite the father/son relationship and Donovan's teasing being good-natured.
At the bar, Constable Lyle complains to Jesse about his superintendent, and because Jesse thinks a connection is being made, the manipulation goes unseen. Feeling like he isn't being taken seriously by the team, Jesse bonds with Lyle. He finds a sympathetic ear in Lyle, someone who seems to understand some of his frustrations, and who appears to respect him.
Jesse won't make a new friend here, but he's better at these interactions than he used to be, and it helps that Lyle treats him like an equal.
Lyle feeds off Jesse's insecurities and together they trek into the woods, to the home of Byson, whom Lyle says is connected to the deaths. When they arrive at Byson's trailer, Lyle knows exactly where any evidence is located, and it all feels a little planted. Jesse's uneasy about the situation, and with good reason because Lyle is soon revealed to be responsible for Paul and Molly's deaths.
Yes, it was obvious from the start, but that's okay. It upped the tension, knowing Jesse was putting himself in danger, and made us all feel a little smug when we knew we'd picked the killer from his first scene.
Joe's interactions with both the local superintendent and the grieving mother were all handled with patience and respect. Having Joe out in the field with them more will bring this tight-knit group even closer together. He might need to become the permanent mobile command centre driver, until Jesse gets another chance behind the wheel, that is.

Sarah and Charlie's friendship continues to grow, and the two tease one another a few times this episode.
Charlie fishes for compliments, because low-key flirting with Sarah is just part of his day now.
They enjoy one another's company – which is a good thing because they're soon to be in cramped quarters for the night.
Sarah and Charlie working like real partners is a wonderful season four addition. They've had moments in the past, but this feels more official.
The two head out in search of a hunting shack to investigate, and with the sun going down, they hunker down for the night. Cozy cabin. Wood stove Charlie can't get working. A bottle of rye to share. And only the one bed. Be still my fanfiction heart.
To make this scene even better, Sarah's job offer in London is addressed and Charlie opens up a bit more about his feelings. He's glad she decided to stay. Sadly, Sarah falls asleep before he can finish the sentence. But what's important here isn't necessarily whether Sarah did or didn't hear (with any luck there will be more admissions that she is awake for this season), but that Charlie finally said how he felt – not how Rex felt. It's another moment of character growth, and another step towards them finally admitting how they really feel about one another.
Final Thoughts:
The new opening really showcases all the relationships. It's no longer just Hudson and Rex, but all the team.
Rex destroying the mannequin in the cabin took me back to every dog I've ever had. That was a nice touch, a fun moment of Rex off-duty, just being a dog.
Charlie taking Lyle down was the role-reversal I didn't know I needed.
Are Charlie and Sarah moving towards more this season? Considering their journey so far, it seems inevitable. And guess what? If they do, it won't turn this show into a soap opera. Promise.
Written by new showrunner Peter Mitchell, Sid and Nancy was a strong premiere, with a refreshed tone. Having the mobile command centre means seeing the team in more intimate settings, and also allows them to travel further together. Season four is promising to be another uplifting season, encompassing everything we've loved in the past, with relationships that are more defined, yet all still evolving.
Hudson and Rex airs Thursday at 8/7c on Citytv.