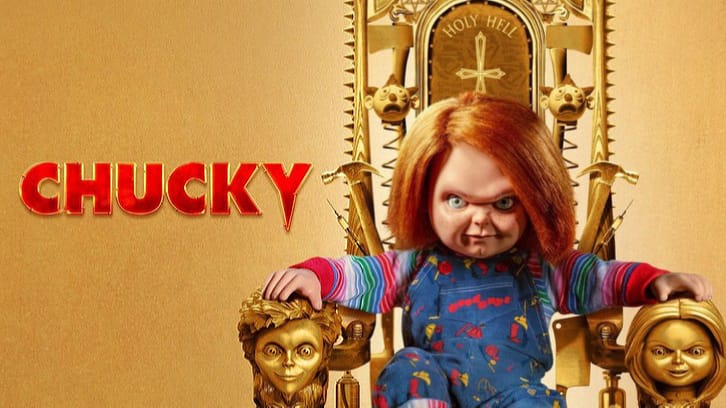 Hi, Welcome to the first review of the first episode of season 1 of Chucky. Truth be told, there is no real reason for more of the "Child's Play" universe after a slew of films that range widely in quality from entertaining to ridiculous, dating back to the original 1988 offering. But USA and Syfy's new series, "Chucky," is actually pretty solid. And to be honest i will watch anything that has this doll attached to it. Specially after i found out that Fiona Dourif and Jennifer Tilly were going to be a part of it as well.
Much of that is because Don Mancini, the co-writer and mastermind behind the original "Child's Play," is the creator and showrunner of the new series. He also wrote and directed a few episodes, which is obvious from his level of detail and empathy for this world, particularly protagonist Jake Webber (Zachary Arthur) and supervillain Chucky, beginning with the very first episode. As is the case with "Carrie," "It," the "Fear Street" films and many other horror narratives, at the center of "Chucky" is a shy, endearing young person who struggles with being seen as different or, worse yet, an outcast. Jake is quiet, totally into true-crime podcasts and GAY. He also cradles a freakish doll around with him virtually everywhere he goes and has no friends. And yet, thanks to Arthur's vulnerable performance, Jake is instantly identifiable to any audience member who has ever felt unheard or misunderstood.
Any viewer who's feverishly kept up with the "Child's Play" lore will immediately recognize Chucky (once again voiced by Brad Dourif, who originated the role) by his iconic, plastic sneer when he is trying to blend in as an innocent toy, and much creepier growl when he's animated and, by default, murderous. Jake unwittingly welcomes pint-sized serial killer Chucky into his home. It's a space he shares with his domineering alcoholic dad (Devon Sawa), who disapproves of his art (creepy doll sculptures) and hopes to bully him out of being gay. School isn't much better, and Jake is bullied there too, most notably by his cool cousin's girlfriend (Alyvia Alyn Lind). He finds an unlikely ally in Chucky, who reveals himself to Jake in the episode's most entertaining sequence. Much of 'Death by Misadventure' is set up, and a breezy introduction to Hackensack, New Jersey - the birthplace of one Charles Lee Ray. Tonally, it's a return to more traditional Child's Play vibes than Bride, Seed, Curse, or Cult, and should serve as a neat introduction to the character for unfamiliar audiences. While the show's core audience may have seen all of this before, Mancini wastes little time in getting to the good stuff.

Blood will be shed before the first episode is out, and drastic upheaval for poor Jake. He may have found a friend in Chucky, but there's no doubt Charles Lee Ray has more in mind than just being a good ally.In effective black-and-white flashbacks, this new "Chucky" retreads the doll's heinous origins, well known to most fans, as a soul previously inhabited by a wanted serial killer named Charles Lee Ray and transmitted by voodoo into a toy so that he could continue to murder people unscathed. But early in the series, the narrative suggests that Chucky's influence could lead to Jake's own bloody origin story, considering that he is routinely bullied and has a growing list of people against whom he could potentially retaliate. This is a solid start to Chucky's latest venture, promising all of the high-camp thrills and spills we associate with the horror icon. Turning one of the great horror franchises into TV for the masses is no easy feat, but Chucky and Don Mancini make it look like… well, child's play.


Now, work isn't going so well for the pair, with Jake's father scoffing at his successful brother Logan and his family when they head over for dinner. Their kid, Junior, has just made regionals but he and Jake don't exactly see eye to eye. He calls out Jake for being gay and causes plenty of awkward tension at the dinner table. When the family leave, Jake's dad heads upstairs and smashes his son's art sculpture to bits. To make matters worse, Jake's cat Binxie is killed by the killer doll. And the only evidence happens to be tufts of bloody hair in Chucky's hand.Anyway, Jake heads to school with Chucky because why not I guess? Anyway, it doesn't exactly help his prospects at school. Junior happens to attend the same school too, and as his girlfriend Lexy shows up, she encourages Jake to open up about his financial situation. In fact, she even starts a GoFundMe for him too, which receives big laughs around science class when it pops up. After school, Lexy finds herself freaked out by Chucky moving about and stalking her. When the teacher returns, Chucky goes limp and Lexy chalks this up to smoking too much weed. Naturally. That evening, with Jake trying desperately to sell the doll, he receives a call from someone claiming to know about Chucky. He warns Jake to be careful and to check Chucky's batteries next time. There's some nice throwbacks to classic Child's Play here, as Jake heads online to research more about the doll. The headlines link back to the first few movies beautifully. At school the next day, Jake clings to Chucky as he stands up and begins berating Lexy during the talent show. He steals the spotlight and calls out her search history, making a complete fool out of her. Chucky and Jake receive a round of applause but it also prompts a big argument from his dad that evening when he finds out.

He's clearly not happy that Jake isn't "normal" (his words) and calls him out for being weird. When Jake heads upstairs, Chucky is left down with his father. Not only does he drink all his whiskey, he also dispatches Jake's dad in a pretty gnarly fashion, puking just after the breakers are thrown back on. With sparks flying, Jake looks down at his dad in horror. Chucky meanwhile, looks on in glee. Detective Evans (Rachelle Casseus) and Peyton (Travis Milne) show up and ask Jake some questions about what happened but mostly they just claim this is a "death by misadventure"…for now. With his father dead, Jake is shipped off to stay with his uncle in their swanky mansion. And that obviously doesn't look like it's going to pose well for Junior – especially when Chucky comes with Jake too. Alone, Jake manages to talk to Chucky properly, who decides they need to talk about Lexy, brandishing a knife after outing himself as Charles Lee Ray!
Chucky is back! And fans of the murderous doll will absolutely love what's on offer in this series. There are plenty of throwbacks to the movie franchise, lots of Easter eggs and a solid story that plays on the same simple concept that made the films so enjoyable. The soundtrack is probably the one big stand-out point here and it's oftentimes something that's overlooked. The simple but effective ambient score uses those same chimes that made the films so distinctive and it's great to see that rekindled for this show. It's also great that Brad Dourif is back as Chucky too because honestly, I can't imagine anyone else taking that role. The throwbacks to the past are obviously important but there's also a clear desire to make this something that newcomers can dive into too. In that respect, the addition of Jake Wheeler is a good one and he's an easy character to warm too as well.
What did you guys think of the episode?
What are you looking forward about the show?
Are you as excited as i am to see Jennifer Tilly?