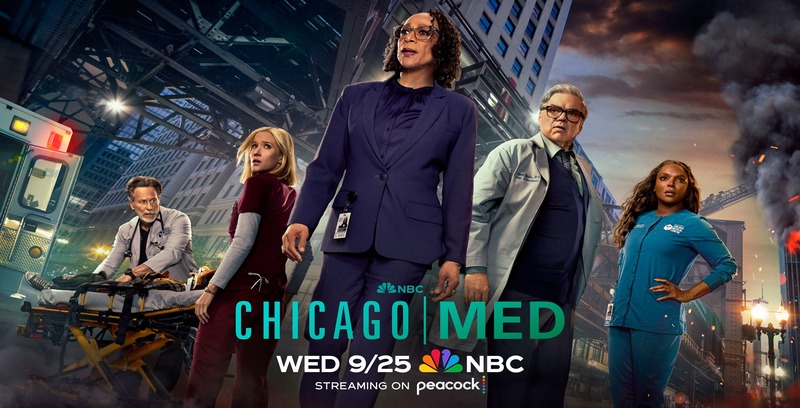 This week we had a chance to see more of our Dream Team reunited, old rivalries revived and the ongoing work of our Chicago Med team to advocate for the best care to meet their patients needs.

Dr. Halstead, Dr. Hammer and Eleanor (with a dash of Dr. Cooper)


Eleanor is a patient that presents to the ED and is hypotensive and tachycardic and Stevie asks Will about using the Vascom to help monitor her. They decide to use the Vascom, and then Will thinks maybe she is having complications and he wants to pull it but Stevie wants to keep it in as it is working well to help them monitor and treat her. Eleanor gets worse and Will says he believes she has had a mini-stroke, and he pulls the Vascom line, which makes Stevie upset as he should have consulted her first.
I find it interesting that despite this old rivalry that bubbles up, Stevie and Will work really well together, and I think when it comes to solving medical mysteries, they have very complimentary skills that allow them to help their patients even more effectively and efficiently. And that underlying tension adds to the "will they, won't they" question, when it comes to looking at romance in the ED.
Dr. Charles, Dr. Scott, Alex and Ryan
At the beginning of the episode, Dr. Scott is being dropped off by his dad, who is a police officer. We get to see a bit more of the family dynamic between Dylan and his law enforcement family, and I for one love learning anything more that I can about Dr. Scott. I think the One Chicago writers are creating pure gold with this character, and that casting could not have done a better job when they cast Guy Lockard in this role.
Dr. Charles begins to observes Ryan and you can see those wheels turning in his mind from the hallway. But then Alex has a seizure and briefly becomes unresponsive. Dr. Scott looks at the head laceration and asks Vanessa if it has been bleeding that badly the whole time, and is worried he could have a bleeding disorder or brain bleed, and Vanessa blames herself for not noting this and bringing it to Dr. Scott's attention.
Ryan's parents are trying to get him to come out from hiding and Dr. Charles helps to get him out, and reassures him that he understands it is not his fault and that other people get the same feelings he does, and that talking about your feelings and getting them out can help. Dr. Charles reassures the boys parents that they will get both the boys the help they need. The family is now healing thanks to our Dynamic Duo again. I cannot get enough of this Dr. Charles and Dr. Scott pairing, and they both seem to have a similar approach to the way they try to understand, connect and care for patients. Let's keep it up boys.
Dr. Scott then goes to see his dad and brings him some dinner and thanks him for everything he has done for him. It was a lovely way to end the episode, while also making a hat tip to a Chicago Food Favorite, Al's Beef.
Vanessa
Dr. Marcel, Dr. Archer, Avery and Dr. Blake
Marcel checks on her, and they talk about her mom and what she was like when she quit med school. She later starts to crash and rebleed and Dr. Blake does not want her to go back to the OR but Marcel opens the incision to decompress the bleed in the room and takes her back to the OR, with an approving nod from Dr. Archer. Dr. Blake says to make sure to keep the swelling down and close her as soon as possible. Dr. Blake checks in on her and does not address Dr. Marcel at all, and later Dr. Marcel gets a message asking him to scrub in on a transplant with Dr. Blake.
After our last episode where Marcel felt he was being benched by the powers at be, this storyline definitely built on furthering those feelings of frustration for him. But it also showed him how by acting in the best interest of his patient, he gained some respect from some of the senior surgical staff. It seems that caring, heart on his sleeve Marcel is here to stay, and that hopefully he will begin receiving some recognition for the work he does.
What did you think of this episode of Chicago Med? Share your thoughts in the comments below.