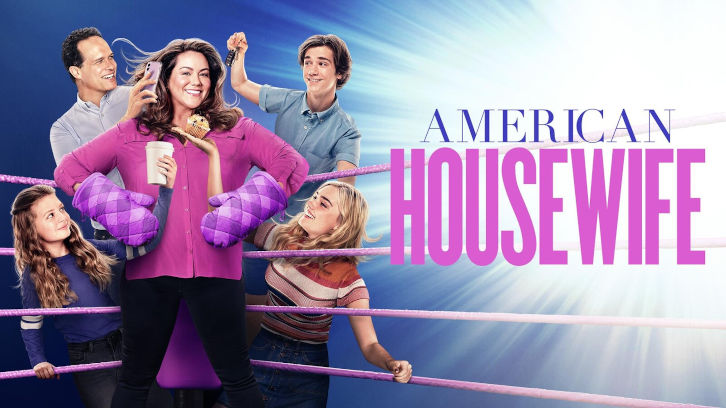 On American Housewife, most of the Ottos contend with various relationship issues, while Greg sets out to secure his victory in the election.
Greg and Lonnie meet, and Lonnie warns Greg's in 4th place in the polls (despite there only being three candidates!) Never fear though - Lonnie's got a plan. He bribed a source for information on Greg's opponent Steve Hobart. Apparently, he goes for a foot massage every week, and after getting relaxed and uninhibited, he goes on and on about how he hates Westport and is only running for city council as a stepping stone for Congress. Greg resolves to secretly record Steve.
Meanwhile, Oliver mopes around about his kind-of ex-girlfriend Lindsey. He believes love is dead. Anna-Kat is busy preparing for her and Franklin's anniversary (of the first time they shared a piece of gum!). Taylor, on the other hand, is trying to figure out where she stands with Trip. They meet and mutually decide they want to take some space to see if they're really meant to be together. Taylor goes on another date with Andre but finds herself not quite ready to move on to another relationship.
Katie forces Oliver along to Stewart and Kingston's, where one of his classmates, Audra, is a waitress. She flirts with him, but Oliver could care less. Katie's not happy about Oliver's constant moping, so she, Tami, JD, and Walker decide to take action through some good old-fashioned cat-fishing. They log into Oliver's Instagram and start sending Audra messages as Oliver.
At home, Anna-Kat gives Franklin his anniversary present (a licorice cake!). And in return...Franklin performs a rap he wrote about his mother's minivan to her! Anna-Kat's definitely not impressed with her gift, and when she tells Franklin, he runs out. Katie advises Anna-Kat that she's gotten plenty of terrible gifts from Greg over the years too, but like Franklin, even his terrible gift-giving skills can't erase all the good things about him.
Greg commences his stealth operation to record Steve and dresses up as a mail carrier before heading down for a foot massage. Unfortunately for Greg, Steve isn't too interested in making new friends with a creepy mail carrier (or really talking at all), so it seems like the operation is a bust. But things turn around when Steve hands the masseuse (a dressed-in drag Lonnie) his work credit card to pay. Greg now has Steve misusing town funds for personal gain on video!
Taylor confides in Katie that she doesn't know why she was hesitant with Andre. Katie suggests Taylor focus on herself for a while since she's been in a relationship for so long. Taylor takes her advice and ends up...running into Trip at their favorite taco truck. Taylor admits that she's realized Trip is the only person she really wants to be with and she wants their time apart to be over. Trip agrees he's ready for the break to be over (only after finishing his drink that is!)
Katie finally tells Oliver what she and her friends did, and he's furious. But it's too late for Oliver to back on, as Katie invited Audra over and she's already at the door. The two hang out, but Katie, Tami, JD, and Walker are having to relay to Oliver everything they said to Audra over Instagram. When Katie tries to send Oliver a message, she accidentally messages Audra - from Oliver's account...while Oliver is sitting right in front of her. Oliver fesses up to Katie's schemes and insists it wasn't his idea, but that he's nevertheless happy he got to know Audra more. Although she's mad at first, Audra admits she can relate, her own mother is currently parked outside not so discreetly stalking the date! Oliver and Audra decide that despite their strange start, they want to continue getting to know each other.
Anna-Kat goes to see Franklin, who's been in the hospital - from an allergic reaction to licorice! He admits he knew he was allergic to it, but didn't want Anna-Kat's feeling to be hurt, so he ate it anyway, and then ran off when his tongue started to swell up! Franklin also tells Anna-Kat that the reason he wrote the song about the mini-van for her is that it's where they first shared a piece of gum. (Ew!...but also...Aw!)
Finally, Greg starts to get hesitant about releasing the secret video, but then he finds out Steve has already dropped out. Turns out, Lonnie went ahead and confronted him with the video, and he chose to drop out rather than have it released to the public!
Random thoughts:
-Franklin rapping was hilarious!
-The best quotes go to Katie when talking to Oliver about his lack of relationships - "You need a social life...a social life with boobs!" and Greg, when getting ready to conduct his "sting operation" on Steve - "I, Randall Stockton, mail carrier, am about to ruin a man's life!'