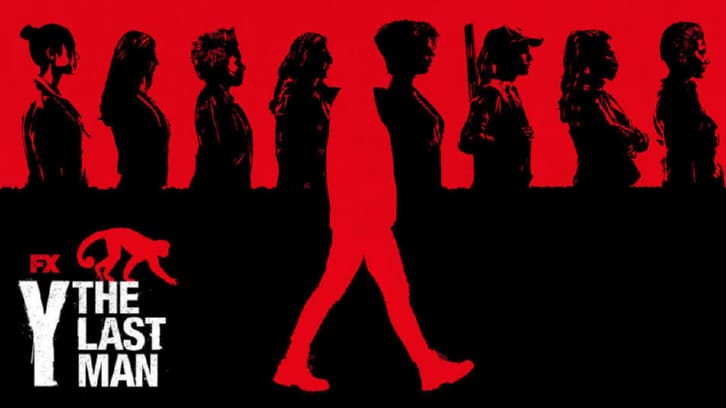 Episode one of "Y" helped establish the new world the characters are now having to deal with; episode two gives us an insight to the chaos rising from the difficult situation the entire human population has to come to terms with. Jennifer Brown is the President (here here!) and, while running the country and dealing with this gigantic crisis, she has to find her daughter, a daughter that doesn't want to be found.
In the episode, trans men are introduced as a relevant part of the story, because the show wants to tackle the question of "identity" and what it means to live in a world where the binary construct is basically non-existing. They are introduced in the story while on the quest for testosterone and among one the groups there's Hero with her friend Sam. Hero doesn't want to use her position as daughter of the President to be rescued, so that puts her and her friend in danger. Of course she doesn't even begin to consider what her best friend is going and he makes sure to let her know: "Do you have any idea what it's like out there for me? Questions I have to answer? Shit I have to explain, all over again?". Exactly! Meanwhile, at the White House, things are looking tragically; waterborne illnesses are spreading and chaos reigns supreme among protesters. People are going frantic and evacuation plans are running late, because too many people are still stuck in every city, especially New York. New York is where Jennifer sends Sarah to look for her daughter, hoping to find her alive, while at the White House, Kim, the dead President's daughter, is still struggling with the loss of her husband and sons but has to take care of her mother, who doesn't seem to be dealing with the situation well. Also, Kim strongly believes that we need men, continuing her crusade of conservative ideology.
The most pressing question remains: "Why Yorick?" (and the monkey too!); he's been trying so hard to find Beth, who still remains missing and nowhere to be found; he's taking care of his monkey and he's desperate to go home. When he's found by Sarah by the end of the episode, I thought they might have to jump through hoops to get home and that something bad would be around the corner, because why not? Instead, they land on White House property in front of Jennifer, who's thinking she's reuniting with Hero, but instead she sees her son stepping out of the helicopter. I have to say, the array of emotions Diane Lane goes through in that scene is just heartbreaking; the relief, the sorrow, the disbelief. What an actress! Now what? How do you keep hidden someone who's supposed to be dead and has become a valuable asset for humanity?
What did you guys of the second episode? Let me know in the comments below!
Y:The Last Man is now streaming on Disney+ in the UK