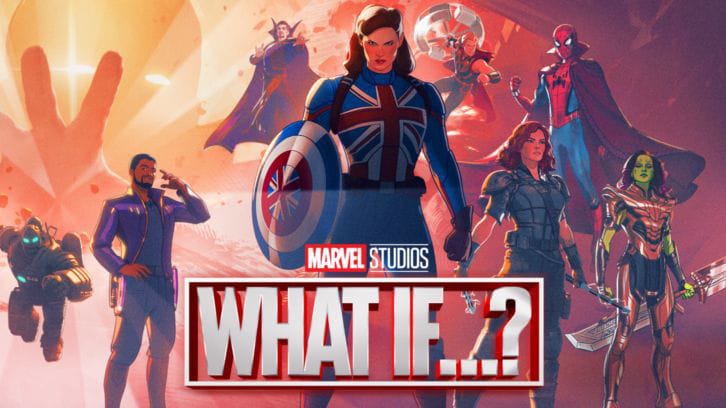 SPOILERS AHEAD!
The latest episodes of "What if...?" went to dark places. They both handled deadly and terrible scenarios in different ways. And while there's a ray of hope in one of them, the other is tragic and memorable, with moments so powerful that they made me shiver.
A lot happened on those two episodes, so let's dive in!
What if the world lost its mightiest heroes?
The third episode of "What if" questions itself about what would happen if the Avengers we know and love never assembled. When a mysterious killer starts to target and kill the people eyed to join the Avengers Initiative, Nick Fury must discover what is going on and stop the killer.
Here's a brief recap of what happens: Natasha Romanoff injects Tony Stark with a surprisingly lethal drug, Clint Barton kills Thor by accident, dying not long after, and Bruce Banner explodes during a military attack. Finally, Natasha is murdered while investigating all these deaths, leaving one final clue to Fury before dying.
Meanwhile, Loki and his army of Asgardians land to conquer humanity and avenge Thor. However, Fury makes a deal with Loki after concluding that Hank Pym has used a shrinking suit to murder people and avenge his daughter's death. In a clever sequence, Loki tricks Hank, helping Fury to defeat the killer. Then, the God of Mischief decides to extend his stay on Earth, managing to conquer the world. When everything seems lost, at the very end, Fury aims to restart the Avengers Initiative with Steve Rogers and Carol Danvers.
I love a good murder mystery. And from the beginning, I wanted to see a darker tale on the MCU. So, no need to say I enjoyed this episode very much. Bonus, we also got to see some old faces again, which is nice. Another good thing: Natasha was such a highlight here! I hoped she would survive, but death seems to be her fate in any universe until now. Maybe in the future, we will get to see a version that survived. Anyway, seeing her die again made me question myself: what would have happened if Natasha survived Avengers: Endgame? I don't think we will ever discover, but this could be an interesting "what if" situation. What do you guys think?
On the other hand, after I finished this episode, I questioned myself if the show's weekly release worked for me. "What if...?" can be a fun ride, for sure, but can it be engaging enough to make me long for it? At the time, I felt like the hype and buzz were smaller than usual for Marvel releases. Maybe if the whole season dropped at once, things would be different, but this doesn't sound like Disney+ strategy. Then, what if two episodes were released at once every week? Would I be more eager for this show?
After watching the fourth episode, I learned the answer.
What if Doctor Strange lost his heart instead of his hands?
It starts with a death.
In this universe, the car crash took Christine Palmer's life. This event changed Stephen Strange forever, leading him to learn the Mystic Arts and go through the incidents of Doctor Strange (2016). Years later, Strange tries to use the Eye of Agamotto to save Christine, but she keeps dying. Enters the Ancient One, who advises the sorcerer that Palmer's departure is an "absolute point" in the timeline. Undoing it would mean tragedy.
Of course, Strange ignores the message and fights the messenger. Then, the Ancient One splits Strange into two. One is ready to move on from his lover's death. The other walks the dark path, earns great power by absorbing powerful monsters, and becomes an upgraded, meaner version of Strange (known as Supreme).
The Good Doctor fails to overcome all this evil power and is absorbed by Supreme Strange, who resurrects Christine. As a result, the effort destroys this reality. After the Watcher denies helping him, Strange is lonely, pure pain, sadness, and agony as he watches Palmer dying with the rest of his world.
The end.
I stayed there, staring at the screen, astonished as the credits unrolled. The entire experience was so terrifying, exciting, emotional, and tragic. Minutes later, I realized that if every episode had been as good as this one, binge releases wouldn't be needed. The story speaks for itself, lasting, memorable, powerful.
The animation style here is excellent! Again, I caught myself mesmerized in many moments! The monsters, the fighting while the world was ending, the duality between the two versions. And Strange's decay, of course, heavy and shadowy as it should be.
Finally, the Watcher played a part! He engaged with Strange Supreme and was somehow relevant to the episode's conclusion. I wanted something like that to happen since the show began. I hope one day we will learn more about Uatu in a story focused on the Watcher.
That's it. While I'm not exactly eager for the fifth episode, I'm now confident that this show can deliver magnificent stories after all. And you, what did you think of these episodes? Are you excited about the next ones?
Thanks for reading, and see you soon.