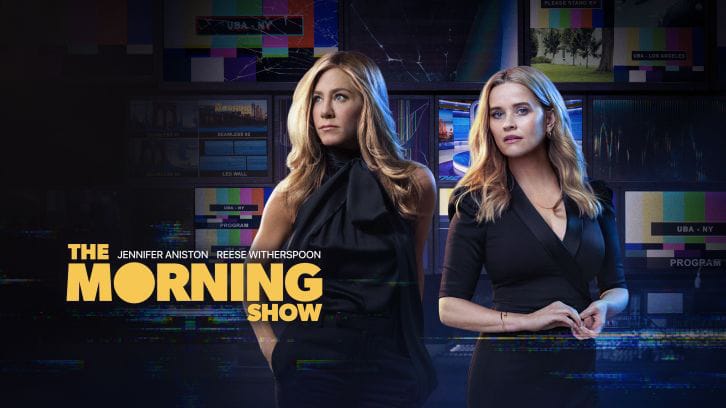 The Morning Show season two episode one "My Least Favorite Year," brings us back to the moment Bradley and Alex went off the air last season. It. Is. Intense.
This episode is a fantastic opener for a season that will clearly be set in dealing with the events of last year's finale, even though in the show, it's eight months later.
We also get a fun New Year's Eve 2019 broadcast, embracing the best year yet! Wait until Bradley has to report on COVID-19.
We find out that after Cory was fired, it was Bradley who convinced the network to rehire him. She mentions this more than once, and at first, it's cocky, unappealing, but then you realize she emphasizes it because she's not that type of person.
Bradley isn't someone to go out on a limb for a man she'd known for less than a year, but she did, and she did so successfully. In her eyes, what he does is the ultimate betrayal. And I can't really fault her for it.
Billy Crudup in The Morning Show
Cory is still just as chaotic as usual — especially when he vocalizes that he wants Alex back. He's saying it out loud to almost get permission, yes, but you can tell his mind is set. He's going to get Alex back.
Cory lies to Bradley. He convinces the rest of the team to lie to Bradley. And then when Bradley questions him, he can't even say for sure that he's done it because Alex is coming back.
Alex on the other hand… doesn't want to be bothered. At all. Even a little bit. Good for her!
She's gotten an agent and is releasing a book that, from the sounds of it, is a tell-all, except she's not really telling what people want to hear.
Alex dodges questions, conversations, thoughts about UBA and The Morning Show. It's not very hard to believe, but it is incredibly upsetting.
In taking a step back, not just from UBA, but from society as a whole, Alex has realized she has a lot of work to do, and it must be done if she wants to remain even a shell of who she really is.
Kathy Najimy and Jennifer Aniston in The Morning Show
In a particularly overwhelming scene, Alex speaks with a medium, and this medium says to her, "you are carrying around a paralyzing amount of guilt." It is absolutely heartbreaking.
Then... Cory calls. And she's been trying to escape. She's been trying not to relive the thing that burned every bridge she had with UBA.
But when Cory Ellison calls… you answer. You answer affirmatively.
Seeing how devastated Bradley is when she realizes she's not moving up a time slot was a lot. She really believes in Cory, enough that she saved his job (!) and now she feels like he won't extend the same courtesy.
Reese Witherspoon in The Morning Show
Bradley deserves that same courtesy. She deserves to be appreciated as much as anyone else, but she's not, because it's a man's world, and of course, her and Alex's actions were made out to be terrible.
Season two also introduces us to Stella Bak played by Greta Lee (Russian Doll), my favorite new character and an absolute delight. I'm not saying she's all sunshine all the time, because she definitely isn't but isn't it nice to watch UBA talk about decisions that need to be made and it's not a massive group of white men?
Stella doesn't take crap from anyone, no matter how important they are to the show. She's headstrong but also knows when enough is enough. I cannot wait to see more of this character.
The end of this episode sets up an issue that will surely go on through most of the season, and rightfully so.
MORE BAD NEWS FOR UBA — HANNAH SCHOENFIELD'S FAMILY FILES WRONGFUL DEATH SUIT
Everyone who was a part of this, of taking Fred Micklen down, what happened to Hannah, was impacted. Everyone came out on the other side a different person.
This season will depend on who is willing to continue to stick together. On who's willing to continue to tell the truth.
What did you think of the premiere of The Morning Show? What are you looking forward to seeing in future episodes? What are your thoughts on Chip's new girlfriend? Is anyone else upset about Bradley dying her hair? Let me know in the comments down below!