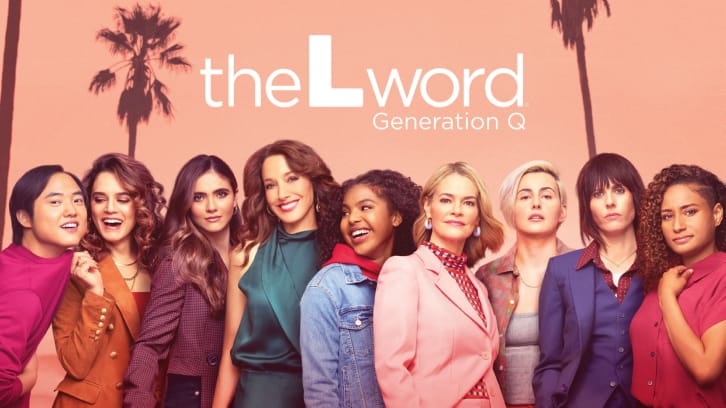 This week´s episode of The L Word opens with Finley (Jacqueline Toboni) throwing up yesterday's beer to clear out some space for today's beer. Clearly things are going well around here and everyone is thriving. She´s re-arranging the recycling bin so her beer cans are not visible to the other people living in the house. Sophie (Rosanny Zayas) walks in and admits her trip to Ojai was actually to visit Dani (Arienne Mandi), who was having a crisis with her dad and all, and needed someone.However Finley´s already aware of Sophie's dishonesty, and then avoids eye contact while she rambles about how she and Dani are just friends. Sophie also somehow misses every subtle emotion radiating from Finley's wound-up body.
Romantic and sexual relationships are a huge part of Generation Q's storytelling, and they make for compelling conflict and character arcs. But queerness is about so much more than sex and dating, and Generation Q makes space for that. Namely, one of the central storylines concerning Bette (Jennifer Beals), Tina (Laurel Holloman), Carrie (Rosie O'Donnell), and Angie (Jordan Hull) features a wealth of dynamics and emotions, making for a very entertaining, layered narrative. I wish they would lean more into this. The lesson here is that all families are chaos. We get a fiance-fiance relationship (Tina/Carrie), a relationship between ex-wives and co-parents (Bette/Tina), a relationship between mothers and their daughter (Bette/Tina/Angie), and a relationship between someone and their fiance's ex-wife (Bette/Carrie). Those are all interesting and distinct dynamics, and we should always respect the feelings of everyone involved.
Families are complicated—to say the least. And Generation Q explores that in this storyline. On top of that, Angie also feels connected to Kayla and her donor because of her blackness. She talks openly in the session about how her experiences are different than Bette's, because Bette can sometimes be white passing. Angie's wish to know her donor and to help out is rooted in a lot more than just curiosity. She has been connecting with Kayla on a deep level because of their experiences as black girls. Bette and Tina agree by the end of the episode that she can meet her donor if she wants, but of course they don´t get there without any drama.
We then go to Gigi´s (Sepideh Moafi) apartment, Bette´s already awake and typing hard into her laptop, Gigi offers to talk about their past discussion, we can tell by this whole exchange that their relationship is pretty much over now. Still, Gigi attempts to initiate some physical affection, insisting Bette can tell her how she really feels about her seeing Dani. But she only just has one topic on her mind: Pippa Pascal.

Another afternoon at Dana´s, Finley is unpacking boxes of alcohol while Tess (Jamie Clayton) is telling Shane (Katherine Moennig) she's allegedly "seeing" someone she just met by the way and is on her way there to meet for coffee, i´m not worried, i´m holding for these two to be endgame, however, everyting i just said is shattered when Cherie (Rosanna Arquette) walks in, Tess introduces them but Cherie says: "we've met." They acknowledge one another. Tess crosses her arms. "Of course you have." This is the most realistic thing ever, the fact that the lesbian dating pool in LA or anywhere for that matter is very small, so eventually you end up dating someone who´s already dated all of your friends. Anyway, while this is happening, Finley gives a big clueless wave from the back. I think bringing Cherie her back is about Shane clearly trying to prove she has grown up. She doesn't want to be the impulsive and destructive person she was when she and Cherie were having an affair. So we will see how that plays out.
Now for my weekly dosis of Dani, to be honest I'm not totally sold on how the crime drama regarding her dad really fits into the narrative. It feels like a crime plot for no reason, and as of now, hard to watch. Dani's dad apparently tricked her into becoming the CEO of his company, and he's also claiming he's innocent of the crimes he's accused of, and I'm willing to see this plotline through, but for now it feels a little tedious. What's much more interesting is the growing connection between Gigi and Dani, especially since there's a clear contrast between their dynamic and Gigi and Bette's dynamic. Right now they have the potential to become the hottest most complex couple on the show, i said what i said. I really hope Generation Q pulls through on this slow burn romance and gives us at least one steady relationship to root for. Specially because Gigi is one of the few characters on this show who seems to genuinely enjoy talking about her feelings and processing things, which is refreshing. Whereas Bette hasn't budged, Dani does respond a bit to Gigi's nudge to talk through her emotions more. She's showing a vulnerable side, in the middle of all this, she gets a text from Bette asking her to come over, the implication being that Bette is once again using her, wanting to hook up with Gigi to forget about her bad day. It's a clear contrast to the way Micah (Leo Sheng) reached out to Maribel (Jillian Mercado) about his bad day. He wanted her, because he truly wanted her.
As for Alice (Leisha Hailey), she has finally finished her book and her work relationship with Tom (Donald Faison) officially transitioning into a more personal one now that the book is done. Alice grapples with the end up her relationship with Nat, inviting Tom over for the fancy dinner she planned to surprise Nat with, and the two end up on a strange and enjoyable adventure on the beach to release some lobsters. What did you guys think of the episode? Which couples are you rooting for?