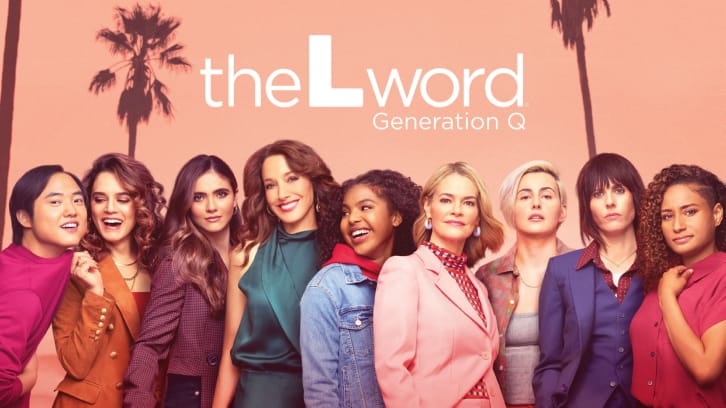 This week´s episode starts right where we left off last week. Dani´s (Arienne Mandi) greeted by the sight of police cars parked outside her family's house, as if things haven´t been bad enough for her lately, we learn why the Feds had parked themselves outside the Nunez home while Dani was out bonding with new BFF (or something more), Gigi (Sepideh Moafi): her father Rodolfo (Carlos Leal), very much alive and uninjured, was being led away from the house in handcuffs. Obviously, some white collar crime has transpired, that explains why he was so keen on having his daughter fill out power of attorney paperwork in last week's episode. That´s about it thought, we don´t really find out more about about the situation right away. In lighter news, the episode began on a kind of positive note for Finley (Jacqueline Toboni), who invited Sophie (Rosanny Zayas) for dinner late that evening. Sophie said yes, but in this universe, we know it's only a matter of time before something goes wrong.
And so a series of surprise events and revelations start, some pleasant, others less so, which involve many of our beloved characters in this latest episode. Angie (Jordan Hull), newly connected with half-sister, Kayla (Brook'Lynn Sanders), learns devastating news about her biological father, leading her to confide first in Shane (Katherine Moennig), and then in Micah (Leo Sheng) when she decides to seek out a therapist to speak to. She leaves Bette (Jennifer Beals) her mother at the end of the information chain which doesn´t seem like a smart thing to do but that´s just my opinion, however a very great thing to come out of it is that she just asks for help and that is not always easy. She then explains that sometimes it´s not easy to tell her things she will be hurt to hear.
Speaking of Bette, she obviously has other things on her mind, like tracking down reclusive artist Pippa Pascal (Vanessa Williams). After she finds her in a farm outside the city her determination wins her a dinner with the artist, with still zero interest in working with Zakarian, the encounter clearly leaves an impression on her. In the next scene, she's having wild, sex with Gigi to Fletcher's "The One", when we know Gigi´s indeed not the one on her mind at the moment. Anyway, after a call from Micah that Dani is in trouble, Sophie drives out to the her family home in Ojai, where she finds her ex-fiance wallowing in her sorrow. Things are rough at first, but after the two share a tender moment on the back patio, they fall back into bed together. But theirs isn't make-up sex or the forgiving kind. Dani's rage is renewed when Sophie comes clean about her dinner plans with Finley, which she's since broken off. I wish The L Word would stop doing love triangles folks, or attempted ones even, i´m tired of them. Sophie's in trouble with Finley, too, once Micah accidentally spills the tea that she'd cancelled their dinner plans to be with Dani in Ojai, leading Finley to take comfort in the nearest liquor store.
Meanwhile, Alice (Leisha Hailey) goes back to her house, where her mother Lenore (Anne Archer) is currently living, she´s a bit much to be honest and not at all what Alice needs right now, after the break up. At least she has work to distract herself right? Well, she´s forced to confront her own past when Tom (Donald Faison) insists that she talks about the loss of Dana in her book. Although she refuses at first, she eventually comes clean with how she feels in a touching monologue that leaves her and all of us in actual tears. Oh boy. And that´s not the only reference to the good old days, in a conversation between Angie and Shane she also mentions how she left Carmen at the altar because of her father. In other perfect pairing news, Micah tells Maribel, that he is interested in dating women and it's clear from his growing attachment to her that he means one woman, in particular, although he's just too shy to say it. Speaking of perfect pairings, when Tess (Jamie Clayton) comes back from Las Vegas, Shane´s waiting for her outside her house, they a touching heart to heart about her ill mother, who's in a care home, one thing leads to another and Shane plants her a surprise kiss. But Tess is seeing someone else, she explains as she backs away, leaving Shane to bumble about awkwardly. I bet that person´s Helena Peabody, we know she´s making an appereance this season and the trailer kind of gives it away when Shane says she knows her, unless it´s not her then i didn´t say anything.
They aren't the only couple left in suspense. Before the episode ends, Dani and Sophie, now fully dressed and outside, Sophie ready to depart for the city, Dani asks her to stay. Making my ears burn. Let me know what you guys thought of the episode. Who do you think is the person Tess is seeing, and will she leave her for Shane? Will Micah ask Maribel out? Will the L Word ever end love triangles? Will there by any happy couples at the end of the season? Wil we survive another Bette x Gigi sex scene?