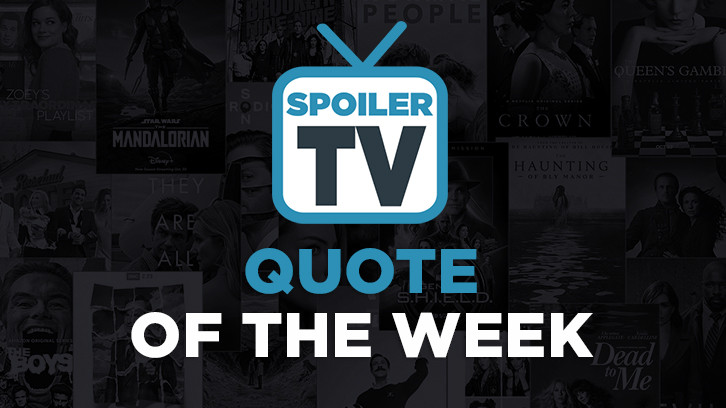 A weekly feature highlighting the best quotes on TV as picked by the Spoiler TV team. We'd love to hear your picks too so please sound off in the comments below.
Chicago PD -
1. Jay Halstead: "I love you. And I've known since--I've known for years that I want it to be you and me, always. Hailey, will you marry me?"
2. Hailey Upton: "Because I wanna be with you. I want us. I want to know that I can have normalcy and stability in my life. That no matter how bad things feel, at the end of the day, I know they'll be okay because I'll have you."
3. Makayla Burgess: "But I want to see her. She's my best friend. She'd wanna see me." (Jessica C)


FBI -
1. Maggie: "What's the first thing they tell you when you choose to work the tip line?" OA: "I know." Maggie: "No, come on, answer the question." OA: "That the only thing that is guaranteed is that you'll screw up." Maggie: "Yeah you'll chase the 999 calls that turn out to be nothing and miss the one call that turns out to be something."
2. Isobel: "Jess, hey listen I am so sorry about Crosby, I feel terrible. He was a great agent." Jess: "He's not dead." Isobel: "What?" Jess: "I lied. Text is from my plumber." (SarahR)


FBI: International -
1. Croatian Police Officer: "You didn't notify us about this!" Forester: "I wonder why!" CPO: "Mr. Kubrovich is a very important man!" Forester: "There is a 14 year old girl abducted." CPO: "He is alone here!" Forester: "Are you in his pocket?" CPO: "You come to my country, and you throw accusations at me?!" Forester: "You didn't answer my question." (SarahR)


FBI: Most Wanted -
1. Jess: "This isn't an investigation. It's a manhunt. There's a difference." Kristen: "Yeah, I understand that, but those guys in that car could be ex-Mossad. I can help you." Kristen: "And the mosquitoes in Miami are murder right now." (SarahR)
NCIS -
1. Jimmy: "You were keeping a handgun here? Guess you guys just blew right past the toothbrush phase."
2. Jimmy: "She's gone, Nick." Nick: "No. She left."
3. Jessica: "Does Gibbs have a girlfriend? Just saying. There could be definite 'love shack' vibes here." (Jessica C)


Only Murders in the Building -
1. Vaughn: "Just because things aren't what they seem, doesn't mean she's a bad person. Maybe she just doesn't trust y'all yet." Lucien: "Or she's mistletoe, which is actually a toxic parasite.The very plant that encourages us to kiss at holiday time, can actually kill the tree it hangs on. Little do you know all that romance is happening under a tree assassin."
2. Oscar: "When you get out of prison and try to restart your life, you hope to get back to the good parts and leave the bad behind. But just because you aren't locked up, doesn't mean you aren't still in some kind of prison."
3. Oscar: "Brazzos was one of three DVD sets in the prison library." Oliver: "God, prison sounds like hell. What flavor do you have there?" Oscar: "Uh, vegan sea salt oil?" Oliver: "Jesus. When did ice cream become a hand lotion? Fucking millennials. Honest, they're so boring." (Folie-lex)


Roswell, New Mexico -
1. Iz: Watsons, it's time to Sherlock ourselves the whereabouts of an alien." (Prpleight)
1. Mariner: "Unbelievable! Boimler's cozying up with those brownnosers to get out of trash day? Such a great call!"
2. Redshirt2: "The Captain needs to always be prepared to give a rousing speech, so go ahead. Rrrrrrouse them!" Boimler: "Uhm... what am I supposed to speech about?" Casey: "Oh! A temporal rift." Redshirt3: "Oh oh! With a plasma grid." Redshirt4: "And the replicators are broken." Redshirt2: "Sounds like a crew that could use some inspiration." Boimler: "Right now? Okay. Uh... Uuum, attention crew. Um, I'm your captain. I'm Captain Boimler. Uh, we've got a plasma grid and a temporal rift. Sorry you said 'temporal rift', right...? Yeah yeah yeah. And, uh, lots of danger. But as sure as, uh, this is my captain's chair, um, you can count on me 'cause I'm your captain. Yes, siree." Casey: "We should mutiny."
3. Casey: "You made a fool of yourself to make a bug laugh. It was shameful." Boimler: "Alright, you know what's shameful? Trying to build a persona by copying other captains. You think Riker did that? You guys are wasting your time on this Redshirt stuff. Be your own captains." (Folie-lex)
Ted Lasso -
1. Thierry Henry: "Well for me , the match was a real Cinderella story... if her glass slipper broke and sliced her Achilles tendon."
2. Beard: "We can talk and drink as long as we talk about anything but the game and drink." Jeremy: "Have you ever been to Vegas?" Baz: "What's Ted like behind closed doors?" Paul: "How do you cope knowing the universe is infinite but your consciousness can end in a second?" Beard: "I've been to Vegas many times. One night is good, two nights is perfect, three is too many. Ted is a man. Just a man. And as for the fragility of life, I'm so glad someone finally asked. Because, yeah, I got a few thoughts... And so, in conclusion, if this is all indeed a simulation, which everything in my experience suggests that it is, then all we can do is tip our caps to the rascal pulling the strings."
3. Ted: "'Cause sometimes, every once in a blue moon, there is a game so awful, so..." Roy: "Dog shit?" Nate: "Haunting?" Beard: "A catastrophe of epic proportions." Ted: "That the only way to watch it back, is at ten times the speed and with the Benny Hill theme music playing under it." (Folie-lex)


Turner and Hooch -
1. Trent: "What do you think is gonna happen? Larry the Ladie's Man is gonna teach ya medicine? Find a cure to... coma?" Xavier: "Yeah, coma's not a disease. It's a deep stae of prolonged unconsiousness. Or perhaps am alternate consciousness, like a shamanic journey." Trent: "I don't like it when you talk to me."
2. David: "Well your dad, he just saw things differently. We saw ice blocks. He saw a way to ship drug money. We saw a big slobbery dog, and he saw a clue to a murder."
3. Erica: "When we were kids, all Curtis wanted to do was dress up as a Aladdin and build our dog Remi, these forts out of cushions. He did it every day. Same thing. Wouldn't even look at me." Scott: "So what did you do?" Erica: "So, I finally asked my mom for a Princess Jasmine costume, and I just started helping him build." Scott: "And then he started talking to you?" Erica: "No, not exactly. But it got us in the same fort, so..." (Folie-lex)

What We're Watching



Chuck -
1. Lester: "What we lack profoundly, and proudly, in on the job competence we more than make up for with listening skills." Jeff: "Actually, I'm deaf in my left ear." (Prpleight)


The Lost Symbol -
1. Nunez: Hey, smart people, it's upside down." (Prpleight)

Only Murders in the Building - 1.04
1. Mabel: "Right. You should wait. Plenty of time. You know 70 is the new 40." Charles: "I want you to be less mean." Mabel: "I know you do." (Folie-lex)