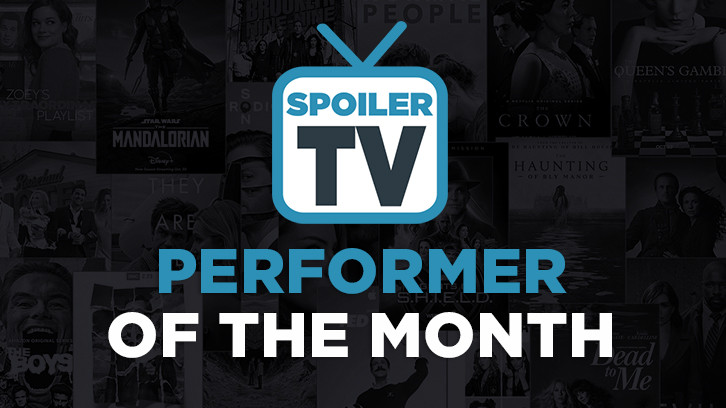 This summer continues to be the exception to the normal Summer TV drought. August is typically the month that we can count on a pretty tame round thanks to that lull period between Summer shows and Fall shows, but this year that just hasn't happened. There has been no major lull and while we don't have the same quantity of new shows as during the Fall and Winter seasons, what we do have is keeping us all entertained with some exceptional performances. It will be truly fascinating to see who will end up getting the nominations needed to make the voting round in a few days' time.
If you are new to this feature, please read the
2021 rules
.
2020 Staff Choice Performer of the Year:
Linda Cardellini
2020 Readers' Choice Performer of the Year:
Katherine Barrell
January 2021 Winners:
February 2021 Winners:
March 2021 Winners:
April 2021 Winners:
May 2021 Winners:
June 2021 Winners:
July 2021 Winners:
Please note that a performer can now only win once per year and a show can only be represented by two winners per year.
No exceptions will be made for any performer or show, so please use thoughtful consideration when making your nominations. You will have to fill out the submission form for each nominee you submit.
You can submit the document up to 5 times, but each entry must be for a different performer or all of your other nominations will be disqualified.
The Top 5 most nominated actresses and Top 5 actors will be placed in the poll next week to determine the Readers' Choice Performer of the Month.
After you place your nominations take a moment to use the comments section to discuss your nominees with others. Episode number for the nominees is critically important, so discuss with others why you think a performer deserves to be recognized for a specific performance within a single episode.
Nominations will run until
September 4th at 6 pm ET
. The poll will post on
September 5th at 6 pm ET
.
Enter the episode number as 101 or 1.01. Either will work on the form and both will be accepted.