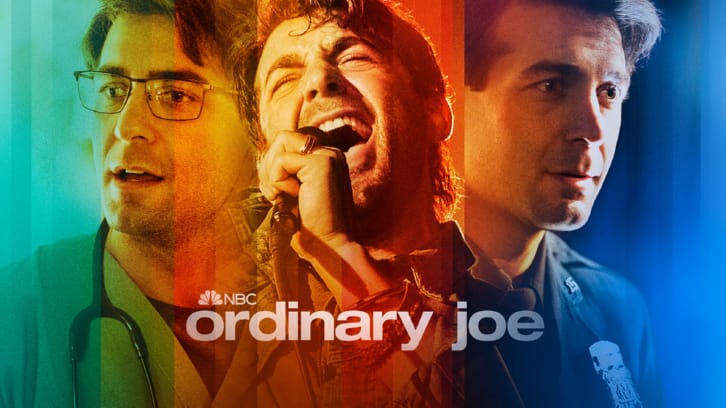 Over 18 months now Covid 19 has made our lives anything but ordinary. NBC's attempt to make us fall in love with an ordinary Joe is a wacky journey that simultaneously delivers hits and misses throughout its first hour. Garrett Lerner and Russel Friend wrote the Pilot, directed by Adam Davidson.
Ordinary Joe is about an ordinary Joe, who btw is anything but ordinary, and the way one decision took him on three different life paths. And the first 5-7 minutes till they push Joe into these three different directions are the dullest of the pilot episode. Once the show got all these introductory moments out of the way amd start showing how Joe's life unfolded it just keeps flowing. The show is fairly well paced and the transistions between "worlds" is executed very well and all this twirling just keeps you interested and glued to the screen. But will the glue hold long enough to keep viewers engaged weekly?
Going into this show, first and foremost, you shouldn't overthink it. The way the show introduces the parallel three world and the fall out of Joe's decision is very simplified, at least in my opinion. I often think about what small changes in our lives can mean and how much can it change the trajectory not only of our lives but all the people around us, from crossing the street on a red light to tipping a waiter a bit more or less. Every decision we make has lasting consequences and Ordinary Joe takes a very simplistic approach to this topic, which is great for storytelling as they can better mirror the worlds but feels quite sloppy after just one hour.

One big positive this show has going for it is THE CAST. Each cast member carries their weight perfectly through the 3 worlds and gives each character distinct differences in each world but keeps their core intact and ready to rumble. James Wolk is a mesmerizing lead, great energy, fit body, goofy loveable smile and doggy eyes to stare at for days. The chemistry between James' Joe and the entire cast is just off the chart. While each interaction changes tonally with each world thr essence is so present and intimate. A bunch of viewers will want to get a bit of James to just stare at them with his in love look. Personally I was really blown away by Elizabeth Lail and Natalie Martinez, both actresses bring strong performances and keep Joe's slightly lightheaded character grounded and the three world in place.
The fairly strong cast is rounded out by Charlie Barnett, Joe's best friend and an intercate part of his life spreading himself thicc and thin through his life. Teddy Sears was also cast in the series during the summer but doesn't appear in the pilot epiosde.
Overall Thoughts:
Ordinary Joe is a solid show, which strength lies in its strong cast and their ability to transfer the emotions through the wonky storytelling. The big question is, will this show be able to keep an audience weekly audience? It will be rough, the pilot episode didn't offer anything breathtaking and while it will surely keep a good audience the late timeslot and streaming competition doesn't make me think this will be a show that will prosper on broadcast.
That is a wrap from me, guys. Ordinary Joe premieres next week on NBC at 10/9 central. Are you excited for NBC's newest drama? Or is it a hard pass even before checking out? Share your thoughts in the comment section below.