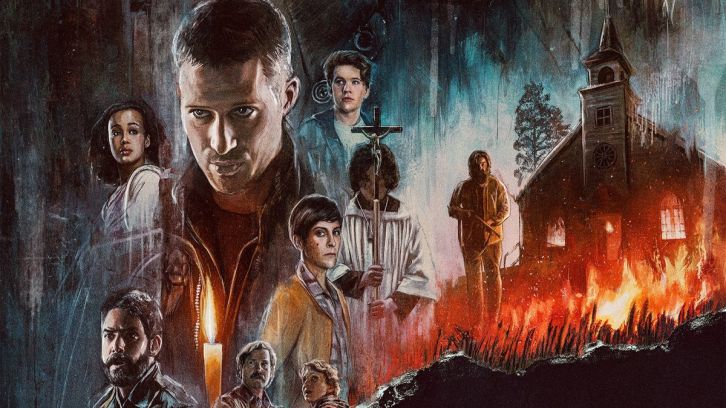 One of the most incredible surprises of the year, I had the pleasure to watch the whole Midnight Mass series in advance. This non-spoiler preview is here to prepare you for the miraculous journey coming later this week, with little teasers and first impressions based on what I watched. All images used are from promotional material.
In the first episode of The Haunting of Hill House, "Steven Sees a Ghost" (which was, by the way, my first contact with the Flanaverse,) Mrs. Dudley, young Steven, and Olivia Crain have a brief conversation about religion, faith, and the things in Heaven and Earth. While watching the first episodes of Midnight Mass, I couldn't stop thinking of how some topics that have been present in Mike Flanagan's works have come together in his latest release.
"This is the problem with schools these days. They teach you the secular world, smother you in science. And science isn't an exact science, you know. The world is dark, young man, and the only light is the light of the Lord Jesus Christ. We need his light in the night. In the dark. Do you know the Gospels, young man?" — Mrs. Dudley to Young Steven
That quote says a lot about what you will find in Midnight Mass. It's all there. Grief. Pain. Loss. Horrors hiding in shadows. Terrors coming from deep down inside. And, of course, religion, faith, and the things in Heaven and Earth.
The story is, as the official synopsis reveals, about
"a small, isolated island community whose existing divisions are amplified by the return of a disgraced young man (Zach Gilford) and the arrival of a charismatic priest (Hamish Linklater)."
That's all you need to know, trust me. While I think this series is a memorable journey anyway — even if I knew most of the revelations in advance, I'd still be astonished at how things unfolded — going in blind will make it so more impactful, tragic, and beautiful that you'll want to rewatch it over and over again, just to see it in a new light. If you are anything like me, at least. It's
that
kind of story. Anyway, try to stay away from spoilers on Friday, it will be worth it.
That's all I'm going to say about the plot. Now, I need to share with you some overall thoughts. It surprised me to see that after only seven episodes, I cared so much about the characters. Every one of them has a chance to shine, and it's surprising how quickly I got attached to them and was invested in their appealing, multidimensional, relatable dramas.
The cast plays a huge part in this, of course. The actors get good material to work with, and they deliver powerful performances that will make you feel things, good and bad, uncomfortable and strange, unsettling and beautiful. Honestly, I feel like many of them are already
Performers of the Month
(in my heart, at least), and it wouldn't be insane if some of them made it to the Emmys next year.
Finally, some quick comments:
I feel like the gore in Midnight Mass is heavier than in The Haunting series.

The show consists of seven long episodes — the shortest is around 55 minutes. Most are 1 hour long. The best part: time really flies when you're watching them.

There's at least one memorable scene per episode, and it was hard for me to choose my favorite chapter.

Many aesthetically impressive scenes await you. Also, the soundtrack is gorgeous!

I hope to help Midnight Mass make it to Quote of the Week and Scene of the Month! There are so many deserving, haunting moments.
This show is not filled with jumpscares everywhere, but when they happen, oh! You will remember them.

There are some thought-provoking, touching monologues along the way; one, in particular, left me speechless, and I rewatched it many times.

There's one despicable character you probably won't be very fond of, which means the actress rocks.
In fact, as I said before, the entire cast rocks!!!

Religious moments and ceremonials are portrayed in such a believable way.

I never pictured myself so anxious and nervous watching parents having a conversation in a classroom, but then I watched this.
Honestly, I'm really looking forward to Friday! I want to rewatch it, this time with friends and relatives, so I can see their reactions, and we can talk about it. After all, this is a story filled with philosophical questions, poignant twists, and raw emotions, so there is a lot to discuss after finishing it.
Leave a comment with your expectations, and if you have any questions, ask, and you shall receive — of course, within the non-spoiler limits. And don't forget to come back to SpoilerTV once you've watched it to share your thoughts.
You're invited to join Crockett Island this Friday, September 24th, when Midnight Mass drops on Netflix.