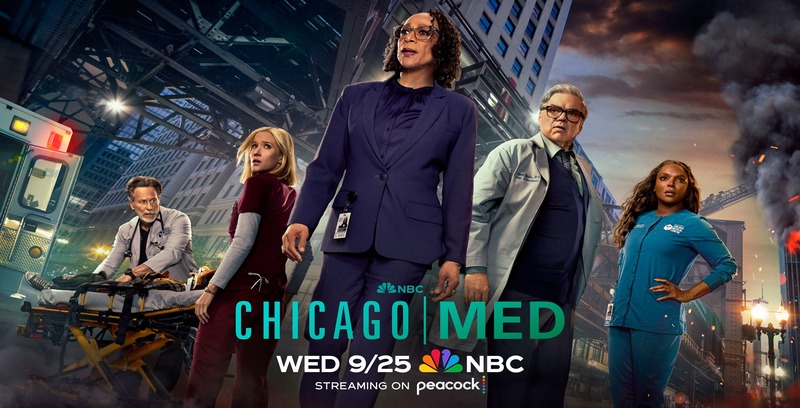 Well the time has come Chi-hards for the next season of Chicago Med to begin, and I don't know about you, but I am extremely excited about One Chicago Wednesday returning. And good news for my fellow "Med Heads", as I have a few teasers for you about our first episode of Chicago Med "You Can't Always Trust What You See".

When we left our team at the end of Season 6, the fate of Dr. Halstead lay in the balance, and if you have watched the One Chicago Promo or seen the new promotional posters for this season, the cat is already out of the bag that Will is returning to Chicago Med. However, the circumstances under which he is returning have yet to be shared, and once revealed to you in this episode, it will definitely set the stage for the season ahead and show a different side of some of our beloved characters we have come to know over the last 6 seasons.

We also know at the end of last season that tensions were running high between many members of the Chicago Med team, including Maggie and her daughter Vanessa, and Dr. Archer and...well let's be honest, everyone but Sharon Goodwin. This episode will not disappoint if you were hoping to see things stirred up even more between all of these characters. In fact, on more than one occasion I actually said out loud "Oh, you did not just say that!"

In addition, in this episode you will meet our two new team members, and have an opportunity to learn more about them and some of their past connections to Chicago, in addition to starting to see who they are under their lab coats. In true One Chicago style, there is much more than meets the eye, and I am certain you will be as excited as I am to see what they will add to the Chicago Med family this season both in knowledge and drama.

Teaser Tidbits
* You will receive some closure on a storyline that was not expected in this episode
* Make sure you watch all the way to the end, to learn something unexpected about a new character
* If you love some of these characters the way I do, you will have some tense moments watching some of the interactions in this episode

Let me know in the comments below all of your predictions for You Can't Always Trust What You See and make sure to tune in to the Season 7 premiere of Chicago Med airing this Wednesday, September 22nd at 8/7 on NBC.