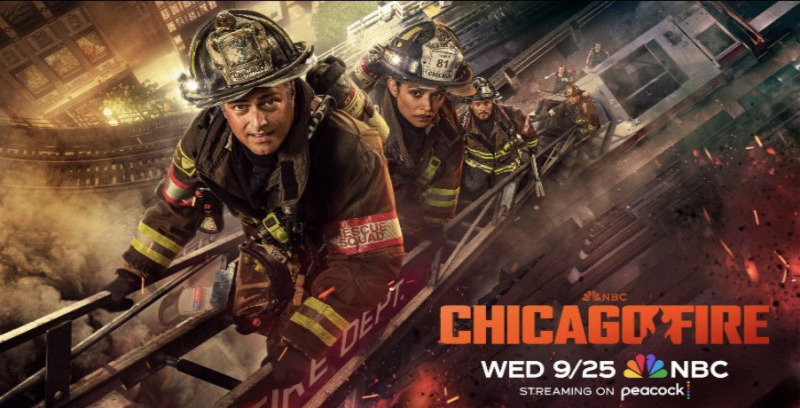 It is almost time Chicago Fire fans! This time next week the premiere will be right at our finger tips and I have to tell you, it is a good one! Below, I will give some teasers about the first episode of the season, but I want to remind everyone that a preview is just that, a PREVIEW and if you want to go in completely blind, this article may not be for you.

Now rest assured, I don't intend to spoil the whole premiere or give too much away, because that just isn't fun! I want to give some insight about what to expect and yes, that will include ships. If some of them aren't your jam, that's cool! We don't all have to agree, but I want to tease a little bit of everything for everyone, so please try to be respectful in the comments. So check it out if you so inclined.

The Cliffhanger
If you are like me, you were cursing the writers' names when the credits rolled on the season nine finale. I feel like as fans we should expect a
life-hanging-in-the-balance
cliffhanger after 10 seasons, but still, I was not prepared for
ALL
of squad three's fates to be up in the air in a capsized boat. Now, you won't have to wait long to get an answer as to what goes down and how it will turn out. The premiere picks up moments after what we saw in May. Squad 3 is in dire straights and their fellow house members (which includes one worried fiance) are helpless on the dock. It isn't too long before someone, and it is no surprise as to who, springs into action to help squad. The attempts at rescue are intense both in the boat and out. You will have your answer as to what the fate of Severide, Cruz, Capp and Tony is within the first several minutes. We then pivot into the rest of the episode once the dust has settled.
The Family Of It All
Would it be a Chicago Fire premiere if the family of it all wasn't front and center? Of course not! Stella and Chief are really the focus of what makes 51 unique as they face a new chapter in their careers. Both are a little uneasy on what their future paths could mean for the nucleus of 51. These reflections once again show how tight the bond is with those two. I was struck with how similar both view what makes 51 special and it is a bittersweet feeling given where they are both headed.
Odds and Ends
* Brett and Casey will give you all the feels if you are the fan of the couple (sans that pesky angst that stuck around until the season 9 finale). They are solid and had me saying
awwww
at at least 3 points during the episode. Also, these two dorks are not a sly as they think they are and it results in a few funny moments.
* Violet, Ritter and Gallo are still brainstorming their new business venture and let's just say, we should all pray for Ritter's sanity having to deal with the other two, because clearly, Gallo and Violet have unresolved romantic issues.
* The end scene is a classic 51 feel-good moment and displays what makes this show so beloved.
That is it for me! Drop a line with your predictions and hopes for season 10 of Chicago Fire in the comments, and tune in next Wednesday for the premiere.