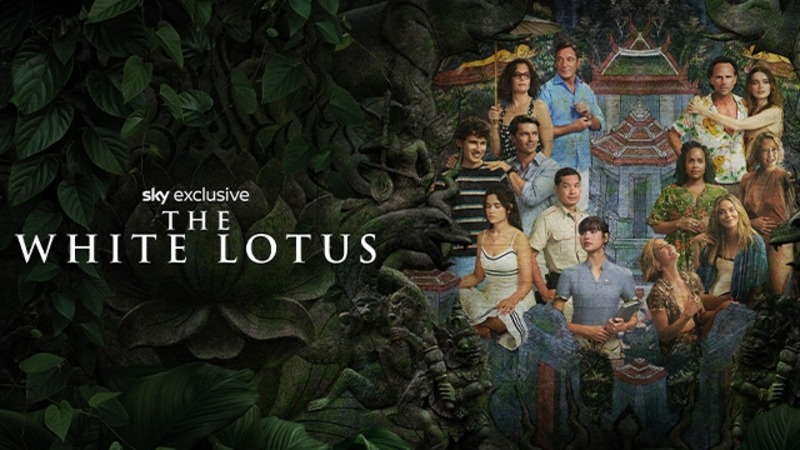 The more this theoretically idyllic vacation progresses, the worse it seems to actually become. And to say people pay to be this miserable?! All across the resort, the guests are fighting, plotting, and humiliating each other as if their lives depend on it (which, to be fair, they might).

Aside from Tanya, who has suddenly met a deep sea fisherman (I know), had dinner with him, got confused about what "BLM" stood for in his case, didn't think more of it though, and then slept with him. To be perfectly honest, finding an orange-hued man fumbling around with your hotel room door and justifying his mistake by insisting he had the wrong room isn't that big of a turn on for me, but this is Tanya, and she let it go pretty quickly (too quickly? You're in danger, girl!). I do wonder if there's a more sordid story behind this fateful meeting, it just seemed, well... too easy, and too insistant on Greg's part. Also, it causes Tanya to stand up Belinda, who was diligently working on her business proposal for their never going to happen joint venture. I feel for Belinda, I really do, because she seems like the nicest person on the resort at this point, and her falling for Tanya's heartfelt but likely unrealistic offers is a little heartbreaking. However, I do not believe one can simply write up a business proposal in one evening (the market research alone...) and be ready to go, but that's just me nitpicking, since I also do not believe it'll ever go through.
Belinda's day doesn't get better from there, unfortunately, since she also has the immense pleasure of promptly realizing that 1. Armond's relapse certainly wasn't a one time thing, 2. it led him to acting on his little crush on Dillon in a very graphic way, and 3. bringing Shane along with her (against her will, to be fair) wasn't the best idea since he too, witnessed Armond and Dillon's "party".
"Dude's going down. You are fucked now, bro."
If Shane's gleeful parting words are anything to go by, his feud with Armond may well end right then and there based on what he can now allege against Armond. Sidenote: I do wonder if Mark had been receptive at all, if Armond could have seduced him too (there's still time though, you never know).
And while Mark may not have led quite the double life his father did, the apple certainly didn't fall far from the tree since we learn, through Quinn, that Mark actually cheated on Nicole. Just once though! Or, well, with one woman, Mark amends. Do we know what Mark does professionnaly, that he can afford 75K worth of bracelets "from his own money"?! Or is that "joint account" money? Still, unlike everyone else, Quinn is having a week of realizations about how incongruous the resort life is compared to the native Hawaiians who are made to work for, and entertain, the guests on their land. His sister, on the other hand, is more preoccupied with getting what Paula has, i.e. the cute bus boy: Kai. Firstly, I'd like to get more scenes with Kai and not just from afar, please. Secondly, we now know that Olivia doesn't have unrequited feelings for Paula or whatever, but rather she's the kind of friend who is your "friend" only as long as she feels like she has the upper hand and gets whatever she wants, which happens to include what
Paula
wants. And low and behold, she immediately goes after Kai once Paula has vacated the premises, which... I feel will not end well.
After realizing that Armond indeed
had
their drug bag, it miraculously reappears, but sans drugs. Armond knows they can't really list the missing "items" though, and gets away with keeping all their loot, much to Olivia and Paula's displeasure.
The Patton family isn't faring much better, and I do mean "family" since joy unbounded, Shane's mother has joined the party! During her son's honeymoon! Shane is genuinely delighted, Rachel is genuinely outraged. Seriously, who does that? Seeing Kitty in action does make Shane's brashness more understandable though, it's no wonder now where he learned his charming manners and disregard for less fortunate people. His dismissal of Rachel's own mom and her lack of funds to join them was particularly telling. I'm honestly baffled as to how Shane is the only one we know is still alive by the end of the trip, considering how quietly infuriated Rachel is, thanks to his actions.
Kitty doesn't seem to remember much about the wedding, and insists so many times that I wonder if something more sinister is at play here.
Murder/Death Guesses of the Week
- Since we have new players this week, this adds some variety! Rachel drugged Kitty during the wedding and didn't hesitate to do it again to get rid of her, with a more potent tool after her insufferable behavior
- Olivia and Paula fight to the death over Kai, unfortunately ending in his own demise and he gets hit by some heavy furniture
- After having to discuss his swollen balls, suffer through his monkey imitation, navigate a flame-less marriage, and finally live through her family learning Mark had cheated on her, Nicole finally snaps and messes with Mark's equipment during one of his scuba diving sessions
- Greg turns out to be a menace to more than just deep sea fish, and kills Tanya to get her money
That's it for this week! Only two episodes to go, what do you guys think will happen? As usual, sound off in the comments!