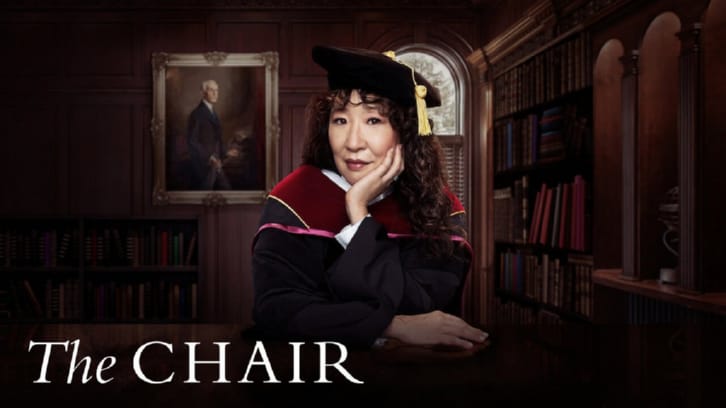 The Chair dropped six episodes on Netflix on August 20th, written by Amanda Peet and Annie Wyman (who are also the creators) and directed by Daniel Gray Longino. Sandra Oh leads the cast as Dr Ji-Yoon Kim – the new Chair of the English Department at the fictional Pembroke University. The show has been criticized for being "confusing," but as someone with some insight on both sides of a university English department desk, the show is actually a pretty accurate glimpse into that world. Don't expect to sit back and laugh mindlessly at this show, but don't be so serious that you miss the truly funny moments either. There is comedy here, often a bit dark, but there are also lots of real world issues to really sink your teeth into – like cancel culture and the inherent paternalism in academia. In six half hour episodes, I will concede that the show does try to pack in what may be too much. It doesn't end on a cliff hanger, but it's open ended enough that there may be a second season…
The show gets the divide between administration and faculty and the divide between faculty and students and the divide between young and old academics pretty perfectly. It's brilliant to focus on the English department which is supposed to teach both communication skills and critical thinking through the examination of literature, which also examines cultural norms, politics, and social relations. If there is misunderstanding and miscommunication here, where can there be understanding? At first, I was a bit dismayed at just how much backstory we get – but it's important to understand the players to understand how completely they are misunderstood and how easy it is to arrive at the wrong narrative. Think these things couldn't happen in the "real" world? I can point you do some news stories… But that's not to say that either side of these divides is completely in the wrong, either. The show is smarter than that and expects its audience to be too.
Sandra Oh is brilliant as Dr Ji-Yoon Kim and brings both humor and pathos to her role. She's neither the old guard or the new but stuck in perhaps the worst of all worlds. Women are front and center with Nana Mensah as Yaz McKay the tenure-track young blood who is packing in the students but doesn't quite understand the dynamics at play in the department. Holland Taylor is absolutely fabulous as Joan Hambling – the medievalist who has been around since before women had any credibility at all. She was expected to sleep with professors and host the parties – while the men did the heavy lifting.
Ji-Yoon is right in the middle of these two, trying to have it all. The show touches briefly on the all too familiar story of her having to choose between marriage and kids and a decent paying job. As someone stuck in the adjunct pool (where you teach the same or more courses that the full-time professors don't want at a fraction of the pay), I think she made the right choice. But her biological clock was ticking, so she adopted. As a single woman, she couldn't adopt from South Korea, and her daughter Ju Ju (Everly Carganilla) is Mexican. Ji-Yoon is also caught between cultures, trying to enrich her daughter with her cultural history, when Ju Ju would really rather go to Disneyland. Ji-Yoon is also caught between trying to be a single parent and an aging parent – Habi (Ji Lee).
As the new chair of the department, Ji-Yoon is determined to make things better – more women and more diversity in the department. However, she quickly comes up against the biggest road block – the administration in the form of Dean Larson (David Morse). It quickly becomes clear that the administration is only interested in the bottom line – how many students are taking classes and keeping the donors happy. Again, pretty true to form. Ji-Yoon tries to secure an important lectureship for Yaz but is overruled and forced to give it to David Duchovny – who is hilarious as himself! Ji-Yoon manages to convince him not to take it, but it's too late. Yaz feels used and is planning on going elsewhere.
Ji-Yoon's biggest challenge is Bill Dobson – wonderfully played by Jay Duplass who hits the comedy and drama of the part with equal facility. Bill is getting over his wife's death and has just seen his daughter off to college – he also had an affair with Ji-Yoon at some point in the past. Bill, is a mess – arriving late and drunk to class. But he's popular with students, and by all accounts, a good scholar and writer. When he flippantly makes a Nazi salute in class as he's talking about Fascism and Absurdism, his students have their phones ready and capture it – later adding to the moment with hats, music, and commentary. Naturally, this blows up. The background we're given about Bill demonstrates clearly that he doesn't support Fascism or Nazis, but how much do students really know about their professors? Certainly, no one who wasn't in the class would have any context. Academic freedom is to allow dialogue. Critical race theory requires that all aspects of history are examined. But when Bill tries to apologize to the student body, Dean Larson's donor event ends up making the students think that the administration is trying to interfere and that's underscored with the campus police show up. Misunderstandings proliferate.
It's clear that Ji-Yoon, Bill, and Ju Ju are all troubled souls. When Bill is suspended and bonds with Ju Ju, however, they are all able to start healing. Carganilla is terrific, and it's impossible not to be moved that when Ji-Yoon finally breaks down, Ju Ju is there to comfort her – and prove that she does understand Korean. It's only when Bill is really faced with losing his teaching – and Ji-Yoon – that the realizes what is important to him and gets his act together. Ji-Yoon finally takes a stand in the board meeting. She stops trying to please everyone – and is true to herself.
The very first thing that Ji-Yoon is tasked with doing is getting rid of the three oldest faculty members – they don't attract enough students and they are paid the most. Joan is one, and Elliot Rentz (Bob Balaban) and Professor McHale (Ron Crawford) are the other two. Ji-Yoon tries to help Elliot by blending his course on Melville with Yaz's American lit course. Yaz is absolutely correct when she tells Ji-Yoon that he's going to treat her like a TA, but Yaz does stand up for herself. I loved that this relationship was also nuanced. Elliot is not convinced by her teaching – until he sees how enthusiastic the students are about it. She gets them thinking about Moby Dick in a more creative way. I also loved that they were both angry that Moby Dick was spelled incorrectly in a paper when it first came out – something only a true aficiando/scholar would know or care about.
Yaz helps Elliot at the copier – a cliché, but not untrue! – and ends up getting a look at her tenure letter from him. It is not glowing, but he tries to explain that no one would take it seriously if he gushed… Is this a case of a misunderstanding of the system on Yaz's part? I loved the contrast of her sitting engaged with the students in the middle of class and Elliot sitting alone and aloof. She's connected to them where he is not. There's also a nuanced back story to Elliot. He's losing control at home too – not just in the classroom. His wife wants him to wear diapers to bed. There's also an interesting scene in which he tells his wife that they should have fought harder for her to get tenure. She tells him that she could never have done it all – kept house, raised a family, and taught – exactly what Ji-Yoon is trying to do.
Joan opted for the career – and clearly had to give up the rest. For as little power as Ji-Yoon seems to have, Joan has even less. As the series starts, she's had her office moved to the basement of the gym. Ji-Yoon promises to help her, but consistently gets side tracked by Bill's drama. She tells Joan to read her student evaluations to help her improve. If you don't think those evaluations are important – they are! Professors are expected to get a base mark – and reviews take them into account. Joan, however, has tenure and thinks that means she doesn't need to worry. At one point, she tells the others that she went into teaching because she thought tenure meant she'd never be out of a job…
Rather than read them, however, she reads one and sets fire to the rest – almost burning down her office! She is rescued by the IT guy (Bob Stephenson) who comes to hook her up to wifi. She even inspires him to start reading Chaucer! He's a bit befuddled by the Middle English, but she tells him to just let it wash over him - it'll make sense. It's not bad advice. In the end, he helps her to track down the student who's been posting horrible reviews of her classes on Rate My Professor. Yes. It's a real thing. The two are hilarious as they stake out the library, and then Joan confronts the student, telling him passionately, that he can hate her but not Chaucer! All that juicy stuff – sex, farting, etc…. Her passion actually inspires that onlookers to ask what she's teaching next semester! Joan is older, wiser, and has nothing to lose – so she's an obvious choice when Ji-Yoon picks her to succeed her as chair.
By the end of the episode, Ji-Yoon has clearly gained some perspective. Bill has decided not to take a settlement and wants to try to get his position back. He really does care about teaching and his students. We also get to see Ji-Yoon teaching – and it's the happiest and calmest she is in the entire series. So, it doesn't end quite on a cliff hanger, but there are plenty of threads to take up if the show gets a second series. They've packed a lot into this one, so I'd love to see some of these storylines pursued more. Did you watch? What did you think of the show? Let me know your thoughts in the comments below!