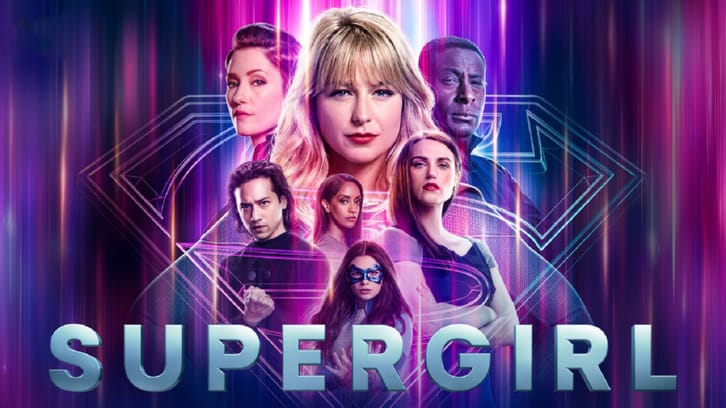 Kicking off my first assignment as the new full-time Supergirl reviewer for Spoiler TV with a short series of articles to refresh everyone's memory as to what has happened so far in season 6 prior to the show's new episodes premiere on Tuesday, August 24.

The long wait is almost over. The eagerly awaited premiere of season 6B of Supergirl is just a few days away. As excited as everyone is, this will be a bittersweet return as the CW begins airing the final thirteen episodes of the fan-favorite superhero series. The first of three articles will look back at what happened in the first seven episodes that aired earlier this year. Each article will focus on a group of episodes, a brief synopsis and short review. Today's article covers episodes 1-3 – Rebirth, A Few Good Women, and Phantom Menaces, Monday's will cover episodes 4-6 - Lost Souls, Prom Night, and Prom, Again and a final article reviewing episode 7, Fear Knot will be published early on Tuesday, prior to the premiere of new episodes. Before getting into the specifics of each episode here's some thoughts of the overall arc of these first seven episodes.

Supergirl
production faced big challenges. First was a way to work while following strict Covid-19 protocols and secondly beginning their sixth and final season while leading lady Melissa Benoist was out on maternity leave unable to join the cast for filming until January 2021. The result was a series of seven episodes, which set up the rest of the season, that are some of the best, with one notable exception, the show has produced in a number of seasons. Alex (Chyler Leigh) and J'onn (David Harewood) step up and carry the first four episodes with admirable work that allows great character growth from Brainy (Jesse Rath), Nia (Nicole Maines), Kelly (Azie Tesfai) and Lena (Katie McGrath). Even though the premiere was actually building to the season 5 finale cliffhanger, the delay in its airing (brought about by the early shut down due to Covid-19), works in the show's favor and keeps the urgency and desperation of the first part of the season at a heightened pitch.
The bulk of the episodes were filmed without Benoist and her scenes of Supergirl trapped in the Phantom Zone were edited in later. Despite being Melissa light, they made it about the urgency or gave it an urgency to rescue Supergirl. Even though Benoist was not physically there you could feel Kara and Supergirl's presence hovering over everything they did as they worked as a team with one singular purpose-to rescue Supergirl. The story so far in season 6 is more about Supergirl than it has been in at least two to three seasons. One would hope that for the remainder of this final season they continue that focus on Supergirl.
Episode 1 – Rebirth
This action-packed hour sees Supergirl and her friends battling to bring an end to the plans of the season 5 villains, Leviathan and Lex Luthor. They battle to finally dispatch the Leviathan gods; rescue Brainy, who sacrificed himself to the verge of death to get the best of the gods; and track down Lex Luthor who had managed to steal the captured Leviathans and transfer their powers to himself. The episode ends in a final confrontation of the Super team with Lex in the Fortress of Solitude that results in sending Supergirl to the Phantom Zone.
For all the buildup of Leviathan as a superpower, they are dispatched a little too quickly and easily. Giving Lex the Leviathan powers just exacerbated one of the show's biggest problems - making a villain bigger than its hero. Supergirl says "I'll give you what you've always wanted...me." -and that's ironic because what Lex always wanted was Superman and to defeat Superman and no matter how hard Supergirl has tried...Lex's conflict with Kara always feels a little off. Ultimately Lex's confrontation with Supergirl, dramatic as the details were, lacked real malice or intensity. Lex attacking Kara doesn't feel that intense because Lex feels more like an arrogant comedian than a sinister supervillain.
Elements that do work in this episode are the introduction of many cool improvements to the Tower, the Danvers Sisters banter in the Fortress of Solitude and any of the Alex/J'onn scenes. It has been a long while since viewer got a touching scene between the sisters and the lighthearted teasing underlying the seriousness of the situation was made all the more poignant by the always-excellent chemistry between the two actresses. Leigh and Harewood are so good their characters could talk about paint drying and make it poetic. They were especially effective in one of the final scenes of the episode where J'onn gives Alex her long overdue superhero moniker, Sentinel. (J'onn giving Alex the name of his friend would have been even sweeter had we ever heard of Sentinel before). The episode also featured some genuinely nice work from Jesse Rath and Nicole Maines as Brainy and Nia. Rath also delivers some nice moments with Katie McGrath as Lena, in fact, her performance with him feels a little more natural versus some of her other costars. The episode also gives the answer to a long-asked question as to whether or not Kelly knows Supergirl's secret identity.
Episode 2 – A Few Good Women
Quite a bit occurs in what many consider to be the true beginning of
Supergirl
's sixth season. Our first good look at the Phantom Zone and the dangers it presents to Kara are seen as she makes the stunning discovery that her presumed-dead father is both alive and trapped in the Phantom Zone. The Super team meets alien vampire Silas, who is known for successfully breaking into the Phantom Zone. The desperate team asks for Silas' help and develop a plan which unfortunately fails, as Brainy discovers the Phantom Zone has been fractured into separate pockets by Crisis. The failed rescue attempt also releases a Phantom into National City, and Silas is infected by the end of the episode. However, the bulk of this episode is focused on the trial of Lex Luthor.
This episode could easily go on the list for one of the worst of the season, if not the entire series. There are two major factors that demand that low ranking. First, the name of the episode,
A Few Good Women
, is pretty absurd considering Lex nullifies countless women in the episode in the speediest trial in TV history. Supergirl often positions itself as a show aware of real-world issues, making it particularly unbelievable that every single character acts like the legal system is a perfect organism where it's shocking when a trial has the wrong outcome. The title also suggests that the episode would be focusing on the women working to put Lex away, so it's ironic that he easily and singlehandedly defeats and disrespects all of them.
The second biggest reason to consider this one of the least favorite episodes is the dismissive attitude the show displayed toward what should have been a significant dramatic moment for Alex and Kelly. In the first episode considerable time and emphasis was placed on her friends telling Alex that she needs to reveal her sister's secret identity to Kelly, the woman she loves. In the second episode that build up is reduced to Alex telling Kelly off-screen (the reason given is that the writers knew Kelly would be accepting, hence they felt there was no need to show her response). To dismiss such a significant moment in the development of the show's main LGBTQ relationship was yet another indicator of how the show has dismissed Kelly's significance and tossed away perfectly good chances to develop her character further. In an episode full of unnecessary scenes, it's hard to believe there wasn't time to dwell on how this revelation would impact Kelly. If anything, the episode highlights how characters like Andrea, William, and even Kelly, at this point, are mostly just there to react to others. The episode avoids any real suspense or entertainment value, although the cutaways to Supergirl on the Phantom Zone feel like an entirely different show (mostly thanks to Melissa's performance).
Episode 3 – Phantom Menaces
While episode 2 is the lowest of comparison bars, episode 3 is a marked improvement. There are Phantoms loose in National City, turning people into more Phantoms and building a nest as they go. They attack the Tower forcing Alex out of her despondency over the team's first failure to rescue her sister. It's all hands on deck including Kelly, and new Superfriends team member Lena. The latter, Lena, joins the team after making a plea deal with the district attorney to avoid prosecution of crimes she committed while working with Lex. Her departure from the family business and alliance with Brainy (in an ill-fated attempt to outmatch Lex again) lead Lex to depart in search of more power.
Melissa Benoist's work with guest star Peta Sergeant as Nyxly, a banished fifth dimensional princess of sorts, is a highlight of the episode as they team up to rescue Kara's father. The pairings of J'onn/Alex and Lena/Brainy are other highlights of the episode. The fight sequence when the Phantoms attack the Tower is beautifully choreographed. While Lena surrendering her company to become the Tower's Felicity/Cisco stand-in is a weird storytelling choice, McGrath gets some great scenes with Rath and Leigh. The scenes with Lena and Brainy are some of her best on the show.
The best plot turn in the episode is the departure of Lex Luthor for what is hopefully a lengthy amount of time. Jon Cryer's little smirk of arrogant yet almost affectionate approval when Lena tells Lex she thought seriously of shooting him is perfect. In that scene where she says she's leaving and refusing to play his game anymore, there's a fragment of something interesting in his disbelief, an unexplored facet of how he needs someone to play the game with to be fulfilled. It's another wasted Lex story thread. Ultimately Lex being on the show too long was a two-edged sword that hurt the show and diminished his character impact.
Again, standout work from Chyler Leigh and David Harewood solidifies them as the anchors of the show in Benoist's absence from the rest of the cast. Their scenes together in this episode are golden and they get stellar moments with Katie McGrath, Azie Tesfai and Sharon Leal, respectively. Not the least of which was a significant step in the Alex/Kelly relationship, with Alex asking Kelly to move in with her. Overall, the action and personal stakes made this episode much better than episode 2 because it remained focused on getting Supergirl back. It stuck with its core group of actors. It didn't try to tell too many stories -it couldn't help but be a little uneven with the three different stories it had to juggle but still more entertaining than the previous episode. The weaker spots are mostly Lex-related, which is another sign that the character overstayed his welcome. Lex no longer feels like a real threat, to the point the writing basically has to make the other characters be unexpectedly silly, in order for Lex to succeed, such as they did in
A Few Good Women
.
Supergirl
's season 6 so far,
Lost Souls
,
Prom Night
, and
Prom, Again
. This group of episodes represents some of Chyler Leigh and David Harewood's best work, in front of and behind the camera, and a trip back to everyone's favorite hometown, Midvale and the young Danvers Sisters.
What are your thoughts on this first group of episodes of season 6 of
Supergirl>? Share them in the comments below.