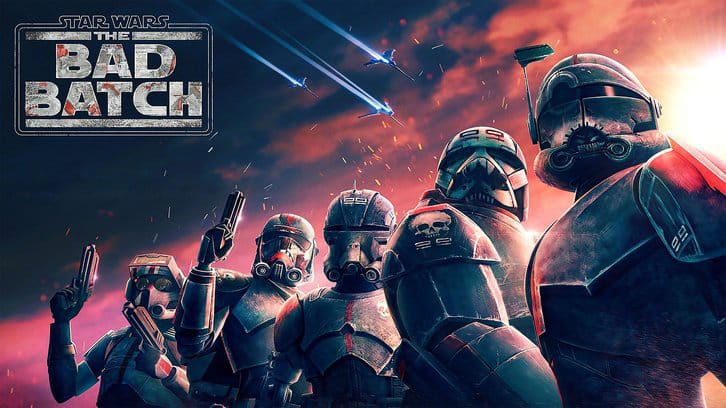 Star Wars: The Bad Batch brought Hunter and the Clones back for a rather weak opening chapter to its finale that spared no emotions in fleshing out the dynamic between Crosshair and the Batch as one of the more refreshing, if heavily flawed standalone episodes that saw Crosshair reveal a secret that we haven't necessarily expected from someone like him: He has the chip removed from him. He's not following the Empire because he's forced to, he's working with them because he wants to, and he believes that the Clone Force 99 can work with him again as part of the Empire, even though Admiral Rampart seems intent on shutting down every single Clone and replacing them with a new brand of troopers.

Finale Part 1 is oh-so-predictable for the fifteenth episode of The Bad Batch's incredibly flawed first season that has showed ultimately, precious little signs of promise. It's invested too much of its time on cameos rather than advancing the plot so it feels a little sudden when the Clones are inevitably called back to Kamino to rescue Hunter – Crosshair is playing off their strengths again, but it's a bit too inevitable that the Clones fall into every trap that he sets for them again knowing full well how they operate. For a supposed elite force we've seen little of their elite tactics in action – the combat against the training droids that Omega activities as a distraction technique calls back to the pilot, but nothing really works here as it all feels a bit too one-note and tepid: a finale that should leave you excited for the next part leaves you instead with a begrudging air of inevitability that The Bad Batch cannot escape.

It's a show that fifteen episodes in has still not worked out what it wants to be, and although the finale is one of its more focused hours, the fact that we still don't know enough about the leads yet, and this episode only has gone some way to finally flesh out Crosshair as a villain – feels like too little, too late. His belief that the Batch abandoned him rather than the other way around gives him a motive but the plot of the Batch sneaking in to rescue one of their own and then breaking out again is so repetitive you know exactly what's coming before it happens regardless of the figures involved; doubly so regarding Crosshair. The action has an air of repetitiveness to it too not helped by putting the Batch back in the same situation that they were in in the pilot, and unfortunately, rather than setting everything up with a bang – it's more of a whimper.

Underwhelming to say the least – at least refreshing in the fact that for once, An Imperial does not defect to join the good guys – something that we've seen happen far too often lately. But that's not enough to justify the continued investment in The Bad Batch – pending something magical in its finale.