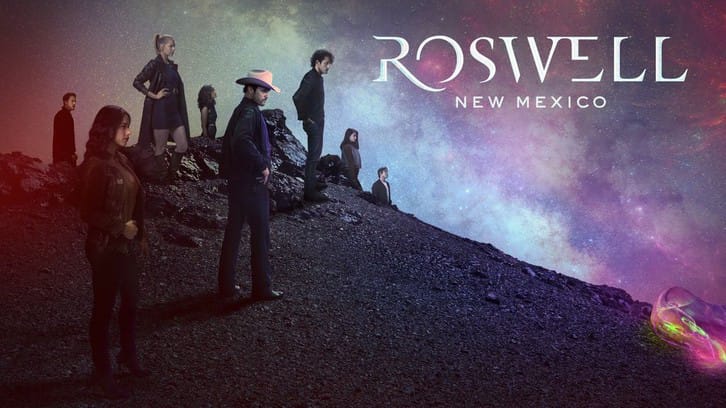 A big thank you to Jaimie for her reviews these last two years. So, without further ado, let's get to the review.
Episode four wasn't terrible, but it feels like a huge step down from last week. Last week it felt like we were on a road trip headed somewhere amazing, and this week it feels like we pulled over at a rest stop then bought snacks at the gas station. So with that said, let's take a look at the major episode events from best to blah.

Kyle Manuel Valenti.
(Michael Trevino)
is not dead. That is all. And if he is, perhaps Alex
(Tyler Blackburn)
can give me some pointers about burning the whole world down.
Michael
(Michael Vlamis)
, ever the engineer, decides to help Kyle with his ghost in the machine. Turns out Jim Valenti was a bit alien tech-savvy and planted a message inside the old radio for his son. He warned Kyle to turn away from the alien madness because what he'd sacrifice protecting them would prove too great. Foreshadow much?
In case Kyle's episode-ending temporary demise wasn't clear enough from his dad's speech, certainly Kyle mentioning his future offspring clued you into what was on the immediate horizon. However, even with the dire warning, Kyle and Michael's interaction was a joy. The absolute highlight was Michael removing Kyle's hand from his shoulder. Come on, Michael, no one can resist those cheekbones.
Jones, Max, Michael, and a Dog Called Lucky.
(Nathan Dean Parsons)
. I spent the entire episode waiting for him to absorb Max
(Nathan Dean Parsons)
, or unhinge his jaw and eat Max, or some other classic science fiction maneuver, and yet, he's fascinating. Far more interesting than Deputy Vanilla has ever been. I need Max to absorb some of Jones' unsettling charisma. He makes me uncomfortable, but I don't want him to leave. It must be the resting bad boy energy. It could also be the dog, Lucky
(Borrow)
, that he accidentally shot, healed, and adopted. At the moment, Jones seems to be walking the path of goodness and light, but I fear it won't last.
Beyond that, I'm not sure what to think of the Louise
(Cassandra Jean Amell)
and Roy
(Gaius Charles)
versus Jones storyline. Is it proof that there are, in fact, two sides to every story, or is Jones powerful enough to fake a memory? Only time will tell.
And we find Michael in a different frame of mind this week. I think we should all take a moment to thank Alex Manes for talking Michael off his self-destructive ledge. He's still cantankerous as hell, but we also saw some growth. Michael's dialed down his desire to off Jones and rip the glowing heart out of his chest. Instead, we find him willing to listen to what Max wants.
Isobel and Maria in Wonderland.
(Lily Cowles)
and Maria
(Heather Hemmens)
confront subconscious secrets hoping to reveal the rest of the funeral vision. Turns out Isobel doesn't trust Jones, but he feels like family. Maria wants to feel special because, in her mind, she isn't alien enough to hang with aliens or human enough to hang with the humans. A couple of things, didn't Kyle say Maria had zero alien DNA? So, Maria isn't an alien or even alien-ish. At best, she's alien adjacent with some residual alien juju.
This storyline didn't really work for me. Is it too much to ask that the writers give Maria less petulant dialogue? Also, why is this show hellbent on rewriting its own history? Maria and Isobel's antagonism has been mutual, nothing one-sided there.
And Maria and Isobel both failing to realize that Kyle was missing from the funeral proves how underappreciated he is by the people in his life. As an aside, we all know that Max couldn't speak at the funeral because it was Jones, right?
The Racists and the Ridiculous, Never-ending Redemption of One Wyatt Long.
(Dylan McTee)
has already grown tiresome. I'm over it. I feel like a discussion of racism and policing in America deserves more gravitas than witnessing Sheriff Taylor's
(Gillian Vigman)
thinly veiled racist speech. It certainly deserves more nuance than Jordan
(Michael Grant Terry)
, the mayor's son, and his country Children of the Corn sidekick wandering around town doing whatever they want, including putting their hands on people.
What is there to say about Wyatt's redemption that hasn't already been said? The answer remains no, thank you. The longer answer is: Yes, people can change when they put in the work. Part of putting in the work means they don't get a pass on their past behavior. They learn from it. They grow from it. What is Wyatt learning if he can't remember the violent racist he once was? I don't care that he talked to Rosa
(Amber Midthunder)
about art and Nirvana before his sister died. The ghost of Kurt Cobain also says hell no to this storyline.
Liz, Heath, and a Case of the Blahs.
(Jeanine Mason)
and Heath
(Steven Krueger)
storyline felt superfluous to the rest of the episode. Her big decision, resigning from Genoryx and returning to Roswell, could have happened without playing dress-up or the dance sequence or really any of it. I suspect the writers didn't know what to do with Liz beyond two episodes in LA, so we got a bunch of filler. I was bored by this subplot until I wasn't. First guess, Liz frying the electricity and passing out is because Max overexerted himself by healing Kyle. Love that the episode delivered proof of the deep connection between Max and Liz. If only, viewers were given constant proof of the deep connection between . . .
Also, Heath is shady. So shady. Just like Diego.
I Have Questions:
Are we really supposed to believe that Alex would be that put together if Dr. Kyle Manuel Valenti was actually in that coffin?
Is this the last we've seen of the Valenti radio?
What does Jones really want?
Did this episode, specifically Kyle's arc, remind anyone else of "The Tale of Iroh" from "The Tales of Ba Sing Se" episode of Avatar: The Last Airbender?
Leave your thoughts in the comments.
Until next week—