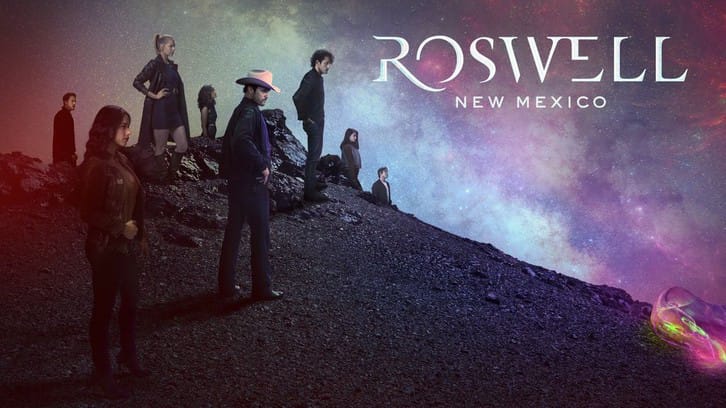 This week on Roswell New Mexico, Liz grows frustrated with her research so she goes home. Maria tries to trigger another vision by jumping off a roof and drugs, the latter seems to work. Isobel and Michael interrogate Jones who tells them that their mothers kidnapped Max and Jones was just trying to save him. Michael finds out that his father is a bad guy. Isobel loses control for a little bit. Rosa tries to deal with an amnesiac Wyatt. Alex joins Deep Sky.
She's back: You know, if this were a 22 episode show, Liz would've been gone for at least five episodes. I'm so happy this show doesn't do that. Though I'm sure she'll return to LA at some point, I feel like it's only now that her storyline is really going to get started. She wasn't going to get very far with her research on aliens by being away from the aliens. I also doubt we've seen the last of Heath (especially since IMDB has him marked for ten episodes). He's a really nice guy. I hope the writers keep him around, just not as a love interest for Liz.
Secret spy stuff: So Alex is now an agent of Deep Sky. It's kind of hard to get a read on those guys. The test seemed a bit extreme. It kind of reminded me of Kingsman. That device that Alex will be working on looks like a mystery I can't wait to find out more about. Once they said they'd had it for fifty years I knew it had to be alien-related. How much do you want to bet that next week Jones will suddenly start talking about needing a device that they brought on the ship? I'm curious to see where this will take Alex. I guess with Manes gone, they needed a new military presence on the show. It remains to be seen which side they are on but I'm gonna take a wild guess and say that it's not the side of the aliens.
New villain alert: A guy named "The Dictator" can only be a future villain for this show. At first, I thought that this was someone they'd save for next season since he's still across the galaxy. But once they revealed that he's Michael's father, I figured we'd probably see him this season. How has Michael never noticed that fire doesn't affect him? With all the engineering he does, he had to have come into contact with extreme heat at some point? Doesn't everyone burn their hands on something at some point in their life? This is really going to mess with Michael's head. The subject of his parents has always been a sore spot for him. I wouldn't be surprised if he starts to isolate himself from Isobel and Max next week.
It's extreme: Maria is sure going to great lengths to get more visions but is it really worth it? If she keeps going at this rate she'll prevent the vision by ending up in that coffin herself. If it's truly the fear of thinking you're going to die that causes the visions, why didn't they let Isobel use her powers to make Maria think she was dying, without actually putting her life in danger?
I like where this is going
: Isobel really is the character that's grown on me the most. I've gone from a dislike at the beginning of the show to her being my favorite character. And I love that she's growing stronger. Although she seemed to surprise even herself. I wonder if that will be her storyline this season. That in her quest to save Max, she'll just keep growing her powers but at some point, it'll become too much for her. Or she lets Jones help her save Max, meanwhile he manipulates her. Because I don't trust that guy.
Don't even dare: If there's one pairing that shouldn't happen it's Rosa and Wyatt. I don't even want to see hints of it. It's just wrong on so many levels. I don't care that he doesn't remember the last ten years. He's been terrorizing the Ortecho's for years and he tried to kill Rosa just last week. Also, did I forget something from season two? Rosa still has her powers, right? Cause I just thought it was weird that we've barely seen her use or mention them.
Best quotes: Anatsa: "I was making a silent escape." Max: "Escape is a little insulting."
Rosa: "I mean, obviously you should keep going. If you quit, people die." Kyle: "Death isn't the only reason to try. You know? Life's a pretty good reason in and of itself."
That's it for this week. Check in again next week for an all-new review and let me know in the comments what you thought of this week's episode.
Please be respectful in the comments, any unnecessary rudeness isn't welcome.