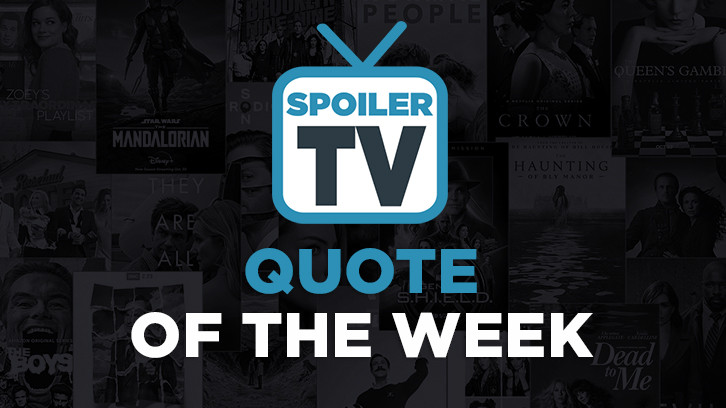 A weekly feature highlighting the best quotes on TV as picked by the Spoiler TV team. We'd love to hear your picks too so please sound off in the comments below.
Gossip Girl -
1. Julien: "GG says Zoya's planning an attack on me. But why? What could she possibly have to use against me? And what've I ever done that's so terrible?" Monet: "You were in the 'Imagine' video."
2. Audrey: "'There is a difference between thick and fat people.' That tweet did not age well." Julian: "I was 13!" Audrey: It gets worse. Jameela Jamil just defended you." (Cecile)


Kevin Can F**k Himself -

1. Patty: "You are the right person. You. Okay?" Tammy: "Okay."
2. Neil: "I found these in the trash outside. They're forms and pamphlets from a baby making clinic. Pamphlets with babies on them. Forms with Allison on them. You know what this means?" Patty: "That it's very personal information, and you should stay out of other people's marriages?"
3. Kevin: "When you have a kid, it becomes all about them which means it's not about me and that sucks." (Jessica C)
Roswell: New Mexico -
1. Kyle: "I need to get a social circle that can't unlock doors with their mind." (Prpleight)
Ted Lasso -
1. Ted: "There are two buttons I never like to hit, that is panic and snooze."
2. Roy: "Tell the truth. He's fine. That's it. Nothing wrong with that, most people are fine. It's not about him. It's about why you think he deserves you. You deserve someone who makes you feel like you've been struck by fucking lightning. Don't you dare settle for fine."
3. Rebecca: "I need to be brave enough to let someone wonderful love me, without fear of being hurt and without fear of being... safe." (Alejandra Gil Manriquez)


The White Lotus -
1. Olivia [after watching Nicole move furniture around in the hotel suite until she finds a suitable background to have her Zoom meeting]: "Mom, you look deranged." Nicole: "It's okay, I have a filter for that!" (Cecile)

What We're Watching
Bones -
1. Bones [after watching a YouTube video of a couple of guys discovering a body]: "Angela, one more thing." Angela: "I know. I've already tagged the coordinates and pinpointed the location." Bones: "No. Please press the thumbs up button. I find imbeciles amusing." (Prpleight)