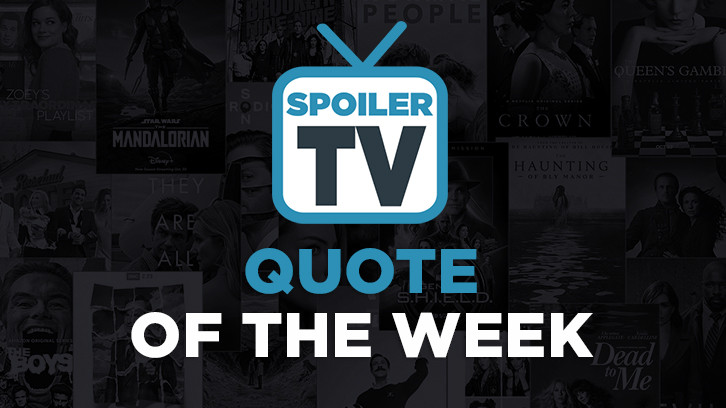 A weekly feature highlighting the best quotes on TV as picked by the SpoilerTV team. We'd love to hear your picks too so please sound off in the comments below.




Ted Lasso - (Folie-lex)
1. Ted: "Gentlemen, believing in rom-communism is all about believing that everything's gonna work out in the end. Now these next few months might be tricky, but that's just 'cause we're going through our dark forest. Fairy tales do not start, nor do they end in the dark forest. That son of a gun always shows up smack dab in the middle of a story. But it will all work out. Now it may not work out how you think it will, or how you hope it does, but believe me, it will all work out. Exactly as it's supposed to. Our job is to have zero expectations and just let go." Isaac: "Now you heard him. We need to stop playing like sh**!" Ted: "Yeah, not exactly what I said, but I appreciate you, Isaac."
2. Rebecca: "Did you just see what was on my screen?" Higgins: "Oh, no, no, no, no. I have five boys. I never look over anyone's shoulders to see what's on their screens. I used to..."
3. Isaac: "Did you bring me 'round here to get my leg broke?" Roy: "No. I brought you here to remind you that football is a f**ing game that you used to play as a f**ing kid 'cause it was fun. Even when you were getting your f**ing legs broken or your f**ing feelings hurt. So f** your feelings, f** your overthinking, f** all that bullsh**, go back out there and have some f**ing fun."




Turner and Hooch - (Folie-lex)
1. Mendez: "I heard you took a bullet to the vest. How is that hit feeling?" Xavier: "Like the bittersweet reminder of the fleeting nature of existence."
2. Laura: "Honestly I have not been this fired up about anything in a long time. I mean, I just...I love Matthew and I love my animals, but me-wise? You know Natalie made me think, I don't want to look back on my life and say 'Man I didn't do stuff' you know?" Scott: "Well all I know is when you do stuff, you're good at it."
3. Darius: "Speaking of love, we gotta find you a somebody, E." Erica: "Me, like a human man somebody?"
B-Positive - (Folie-lex)
1. Drew: "[Madie] keeps sending me the prayer hands emoji. And I send her back skulls and ghosts, and then she sends the middle finger, and I tell her she's grounded for the rest of my life, and she says 'That could only be two days'. It's the best conversation we've had in months."
2. Gina: "You didn't have to get me anything." Drew: "Oh, no. Many people told me I did."
ER - (Kath M)
1. Abby, to Haleh: "Everything was going really well, 'till the ambulance blew up." ~~from "The Chicago Way"
2. Daria, to Felix: "So, how long have you been a bioterrorist?" ~~from "Another Thursday at County"
Hawaii Five-0 - (Prpleight)
1. Danny: "Let me get this straight. Your wife, who you're currently cheating on, is in charge of the medication that keeps you alive?"
Mike & Molly - (Prpleight)
1. Victoria: "You know...I'm not so much book smart as magazine smart.
Motherland: Fort Salem - (Alejandra)
1. Tally, to Raelle: "It's hard to picture you as the poster girl for conscription." Abigail: "Yeah, have they met you?"
Ted Lasso - (Alejandra)
1. Jan Maas: "I brought fried chicken." Higgins: "Aw, is that a Christmas tradition in Holland?" Jan Maas: "No."
2. Roy: "What have you got to be sad about? Did one of the Paw Patrol dogs die?"
Titans - (Alejandra)
1. Starfire: "Jason never evolved. He never grew past his own worst instincts. Don't let that happen to you. Keep learning. Keep growing."