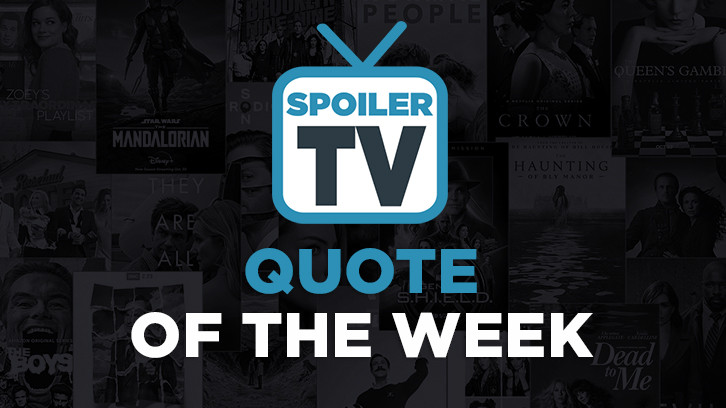 A weekly feature highlighting the best quotes on TV as picked by the SpoilerTV team. We'd love to hear your picks too so please sound off in the comments below.




Kevin Can F**k Himself (Jessica)
1. Sam: "Come on, you know you deserve better than this place, than these idiots. You could be...more."
2. Allison: "I know you think that you're some everyday hero, but you're just a dick, Kevin."
3. Patty: "You're not gonna tell Kevin anything."




Roswell: New Mexico
1. Isobel: "We can't just kill an alien who claims to come in peace. First of all, it's too ironic." (Prpleight)
2. Rosa: "I mean, obviously, you should keep going. If you quit, people die." Kyle: "Death isn't the only reason to try. You know? Life's a pretty good reason in and of itself." (Jamie)




Ted Lasso (Alejandra)
1. Jamie: "Uh, easy Phillip. I'm not just a loser, I'm the loser."
2. Nate: "We don't want calm athletes. We want killer athletes." Beard: "Even after they shower?"
3. Dr. Sharon: "Does everyone agree that being winless for eight straight draws 'ain't broke'?"