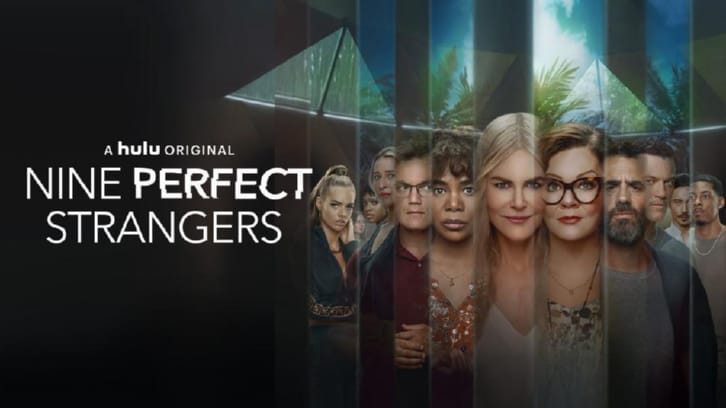 Nine Perfect Strangers brings together, well... nine strangers guests, one guru-like wellness resort leader, and a few wellness professionnals who are all here to make the guests live through an exceptional experience as they detox from their busy lives, or heal from their pasts, at Tranquillum House: an idyllic resort based in California.

Nine Things You Need to Know About Nine Perfect Strangers

1. Originally, Nine Perfect Strangers is based on Liane Moriarty's novel of the same name. The book is entertaining (as are almost all Liane Moriarty's ventures), even if it drags a little at some points and ends up being a bit predictable, with characters you can root for and fun situations to behold. The show, however, (at least in these three episodes) takes a few liberties with some characters (namely Tony, Ben, and Carmel, whose show turn is truly baffling) which I didn't particularly enjoy, since the originals felt more believable.

2. The casn't couldn't be much more star-studded if it tried, what with Nicole Kidman, Melissa McCarthy, and Michael Shannon in lead roles, along with The Good Place fan favorite Manny Jacinto in a lovely turn as Yao. I was excited to see Bobby Canavale in this too, but the way the show has changed Tony makes me... not a fan, sadly. Nicole's accent is a little all over the place, which is expected as this point since it was in Big Little Lies too, and I honestly don't mind since I'm not a native English-speaker anyway. Melissa McCarthy is probably the biggest highlight here, she's truly delightful in this role and I hope she gets more of these along the way.
3. It's kind of complicated to judge the show's choices based on only three episodes, having read the book, but there's a heavier secondary plot revolving around Masha's past that seems a lot darker on the show. The comparisons to
The White Lotus
and its murder mystery are again warranted, except this one is a lot less intriguing since we have no idea what it's about. And if the show, in the end, reverts to the book plot, it'll feel a little pointless.
4. The setting is pretty magical and I, for one, wouldn't mind joining a ten-day health trip with natural pools and lovely hikes. There's something refreshing about leaving technology behind, drinking smoothies and focusing on transforming yourself. It did crack me up that several of the guests tried to smuggle illegal goods (chocolate, wine, the likes) and got "caught" (as in, the goods were confiscated).
5. Speaking of the smoothies, they are everywhere. The show actually opens with a blender shot, and then there's at least one per episode. I've read the book, so no spoilers but this feels especially heavy handed from the writers, and not completely necessary. There's also a rumor that the guests have actually been hand-picked by Masha, which makes one wonder: what was the selection process? What is she trying to create here, exactly?
6. The styling is great. Frances (Melissa McCarthy's character) in particularly looks lovely, and has some very enviable, fully covering swimsuits that I covet and would like references for, please and thank you.
7. It's not every summer that two shows about exotic and luxurious resorts air quasi simultaneously, but apparently, much like vampires and dystopias in their times, resorts are very in right now. With
The White Lotus
having just aired its season finale and been renewed for a second season based on the critical acclaim and success it garnered, one can wonder how
Nine Perfect Strangers
compares. /spotty Russian accent/ Vell, my laposhkis, unfortunately
Nine Perfect Strangers
The White Lotus
is not. Maybe it would've suffered less from the comparison had it aired before, or a different year, but
The White Lotus
is fresh in my (and everyone's) mind so it's hard not to bring it up. NPS doesn't seem as witty or carefully insane as TWL, which is strange since NPS's premise seemed perfectly suited for this kind of satire.
8. Nicole Kidman has been known to wear a variety of wigs for her roles, some more convincing (
Big Little Lies
) than others (that Destroyer movie). On a scale of Galadriel to Kate Mara's
Fantastic Four
wig, this one does have the benefit of seemingly surviving everything Masha puts it through, were it diving into pools or empowered speeches, but super realistic looking it is not.
9. There is a goat story. It probably would've felt fresher if it hadn't already almost happened on (international) editions of survivor, as well as on
The Wilds
, and I don't tend to like knowing fictional animals got hurt for the sake of the story.
All in all, it's a fun premise, a great cast, and while it lacks a bit of substance and gravitas so far, it's entertaining enough that it makes for enjoyable TV, and Melissa McCarthy's performance assuredly makes it worth it. I'm hoping the next episodes dig a little deeper into each family or guest, and that the show really takes advantage of the improbable setting. What did you guys think of these first few episodes? What are you looking forward to as each guest's story unfolds? As usual, sound off in the comments!