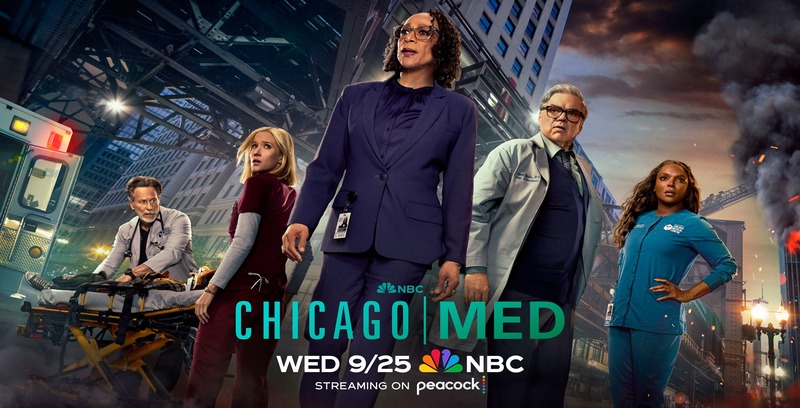 As we prepare for the start of Season 7 and reflect back to the Season 6 finale, it is only natural to wonder what the future will hold for Gaffney Medical Centre Emergency Department and our favorite Chicago Med characters. For many viewers, this writer included, it felt like there were many unresolved questions we were left to ruminate over during the summer break.

One of the biggest questions at the conclusion of the Season 6 finale was the future of Dr. Will Halstead and Dr. Natalie Manning. After Will protected Natalie by not telling Sharon Goodwin the truth about the theft of the Kender trial drugs, he was fired and the future of all drug trials with Kender was up in the air. When Natalie heard about this, she confronted Goodwin and confessed her role in the theft in the final moments of the episode. So as Season 7 begins, will Goodwin change her mind and rehire Dr. Halstead? Will Dr. Manning be fired? Perhaps Goodwin will allow her to resign so she can still practice medicine in the future. Since Season 1, we have known that Natalie's family lives in Seattle, so perhaps with her mom receiving her heart transplant, this gives our Chicago Med writers a way to carve a tidy exit for Dr. Manning that is in keeping with her current story line with her family. With the announcement that Torrey Devitto has chosen not to return for Season 7, we will need to see some explanation provided during the first few episodes to tie up this loose end.

And speaking of loose ends, it will be curious to see how our Chicago writers deal with the departure of another series regular Yaya Dacosta, who as nurse April Sexton was accepted to the Nurse Practitioner Program at the conclusion of last season, but also professed her continuing love for Dr. Ethan Choi. Was this to leave a door open for possible guest appearances or for her return in the future? Certainly viewers have had mixed feelings about the Sexton/Choi relationship over the years, so this twist was definitely a noteworthy moment at the conclusion of last season.

It is also worth noting that Steven Weber who plays Dr. Dean Archer was promoted to series regular for this season. With Dr. Choi recovering from being shot in the finale of Season 6, and Goodwin not being aware of his concerns with Dr. Archer, the decision was made to make Archer interim chief of the ED. This will certainly create an interesting dynamic during Ethan's recover, as we saw Dr. Archer have friction with the nursing staff, Dr. Charles and Dr. Halstead last season. With his often self-serving and abrasive manner, one can only imagine that people will be less than enthused with his leadership of the ED. In addition, as Chief of the ED, he will now be responsible for the supervision and teaching of medical students and residents, which includes Maggie's daughter Vanessa, who if we recall was selected as a Resident for the ED at the end of last season.

There are also a number of other questions we have been left to ponder related to some of our other beloved characters as Season 7 begins. We will see the new dynamic and evolving relationship of Vanessa and Maggie this season, which could prove to create challenges for both of them as they work side by side in the ED. With the departure of Natalie, will Dr. Crockett Marcel return to his closed and womanizing ways reminiscent of his first seasons with the show, or will this new more open and sensitive Marcel be here to stay? As Kender pulled their trial from Med and the likelihood of them being reluctant to continue trials there in the future, what will happen with Dr. Sabeena Virani? Will we see her again? Was the private conversation with Goodwin and Virani in the season finale about the withdrawal of the drug trial, or perhaps Goodwin offering her a position in Cardiology at Gaffney? With the departure of 2 main female characters from the series and the complex dynamic of the relationship Dr. Virani had with both Dr.'s Halstead and Choi, there definitely is an opportunity for Dr. Virani to return in a variety of storylines this season.


Recently it was also revealed that two new characters are set to be welcomed to the Chicago Med family this season. The first new character is Dr. Dylan Scott, to be played by the talented Guy Lockard. Dr. Scott left a career as a Chicago police officer to become a doctor. It will be interesting to see how his past experience affects how he interacts with patients and practices medicine…is he a hard-nosed rule follower or a more relaxed and trauma informed care provider? Why the change in career – will this be explained early in the season, or be a slow burning mystery gradually revealed piece by piece in traditional One Chicago style. Is there possibly any connection to our Chicago PD characters that could possibly lead to crossover arcs between the two shows? Only time will tell, but this author cannot wait to see what is to come with this new character.
The second new character will be a new female character, Dr. Stevie Hammer, played by the beautiful Kristen Hager. Dr. Hammer, described as both brilliant and scrappy, will be a new attending physician in the ED. The introduction of at least one new female character was expected with the departure of Devitto and DaCosta, but it will be interesting to see what type of dynamic this new series regular will bring to the table. Will she be a tough, no-nonsense ED physician, or someone with a softer approach like Dr. Manning? Will there be any romantic notions with Marcel or Halstead in the future? Or perhaps the new Dr. Scott?
Needless to say, we will be in for an interesting journey this year on Chicago Med as we say goodbye to some long time series regulars and welcome some new team members. Are there any cliffhangers you want to see quickly resolved this year or new storylines you would love to see explored? Share your thoughts with us in the comments below.