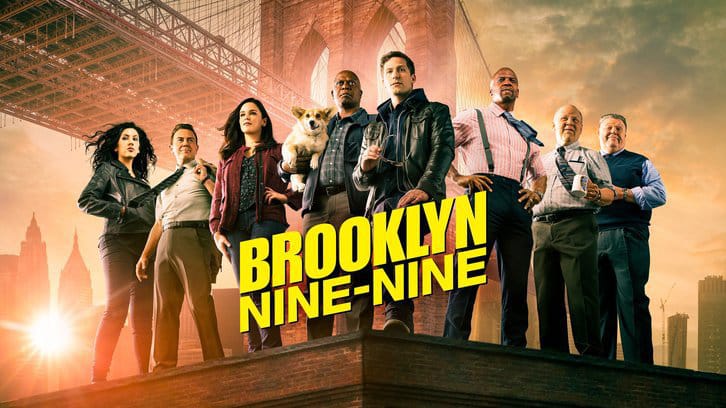 Brooklyn Nine-Nine is back with its last ever season premiere. As much as I'm going to miss this show, I've been looking forward to seeing how the writers would tackle creating a cop show after the BLM movement. Let's dive in and find out!
The Good Ones
From the bat, the season opener hits us with two big changes: Rosa quits the force and Hitchcock has retired. And that's just the changes within the squad. As the episode goes on, we see the squad navigate the changed world around them.
Jake makes it his mission to show Rosa that he's one of the "good cops" in an effort to save their friendship. Which leads to a lot of rambling and overcompensating, as Jake always tends to do when he feels uncomfortable or defensive. Thankfully, Rosa wasn't having any of it. It was very satisfying to hear her say that her choice has nothing to do with Jake. She made a very difficult decision that changed her life, and I'm very proud of her for making it. I'm so glad the writers chose Rosa as the character that shows how it's still possible to help people without being a part of the force.
During their argument, Rosa tells Jake that he could either help her or leave if he was only there to prove a point. Initially, Jake is off the case, but thankfully he comes around later and helps Rosa in a way that's actually useful. As heartwarming as that moment is, the feeling doesn't last long. When Rosa and Jake hand in their evidence, they're confronted with how difficult it is to make any real change within the force. In the end, the best they can do is to get the charges dropped. It's a small victory that doesn't do much on a larger scale, but it's also very realistic and eye-opening for the audience. But while their case may not have ended in the best way, at least Jake and Rosa ended the episode on better terms. It was also really nice to see Jake admit that he may be part of the problem. Hopefully this means that he will continue to do better in future episodes.
Another character who is overcompensating after the BLM movement is Charles. He is constantly trying to prove to Terry that he's a good ally. But, as Terry points out, it's all very performative. Similar to Jake, Charles seems to most be doing this to feel better about himself. I really appreciate that the show tackled this. While Jake's storyline is more about his job as a cop and how that reflects on him as a person, Charles' storyline is more about his priviledged position in society. He's the kind of person you're more likely to come across in your direct environment, which is why I think it was good that the writers addressed this.
In the third plotline of the episode, Amy feels like her and Holt have grown apart during her pregnancy. In an effort to save their relationship, she asks Terry if she can borrow one of his sex books, which leads to a funny running joke in the episode where Terry constantly shows up to deny that those books are his. One thing that was missing from that small storyline, though, is Terry ultimately getting to a point where he can own the fact that those books are his and that his relationship needed the work. I still hope a future episode can get him there.
Throughout the episode, we see "Ramy" try to work on their relationship. The jokes landed really well for me, as Amy treating their relationship as if it were a romantic one felt very in character for her, and shows us just how much she values it. But they don't make any real progress until their final scene. As if the changes to the squad in the opening scenes weren't enough, the final "Ramy" scene hits us with another shock: Holt and Kevin are no longer together. In a touching scene, Holt confides in Amy that his anger about everything happening in the world led to their separation. It's a sad but realistic story that undoubtedly reflects many real life separations. While Holt's relationship may be over, thankfully he still has Amy to confide in. After Amy's worries all episode, I love that she ended up being the person who knows Holt best at the precinct and who can always tell when something's off with him. It's nice to see that their bond is still as strong as ever.
As a fan of Holt and Kevin, the news that they aren't together anymore hit me quite hard, and it would've been such a depressing note to end on. Thankfully, we didn't have to wait a week between episodes to see how this would be resolved.
The Lake House
After such a relatively heavy episode (by this show's standard), watching Jake and Terry parent trap Holt and Kevin was a very welcome change of tone. While it may still be difficult to achieve change within their workplace, it was nice to see that it's still possible for Jake to change things for the better. Which no one in the episode initially believed. Even Terry, who helped Jake with is scheme, had no faith in his plan. But as Jake and Terry set up a picnic for Holt and Kevin and lure them there with the promise of seeing a corn crake, we come to see how similar Holt and Kevin still are and how well they know each other. And more importantly, how much they still care for each other. Holt immediately takes care of Kevin when he gets stung by several bees, and he sweetly describes what the corn crake they were looking for looks like when they actually come across one.
But just as Holt and Kevin's relationship seems to be improving, we learn that Kevin has decided to leave. All seems lost. But, as it turns out, the only thing keeping them apart is that they were both dancing around the fact that they still have feelings for each other. Once Jake tells Holt that Kevin does in fact still love him, Holt finally has the courage to tell Kevin that he still loves him too. In the end, all they needed was emotional honesty. Of course, this doesn't immediately fix all their issues. But that's what the couples counselling session are for. While this episode doesn't guarantee that all will be well with Holt and Kevin for the rest of the season, it's nice to end it on such a positive and hopeful note. And I'm glad that the show took an episode to really focus on Holt and Kevin. They don't get as much focus as Jake and Amy, but they're still an important relationship on the show and they deserved to get the spotlight at least one more time.
Meanwhile, Amy struggles with putting Mac to sleep during their first trip away from their home. Charles, who has plenty of experience with raising children, offers his help. Amy is reluctant to accept that she needs help, but ultimately she has no choice but to come around. And miraculously, Charles has almost no trouble getting Mac to take a nap. But of course, in true Brooklyn Nine-Nine style, that immediately leads to another problem when Charles accidentally locks Mac in the room.

In the end, Amy realises that her constant checking on Mac is what keeps waking him up. Her perfectionist nature is very useful in many situations, but it also makes it harder for her to just let her son sleep without constantly keeping an eye on him. As much as she wants to protect him at all times, she needs to learn to let go and trust that he'll be okay in some situations. Which is also something that's important for Amy to learn in general. And that doesn't mean she can't still protect him when the situation calls for it. When her son is locked in a room, Amy will always be there to break down the door. Because nothing is impossible for Mac's mother. Which, by the way, was an incredibly satisfying moment.
Overall, this was a strong start to the show's final season. I really like how the show has addressed the current situation in the world and I think the writers did a good job on balancing showing what most cops are like with making a comedy show about cops. If these two episodes are anything to go by, it seems Brooklyn Nine-Nine will stick the landing and go out on a high note!
What did you think of The Good Ones & The Lake House? Did you enjoy the show's final season premiere? Let us know in the comments!