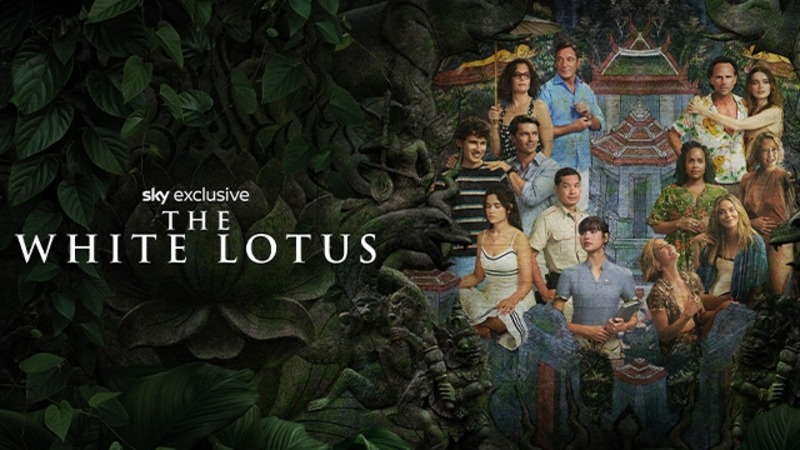 If you thought The White Lotus was slightly unhinged in the premiere, this second episode proved it was no fluke. But it's a good unhinged, a great one even, and I for one, am very entertained by the lives of the rich and privileged. Despite their (many) woes, right now in this Parisian quasi-heatwave, I'd gladly swap the burning pavement for the shade of Hawaii's palm trees and translucent waters (sans shark family, please).

Things are looking up for the Mossbachers, as Mark finally receives the news that his swollen testicles aren't cancer-related but rather "an abnormal reaction to a virus", and treats it like a near death experience that "gives him a new lease on life". This new lease apparently involves new and original ways of torturing his only son: Quinn, albeit under a wellmeaning cover: Mark wants to be the alpha-male father in Quinn's eyes, just like his father was for him. Quinn, a video game afficionado, doesn't seem paricularly enthused about a three-day scuba diving course, but stoically agrees to it. I'm not sure Quinn realizes the scuba diving will likely mean removing his not-fit-for-the-water clothes, otherwise he may have put up more of a resistance, but chances are he'll never have to go anyway if Mark's conversation with his uncle is anything to go by.
Because Mark couldn't just let it go, he
had
to know what kind of cancer his father had actually died of, since Mark was Quinn's age when his father passed away, and the similarities were hitting a little too close to home. I'm a little surprised that no one told Mark what happened before, since he was young but not, like... a toddler, but Mark suddenly learns that cancer wasn't what took his father away from him, but rather AIDS, and an entire second life Mark had never known his father was a part of. For a minute there, with the uncle hemming and hawing about the real cause, I thought he was going to reveal that Mark's father had died from "an abnormal reaction to a virus", whic, to be fair, would also have sent Mark spiralling.
Far removed from this shattering (to Mark) revelation, Olivia and Paula are revealed to have brought an entire pharmacopoeia in their luggage, staving off any possible boredom that could ensue on a trip to a paradise-like island.
"Is something on fire?"
"No, we're just doing witchcraft."
Unfortunately, drug use does seem to make one careless, because the girls forget their goody bag on the beach. I was hoping Tanya would realize what the bag contained and use it to hilarious effects, but alas, the bag ends up in recovering-addict Armond's hands. It doesn't take long until he succumbs to the pressure of running
The White Lotus
and its exhausting guests, even after five years of successfully keeping the addiction at bay.
Nicole remains blissfully unaware of her daughter's practices (though oddly accepting of this particularly wacky excuse. Despite this blind spot regarding her children's lives, Nicole is actually a very big deal business-wise, so much so that newlywed Rachel had previously included her in an article about women in tech. Aside from Shane's constant reproaches regarding their accommodations, the honeymoon took an even darker turn when Rachel realized that far from respecting her craft, Shane assumed she'd stop working since money wasn't an issue anymore now that she'd married into his wealthy family.
This doesn't sit well with Rachel, whose marriage already seems in peril if both parties have radically different ideas of what the future will hold for them. Seeking advice from another woman with a career, Rachel receives some wise words from Nicole... until, that is, Rachel learns that Nicole read her article and
hated
it. It's kind of amazing (if expected, it's Connie Britton after all) to watch Nicole absolutely eviscerate Rachel, all while keeping that dazzling smile on her face and polite tone in her voice. Nicole's cordial "Have a nice vacation!" sounds a lot like
Sharp Objects
' "Bless your heart".
Murder Theroies of The Week
- Quinn gets dragged away from his night on the beach by a sea hag (or that whale we saw from afar, I'm not picky)
- Nicole savagely seeks vengeance upon Rachel in a fit of anger over the article (this works both ways actually)
- Armond goes on a drug-fuelled rampage and both German tourists disappear without a trace, so Shane can finally get the suite of his dreams
- Olivia decides hers and Paula's love is too pure to stand the bus boy's interruption, and summons Hecate to make him go away
All in all, a very enjoyable episode, and I'm excited to see more! As usual, sound off in the comments.