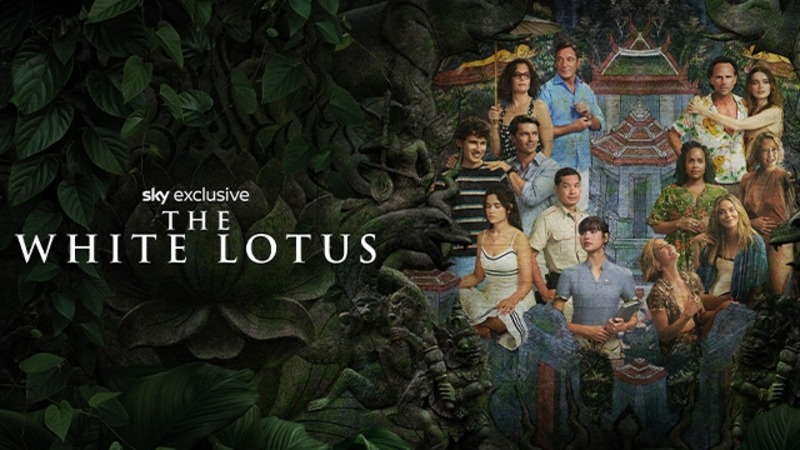 Can you believe we're already halfway through The White Lotus's first season?! And still, no indication about who met their demise. Then again, at this point it's become obvious the show isn't really about that. I've also come to realize (because I checked) that in the first episode, they don't actually say someone has been murdered, but rather "someone was killed", and I feel like the probability of Tanya falling over the boat and drowning in her mother's ashes is more likely than actual murder. Nevertheless, the show remains very enjoyable, and actually maybe could've done without this premise.

I'm not sure how long Shane and Rachel's honeymoon is supposed to last, since they're headed to Tahiti after this (we know this won't happen though, hopefully because Rachel has left Shane, hopefully not because she's the one who died), but three days in and Rachel already seems over it. Shane has been a nuisance from the start, but Rachel was, so far, being a trooper about Shane's complaints over the room issue and comments about her job, and generally trying to have a good time. That time is over however, as she rebuffs him for constantly wanting to have sex (which seems like a bigger issue, honestly, it's not like they've been married for 22 years like Nicole and Mark, but we'll get to that delightful exchange later), and then is understandably miffed by him flirting with Olivia and Paula. In his defense, Shane tries to organize a romantic, sunset on the ocean, dinner on The White Lotus's chartered boat. That, however, was without counting on Armond's vindictive nature, since said-boat has already been reserved by Tanya in order to dispose with her mother's ashes.
Tanya's relationship with her mother seemed fraught at best, I do wonder what the history between their rapport and this Hawaiian farewell is. When Tanya mentioned she'd wanted to be a ballerina as a child (but that her mother told her she never could become one), I half expected her to break into uncoordinated dance movements just like on
Friends
(and we would just have been missing Chandler, staring in disbelief), but alas. Belinda's blind belief in Tanya's (probably) drunken declarations about her future business endeavour are a little heartbreaking though, because as her son says, she
does
deserve better than
The White Lotus
but this is not it. Watch as they launch something together and end up in debt.
Back to Rachel and Shane though, despite her initial reluctance, it seems like Rachel's not above shutting up Shane with sex if necessary, so she's got that to look forward to in their upcoming 50 years of marriage! If she was seeking reassurance from Mark during that godforsaken talk by the pool while she was fuming about Shane's deviances, she must have been sorely disappointed. Mark, who was almost catatonic after the news of his father's double life, has perked up, mainly thanks to several breakfast bloody marys, followed by a vast quantity of other alcoholic beverages (I'm actually wondering if the scuba part enhanced that? Kind of like when you drink alcohol on a plane). Enough, anyway, to start talking about the spark in his marriage (dead), a horrific comparison of what sex with Nicole is like (I'd rather not repeat it here, lest it stay stuck in my head), and leprosis (?). Quinn, who'd valiantly gone scuba training with Mark despite his state, interrupts this charming chat with Rachel, much to her relief.
Quinn's day didn't start in the best way when every single one of his electronic devices floated (well, no, sunk) away after the tide came in and almost capsized his deckchair. I'm not sure how far the resort is from, um, malls and such but since Belinda comes to work by car, I'm assuming something or other is available not too far away. And yet, Nicole orders him new stuff, which won't be available for the duration of their vacation. Outrageous! You know what else is outrageous? How on earth did Nicole, whose business mogul status has been time and time again verified, book a suite that only has one real bedroom. Did she do it on purpose? Did she not realize children need beds, let alone privacy, too? Actually, knowing her and the state of her and Mark's marriage, it's a wonder she didn't book something with separate rooms for her and her husband. That monkey scene was... painful. On the other hand, Nicole's struggle to find the perfect Zoom background was hilarious. Over the last 18 months, how many of us
haven't
started moving furniture around in order to avoid some unseemly sights (dryers, naked spouses, unruly cats... just kidding, cats of all kinds are always a welcome sight!)?!
"Mom, you look deranged."
"It's okay, I have a filter for that"
Um, sharing is caring, Nicole! I too, would enjoy a filter that makes me not look like a potato with hair, please and thank you. Aside from that, almost every single sentence that Olivia comes up with is gold. The entire discussion over Mark's father potentially being a power bottom, and "still butch" was... *chef's kiss*. Which makes me question why, exactly, Olivia is so weird about Paula hooking up with the bus boy. Is she jealous of the busboy or of Paula?! Based on the rest of her behavior, I feel like if they
were
more than friends, we'd know, but people can be less forthcoming about their own feelings.
And just like Paula keeps pretending she isn't slipping away at night to see the bus boy, and Olivia keeps pretending she's buying Paula's lies about it, Armond keeps pretending their drug bag hasn't resurfaced. Just like Belinda, I did worry he was dead in that car, and the way he was repeatedly hitting on Dillon was
not
reassuring. Also, where is Lani? How is Lani? Are we ever going to see Lani again? Surely (to quote Armond), if she'd died in childbirth we would have heard of it?!
Murder Death Theories of the Week
- Armond likes Dillon's little ponytail so much he scalps him and Dillon bleeds to death
- Nicole perches too far back on the suite's balcony for a Zoom meeting and plummets to her death
- Mark drowns during scuba diving after one too many cocktails (too easy?)
- Olivia (and/or Paula) gets hit in the head by Shane's book after he realizes they're constantly making fun of him ("book stylists", they truly are one of the show's many highlights)
- Shane owns Armond at his own game, and sends him off on the island's boat, with Tanya at the helm (the boat sinks/Armond falls overboard, so many possibilities)
What did you guys think of this episode? Was it a little too filler (especially for a 6-episode series) or did you enjoy getting to know the guests and staff more? As usual, sound off in the comments!