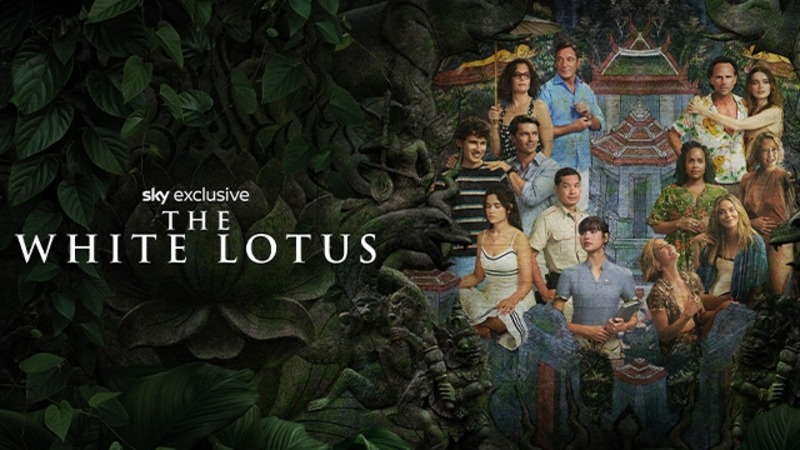 Welcome to Paradise! Seems to say almost everything in The White Lotus resort, from the nautical arrival, to the palm trees, to incomparable service from the staff and a multitude of (hypothetically) fun activities. Welcome to Hell! Seems to say newly hired trainee Lani's tense smile after her boss Armond notices some kind of stain (is it mayonnaise? Tuna? Bird poop?!) on her shirt as their guests make their way onto the island.

From the opening scene in the airport, where one severely disgruntled Shane (Jake Lacy) makes the most awkward small talk of all time with a couple of other flyers, we know that the last week at the resort did not go well since someone literally died. Actually, Shane even specifies that someone was murdered, and promptly (and rudely) turns away from the inquisitive couple, only to set eyes on the "human remains" box making its way onto the plane. Now, I'm not American so I don't know if this is typical phrasing, but the use of "remains" makes it seem like the person was either found in several pieces, or in a state of advanced bodily degradation (I'm thinking of archeological findings at this point), and I wish I didn't have this sentence, with its accompanying visuals, stuck in my head now. Back to the point though: Shane was on his honeymoon at the resort, but is decidedly sans wife now. Does this mean Rachel (Alexandra Daddario), aka the brand new Mrs Patton, is the one in that box?!
Based on Shane's behavior, I'm guessing she either committed suicide by drowning in the infinity pool (and not private pool!) of their suite, or, more likely, left him
during
said honeymoon and is hopefully having fun somewhere else. Shane and Rachel (whose honeymoon is sponsored by the former's parents) had booked the honeymoon suite, but ended up in an other (equally luxurious) room. The lack of private patio was apparently too much for Shane's fragile ego though, and he spends the entire episode complaining, trying to get his (or rather his parents') money's worth, and generally ruining the honeymoon for both he and Rachel. It doesn't help that Rachel, who clearly jumped into this without asking herself who, exactly, she was marrying, gets grilled by the two college girls on the trip, one of which is famous business mogul Nicole Mossbacher's (Connie Britton!) daughter. Olivia (Sydney Sweeney) and her best friend Paula (Brittany O'Grady), who is along for the ride (I definitely need to become friends with more insanely rich people if it means being invited on week-long vacations in Hawaii) spend most of their time gossiping about who the other guests are and what they do (Shane didn't come off too well in this game either), and terrorizing Olivia's little brother Quinn, who ends up sleeping in a tiny kitchen and wondering why his dad (Steve Zahn) is constantly staring at his own genitals.
Despite the idyllic setting, Mark is worried about a sudden, um, increase in the size of said-genitalia, and not the good kind. With testicular cancer one phonecall away, and Nicole clearly not taking him seriously, he's having a really hard time enjoying the "lovely shark family" that lives in the snorkelling area. Because you see, Mark being a good dad and all (and also, Nicole suggested it), Mark tries to bond with Quinn by finding something fun to do. What could be easier, on an island that promises endless activities! As it turns out (I'd honestly like to see the brochure at this point), not much is actually possible. It's too windy, the surf is too threatening, guests aren't forewarned that they'll need a scuba-diving diploma that takes 3 day before they can go exploring, and massages are fully booked (not that I expected Quinn and Mark to try a father-son massage, but still). Armond, the manager, seems slightly out of his depths between the various guest complaints, and his complete and utter obliviousness to Lani's current predicament: far from having a food stain ruin her day, her (hidden) pregnancy is coming to an abrupt and early end, with her giving birth right in Armond's office.
The last of
The White Lotus
's guests is Tanya, a grieving, high maintenance woman who has come to spread her late mother's ashes, and seems, to say the least, like she needs constant assistance.
All in all, this episode helps us become familiar with the guests and hotel staff, but doesn't tell us much about what will unfold during this cursed week, which, lest we forget, leads to someone being murdered. If not Rachel, I do wonder who it could be because motives aren't apparent yet and no one seems like an outright murderer (minus Shane, that is).
So, what did you guys think of this premiere? Are you enjoying the slightly batshit tone (when Nicole started cutting up Quinn's dinner at the restaurant, I almost lost it)? Who do
you
think didn't make it off the island alive?! As usual, sound off in the comments!