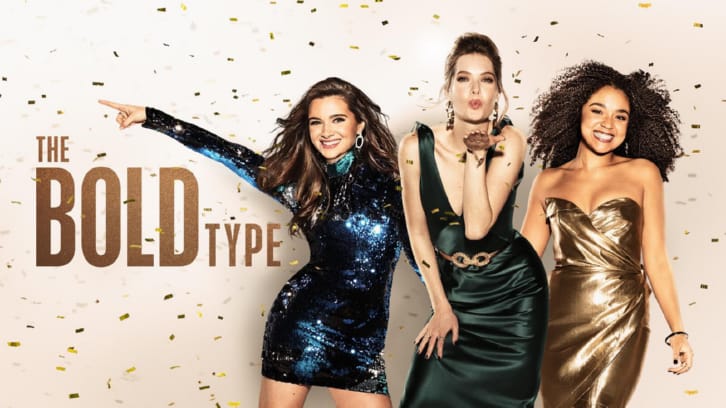 On the series finale of The Bold Type, Jane turns down Jacqueline's offer of editor in chief because she doesn't want to give up writing. Sutton and Richard get back together. Kat and Adena get back together and Kat takes the job of editor in chief. Jane announces that she's leaving.
Perfect person: I'd like to take back everything I said last week about Jane and the editor in chief position. Yes, she would've done well, but she probably wouldn't have been happy in the long run. I was right when I said that it would cut back on her writing and that she probably hadn't realized that. I do think that was the major dealbreaker in this situation. She could've lived with the rest (pressure, long hours) but Jane is a writer though and through. Kat, on the other hand, is a born leader and I can't believe I didn't see earlier how perfect she'd be for this job. If I'm not mistaken, she was already in charge of people back in season one. It sucks that we won't actually get to see her on the job. Did anyone else tear up when Jacqueline offered it to her? I was so proud to see her excel this week. And I'm very happy to see her and Adena back together.
Kat has sort of been my favorite from the beginning. Aisha Dee was perfect for this role. It wouldn't have been the same if anyone else had played her. I'm really going to miss these characters.
Not the ending I would've chosen: I was not surprised that Jane turned down Jacqueline's offer, but I was surprised to learn she was leaving Scarlet. She went from interim-editor in chief to quitting. I get wanting to travel, wanting to take risks… but this kind of came out of nowhere unless I missed some major signs. What about her Vertical, which only just started taking off. What about Addison? She just promised to be her mentor and guide her after Addison turned down a job elsewhere. Someone explain this to me because I don't think I'm getting it. I did like the conversation with Ryan. Despite how badly things ended, I'm glad they're on better terms again. And I liked the bodyguard. But I just can't quite get over that ending.
That said, it's been a wild ride with Jane. I feel like, out of our three main characters, Jane has come the furthest. She's grown so much in confidence as a writer, conquering her fears (especially relating to her health). I'm so glad I followed Katie Stevens from Faking It to this show.
Is this the right decision? Speaking of endings I can't get over, I don't know how to feel about Sutton and Richard getting back together. I loved them together, but after everything that happened last season… I may have yelled "idiots" at my tv screen. How is this going to work? Richard is just going to forget that he wants kids? Yes, they have a happy ending now but what about ten or twenty years down the line? Won't he resent her for it? I mean, the man had already started the adoption procedure and he hadn't even been divorced yet. Am I wrong here, could this work?
Meghann Fahy was the only one of the three main actresses that I did not know beforehand and she really has wowed me with Sutton. I fell completely in love with this character. She's the character I personally had the least in common with but all of her issues always felt so personal and relatable. I can't wait to see what she does next.
I'll miss it: I can't believe it's over. That relatively unknown guilty pleasure show I picked up because I needed something to watch and review over the summer. It looked like fun and I was hooked from the start. I wasn't sure it was going to make it past its first season but that didn't stop me from enjoying it. And now it's five seasons later. The show wasn't perfect, let's make that clear. The were storylines that I did not like (open relationship) and season four was a hot mess. I hate that this season only had six episodes to wrap things up which wasn't nearly enough. It's should've had sixteen, in my opinion, and anyone who knows me knows that I do not say that lightly (I'm usually a fan of shorter seasons). But this season just felt rushed. I feel like Jane's decision, Kat's new job, Sutton and Richard's reunion would've felt much more organic if there had been more time for us to gradually get there. Kat was literally hired back last week and is now running the place. There should've been more time in between. I blame Freeform for this. Everyone knows you can't wrap up a show in six episodes, just ask the Nikita writers.
However, those first few seasons were really great. This show handled storylines in a way I haven't really seen before. I will forever marvel at the way Jacqueline was written. A female boss in the fashion industry, they could've so easily turned her into a bitchy stereotype. Instead, she's this incredible mentor to all of them, even inspiring me. And the same goes for Oliver. His relationship with Sutton was one of the best parts of the show. And I wish we could've gotten more of Sage, Andrew, and Alex (who I was missed in this finale). This show gave us so many incredible characters. I'm going to miss each and every one of them.
Best quotes: Jane: "I think I'm just processing. And, I have like infinite emotions. And you know when that happens and you just feel like you have to scream."
Jacqueline: "Jane has told you the news, I'm sure." Kat: "News? No." Sutton: "What news?" Jacqueline: "Ladies, I would never expect her to keep a secret like this from family."
Jane: "I'm not taking the editor in chief job." Kat: "What? Why." Jane: "Because I'm not the right person for it." Jacqueline: "You are, Kat." Kat: "Are you serious?" Jacqueline: "Oh, I am very serious." Kat: "Is it okay if we sit down?"
Jacqueline: "I was trying to replace myself with someone that was, well, someone like me. But someone like me is not the future of Scarlet. You are, Kat. And I'm sorry that it took me so long to see it."
Jane: "So this is it." Sutton: "No." Jane: "So much change." Kat: "But it's good change, though. And we are gonna be okay." Sutton: "We're gonna be better than okay." Jane: "'Cause we got each other, forever." Kat: "Oh yeah, until we die."
That's it for this show. Let me know in the comments what you thought of the series finale.
Please be respectful in the comments, any unnecessary rudeness isn't welcome.