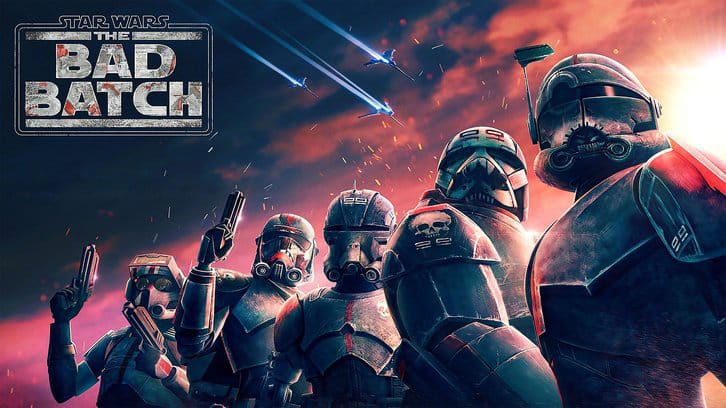 Star Wars: The Bad Batch 1.08 "Reunion"

Reunion was the immediate follow on from the heartbreaking Battle Scars that thrust the Bad Batch into a fight against one of their own as they were pushed with their backs to the wall inside a former Jedi cruiser. It was a tense episode that had the action that Battle Scars lacked, in that it was all-action, virtually all the time – we saw the dangers of Crosshair working with the enemy, he knew exactly what Hunter and company would do and he knew just how outnumbered and outmanoeuvred they were – there was no way out. I do find it weird that Rex would leave without some way of coming back to help them in the fight – he just left and walked off? – and I still find it weird that the group just didn't go with him – if they were looking for a purpose, he would have given them one instantly – but The Bad Batch has a while to go yet before it becomes a proto-Rebels, which is essentially the only direction that it can head in at this point. It's already a proto-Mandalorian, and that only became more apparent in this episode.

Omega was bound to be kidnapped and separated from the group at some point but The Bad Batch is not even trying to do anything different from The Mandalorian, it's treading tired ground over and over again and offering up little in the way of anything new. You want a cameo? Here, this time – it's Cad Bane. It's taking one of the biggest and widest fictional universes in the history of cinema and television and making it feel as small and as closed off as possible, everybody is connected to each other – everybody knows each other. There's only a matter of time before Ahsoka shows up, because Ahsoka always shows up. One of my biggest problems with The Bad Batch is that it just feels unnecessary, it's just The Mandalorian with a bigger cast, and Rebels already covered much of this ground. Even Fallen Order and the Kanan comics (retconned by this show, I might point out), covered what's been covered here and found their own voice quicker.

The Bad Batch has nothing new to say. It's run out of ideas long before its 16th episode of its first season, and the fact that we have to sit through over 10 more episodes before we get to the finale at this point is actually off-putting. There's some good action and the conflict inside the Jedi cruiser is fun, but again – nothing new. I practically groaned by the time Cad Bane showed up and that's not what fan-favourite characters and their entrances should be doing. At least, as I mentioned before, the Martez sisters actually felt fresh due to the fact we've seen so little of them. Cad Bane on the other hand? Yawn. We know exactly what he can do and it robs the element of surprise. This show has to stand on its own feet and its sheer reluctance to do so is turning me off it. Every time it wants to raise the stakes, it just throws in a character that we already know.

Has The Bad Batch run out of surprises only seven episodes in? Its set-piece action just about kept things entertaining with the best in the series yet, but otherwise, given the plot at large, I'm failing to be convinced. Everything just feels far too predictable.

Star Wars: The Bad Batch 1.09 "Bounty Lost" - Review:

If Reunion was the first part, Bounty Lost was the follow-up, at least the group didn't waste too much time in getting Omega back as we've all gone through this arc before, but then what was the point in all of it? The point was – in this case, for a Fennec and Cad Bane showdown which was exciting enough on its own but as mentioned in the above review, it brings to light the broader problems with The Bad Batch at large, it's much more interested in other, 'cooler' characters than its own and as a result the Batch themselves are left to stand around in the background and let the plot be dictated by what's going on around them. It doesn't quite feel entirely like a bad call – as Fennec invertedly helping Omega escape without undermining Cad Bane's character works, just about, at least.

Omega is slowly learning some street-smarts like her ability to trick Cad Bane's robot ally into letting her out to repair the robot's leg before knocking it out was fun. I do feel like we're headed towards paving the way for a show that's entire purpose exists to show how Palpatine could be cloned in The Rise of Skywalker (or if not, the origin of Snoke, perhaps?), and I really hope I'm wrong – because the whole concept of Alpha and Omega (with Alpha being Boba Fett, a pure clone) is too interesting to pass by – the show's commitment to not making any of these characters force sensitive is a welcome change of pace and I will say this about The Bad Batch thus so far – at least there's no Jedi. In that sense, there's freshness, unpredictability to the plot and the stakes in the combat always feel real without the need for escalation to the point of overkill.

We are now aware of the motives for the Kaminoans and their involvement in wanting Omega back – and hopefully, now that she's been kidnapped once, we won't go through this arc again at least for a while now. And we get a nice little confirmation that Omega is very much part of Clone Force 99 – their family, and she's there to stay. Plot-heavy episodes are slowly advancing the plot – and that's always good to see, at least.

I do wonder what's going to happen with Crosshair in the long run though. Will there be a redemption arc for him? I like to think so – and I'd love to see Omega bringing him back into the fold. The loss of one of their own still hurts the Bad Batch, after all.