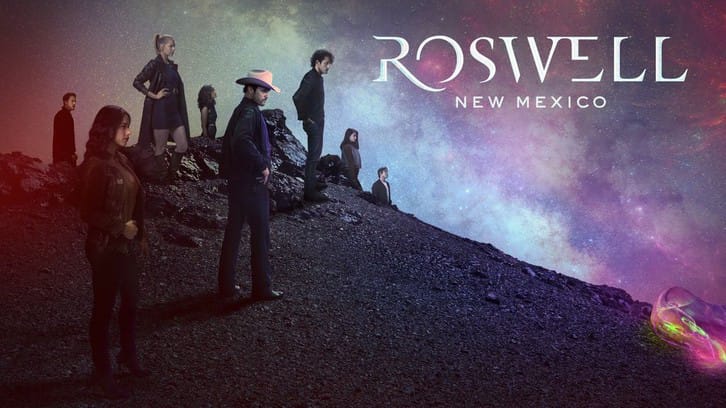 This week on the season premiere of Roswell New Mexico, a year has passed since last season. Liz nearly got fired from her new job but her new guy helps her hide her tracks. Max is dying… again. He's apparently also a clone. The lookalike is still in the pod. Alex returns and Forrest leaves. Maria has a vision of a funeral. Apparently, someone's getting murdered. Rosa gets attacked by Wyatt and injects him with something that affects his memory.
Hasn't changed a bit: A year may have passed (and not just for us) but Liz is still the exact same. She acts before she thinks. I didn't actually mind it, because I would also be pissed if my groundbreaking research could only be used for skin care products for the next 10 years, but she got so lucky. If it wasn't for Heath she would've been fired and maybe even have her career ruined. I'm not really feeling the two of them as a couple. Especially since we all know it won't last. But I do enjoy having Steven Krueger back on my screen. Is anyone still counting how many TVD universe actors we've had? Because I've lost count.
Best couple: I must say that I'm really enjoying Maria and Gregory together. It's nice to have a relatively drama-free couple on the show. But the better things go for them, the more worried I am that something will happen to Gregory. Now that the evil Manes is gone, what's there left for him to do? If it wasn't for Maria he probably would've left town already.
Not again: I really hate it when storylines get repeated. Are we really going to spend another season with everyone trying to save Max? I was really surprised that they went down this road again. They could've easily come up with another reason for them to have to talk to Jones. I sure hope it doesn't last too long this time. I'm much more interested in what Jones has to say about their past and how Max could be a clone. And why a clone was even needed. Also, why did Max bury the blade? I feel like that thing could come in handy someday.
The vision: I've had several theories about the vision. My first one was that it wasn't someone the gang was close to. Isobel was the only one who was really upset, which could be guilt if she's the one who did the killing. Alex even said that it was like Noah all over again, aka not a main character. Okay, maybe I'm reading too much into it. My thought was maybe it was Wyatt. I don't think we've seen the last of him after he tried to kill Rosa. We don't know much about that drug. But would they really give us this flashforward tease for such a minor character? I saw some people say it might be Kyle. I really hope that's not the case. It would make sense why Isobel is so upset if they've grown closer. But Alex didn't seem upset enough for it to be Kyle. We didn't see Liz, her reaction would've been a good indicator.
Speaking of: Now that we're on the subject of Kyle, what are the writers doing with him? He and Steph have suddenly broken up. Not that I mind, I didn't like them together that much to begin with. But now he's sort of just wandering around in different storylines. Giving Liz a pep talk, giving Alex advice, helping out Maria, … It does look like they're getting ready to write him out of the show. Whether it's in that coffin or leaving town for New York, that remains to be seen.
Best quotes: Michael: "How much tequila has he had today?" Isobel: "Oh, I think this is less booze and more convincing himself that a year later that he's really over Liz Ortecho."
Kyle: "I need to get a social circle that can't unlock doors with their mind."
That's it for this week. Check in again next week for an all-new review and let me know in the comments what you thought of this week's episode.
Please be respectful in the comments, any unnecessary rudeness isn't welcome.