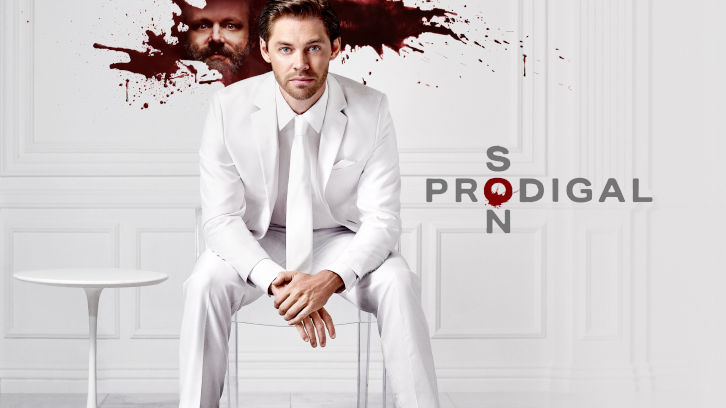 The 2021 cancellation season has proven to be a brutal one, with numerous shows getting the axe: Good Girls, Manifest, Zoey's Extraordinary Playlist, MacGyver — but no fandom is as insistent as the one rallying behind Prodigal Son.
Two months after Fox cancelled the crime drama, the #SaveProdigalSon campaign has trended consistently in the United States and countries across the globe. Though the campaign parties have changed tactics with tweetstorms scheduled throughout the week, it's clear that the cult following is not backing down anytime soon.
#SaveProdigalSon began immediately following the news on May 10th. A petition circulated, a website was formed, cupcakes were sent (and received) by executives, and a fundraiser brought over $5,000 to TWLOHA in an effort to bring attention to mental health struggles. Daily Tweet Parties took Twitter by storm for the first month and a half; hashtags ranging from #BewareTheHeels to #SerialKillerCleanse trending in multiple countries on a daily basis. The fans are loud, persistent, and hopeful.
Manifest — which continues to hold an impressive streak of staying on top of the Netflix trending list — got an average of 15,000 tweets under #SaveManifest at the height of their campaign, now slipping down to 8,000. Comparatively,* Prodigal Son got an average of 40,000 tweets a day for their first month of #SaveProdigalSon (getting up to nearly 100,000 on one night). Even two months in, #SaveProdigalSon hits higher engagement milestones than #SaveManifest on their off days garnering 10,000 tweets a day, while getting 17,000+ on their party days. #SaveProdigalSon is the loudest, but #SaveManifest has been a media darling with prominent articles published by The Hollywood Reporter, Deadline, and Variety. It's a shame that the HBO Max viewership numbers are never made public, as the first season of Prodigal Son has spent significant time in the platform's most watched rankings following its debut in March 2021, still supposedly in the Top 10.
#SaveZoeysPlaylist and #SaveGoodGirls initially had a lot of attention and a big burst of fans trying to save their show, never sufficiently organized watch parties or tweet storms, and within a week of cancellation, both hashtags petered out, they now average less than 1,000 tweets a day.
Good Girls and MacGyver have been cancelled, and despite the ardent fanbase of the latter, there is no road ahead for resurrection as contractual disputes prevent any continuation. Manifest, despite exhausting their shopping options only 8 days after cancellation, still hopes to greenlight a movie given their exponentially growing viewership (it seems foolish not to make it happen). Zoey's Extraordinary Playlist might have released the cast from their contracts, but Lionsgate continues to look for a new home.
Prodigal Son, on the other hand, has remained startling silent. The last official news that was released was that WBTV was still shopping, despite the HBO Max pass up — which they reiterated a week later. With support echoed by Channing Dungey, WBTV chair in the Hollywood Reporter, everyone seemed positive and hopeful of the show's chances.
Since then, it's been nothing but crumbs. Even the cast is unsure of the show's fate. The closest to official news anyone has gotten in a month and a half is the show's Executive Producer, Sarah Schechter, occasionally liking encouraging tweets about the hopeful success of shopping the show. Additionally, sources** inside AppleTV+ claimed in the later half of June, that there were internal conversations about the #SaveProdigalSon campaign. But, at this time, it is not clear if these deliberations have led anywhere, or if there were any meetings scheduled to discuss Prodigal Son with WBTV in the weeks that have followed.
The silence could mean anything; from ending shopping without notice (when every other show has had transparency? Give the fandom some closure!), to negotiations taking longer than expected, to temporarily shelving it until a streamer has room on their slate — it sounds like HBO Max could be back on the market soon. Following the mid-year earnings of media IP, a re-evaluation of budgets should make its way down the corporate chain and increase HBO Max IP spending. Continued strong user engagement, subscriber growth, and increased revenue streams from ad-sales could see HBO Max return to the negotiation table in the fall.
So, the question remains...
WBTV, when will we officially hear about the final fate of Prodigal Son?
Have any tips about the status of Prodigal Son (or any other show left in limbo after cancellation)? Email zoe@spoilertv.com!
*Disclaimer #1: I am a big fan of all of the shows mentioned in this article and hope they all somehow find a new home. I strongly believe that fan campaigns are not a competition — I'm just a big stats person.

**Disclaimer #2: Any insider info, while coming from legitimate sources, cannot be officially endorsed.

***Disclaimer #3: This article is not here to discuss the legitimacy of fan campaigns — it is simply observing the data of fan movements. (Though, I do point you to #SaveTimeless, which undeniably got two extra chances due to persistent fans. Money is the key factor, but fans can push it in the right direction.)