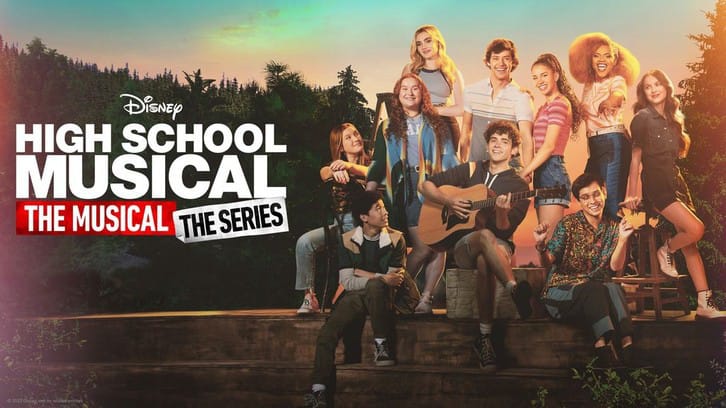 It's spring break for the Wildcats! For Miss Jenn, that means keeping her students motivated to keep practicing for the musical through videocalls as the competition between East High and North High intensifies. But for Ricky, Gina and Nini, that means working through their heartbreak and finding ways to move on.
Ricky reconnects with his mom
Ricky spends this episode reconnecting with his mother Lynn. After the way last season ended for them, that was much needed. Ricky already hated change in the very first episode of the show and has only grown to hate it more, which in many ways is because of his mother and the divorce. So it was very rewarding to see Lynn apologise for showing up with her boyfriend without warning last season and acknowledge the impact the divorce must've had on Ricky. They both needed that moment to start healing their relationship.
Ricky learns some valuable lessons from Lynn during their talks. He comes to see that sometimes when you love someone, it's best to let them go. And that no matter how hard you tried, sometimes it's not enough to save a relationship, and that's okay. She also teaches him to find an outlet for his heartbreak. Ricky may not want to talk to his friends about it yet, but he does end up channeling his emotions through song, which was wonderful to see. And he confides more in his mom again. Hopefully, this is the first step towards Ricky learning how to accept and even appreciate change.
Gina gets her sign
When stuck at the airport, Gina meets a fellow member of the heartbreak club: Jack. After getting off on the wrong foot, they spend the day at the airport sneaking into the first class lounge and bonding over a game of two truths and a lie. While the two certainly get along well and have chemistry, this storyline is more about Gina's growth than about creating a lasting new dynamic in the show.
Gina has been working through her heartbreak this season, and this episode seems to mostly close that chapter of her arc. She feels comfortable enough to open up to Jack, both about her personal life and her heartbreak, and tells him he's cute, which is as close as an admission of feelings as they can both get within a day of knowing each other. Jack responds positively to both, which really helps Gina heal from her experience with Ricky, where she felt she opened up and got nothing back from him.
By the end of the episode, Gina is ready to move on. Not with Jack, as she wants someone who's gonna stick around. And as we've already seen throughout the episode, Jack isn't the only boy who's been on her mind. She has been wearing EJ's hoodie this entire time and told the camera that things have been different between her and EJ, but she's not sure what's going on. She wants a sign so she can be sure that he feels the same way about her. Which she gets at the end of the episode when EJ shows up to take her home from the airport and offers her the granola bar she forgot earlier in the episode. It was the sweet gesture Gina has been waiting for this season and really seemed to open her eyes to what is going on between her and EJ. I'm very excited to see where the two of them will go from here!
Nini loses her muse
Nini tries to work through her heartbreak by focussing on her music page. Unfortunately, that doesn't turn out to be the great distraction she hoped it would be. Her mind is still on Ricky, and it seems her muse has left with him. Her moment of letting go is a more quiet one, compared to Ricky and Gina, as she takes off her necklace, places it next to Ricky's in a box, and closes the lid.
Just like Ricky and Gina, Nini needs help in working through her heartbreak. Which she finds in Ashlyn, who collaborates with her on a new song. As it turns out, working together with a friend was exactly what Nini needed to regain her muse. If there's anything these three Wildcats learned this episodes, it's that they can't face their heartbreak alone. They have to let other people carry them through it in order to find ways to move forward.
The song Nini and Ashlyn wrote, You Ain't Seen Nothin', was a fun and upbeat song and performance, and exactly the kind of energy this episode needed after some of the more serious moments between Ricky and his mom. Let You Go, on the other hand, was beautifully heartbreaking and very fitting for the state of mind Ricky is in. I've really enjoyed all the songs this season and I'm glad to see this episode delivered two more quality songs!
Additional thoughts:
- While Covid may not be a thing in the HSMTMTS universe, the writers still found a clever way of paying tribute to education under the Covid restrictions. I really liked Miss Jenn's line about being thankful for technology in these dark times. Of course she would be that dramatic about not rehearsing for a week.
- The tension between Seb and Carlos continues. Once again, it wasn't a big plotline within the episode, but I'm sure that won't be the case for much longer. Hopefully they can work their way through their issues together.
What did you think of Spring Break? Let us know in the comments!