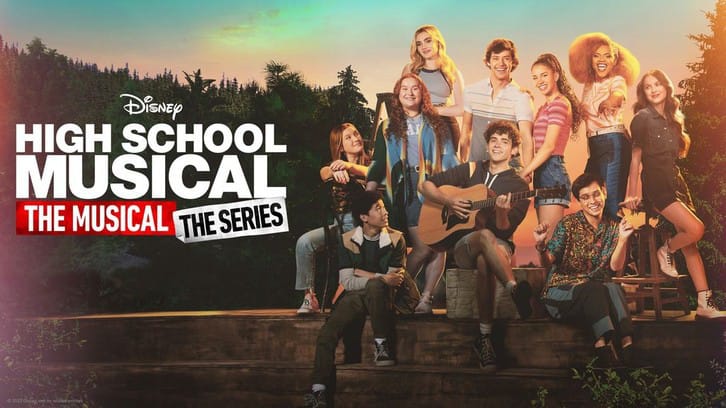 It's opening night for the Wildcats! Without any last minute cast changes this time, but it wouldn't be opening night if something didn't go wrong. Only this season, it's not the Wildcats themselves causing trouble. Let's dive in!
I haven't made it a secret that I really enjoy Gina and EJ's storylines, both as separate characters and as a ship. And this episode was no exception. EJ complimenting Gina on her amazing performance was exactly the kind of quality content I was hoping for when this show started pairing these to up, and it was adorable to see their excitement over their upcoming risotto date! But even that early on, we could already see how the two of them aren't on the same page yet.

EJ made the first move in the previous episode. But despite Gina agreeing to go for dinner with him, he's still hesitant to call it a date. He's still guarding his heart. Gina, on the other hand, does have the confidence to call their dinner a date, which shows she feels more secure in the knowledge that he reciprocates her feelings. In fact, she's almost blissfully happy this entire episode. The only thing that briefly brings down her mood is her mom not showing up again, but her mom makes it up to her right away by sending her a surprise: her brother Jamie.
The two have a sweet reunion that both acknowledges
Jamie's absence in Gina's life and the love that there still is between them. We didn't get to see much of their dynamic, but the little we saw was heartwarming and I really hope we get to see him again in future seasons. It'd be a shame to waste such an amazing guest star. However, Jamie's visit is less enjoyable for EJ. Having no context for EJ and Gina's relationship, Jamie wrongly assumes that EJ is like an older brother figure to Gina. Jamie is so caught up in his own brotherly guilt over always leaving her high and dry that he doesn't notice how hard his words hit EJ. The little confidence that EJ had is shattered and he ends the scene thinking that he has misinterpreted Gina's signs all along. Just like Gina was wondering if she was misinterpreting EJ's signs before the previous episode. It's now up to Gina to make her feelings clear to EJ, and I for one can't wait to see her (hopefully!) get a second chance at confessing her feelings to the boy she likes. With a better outcome, this time. She certainly deserves it.
Supporting Role
This season has made it very clear that the stakes are high for Miss Jenn. With her ex Zack Roy leading the competition, this competition has been very personal her from the start. The pressure of that competition has been slowly getting to her over the season, and she reaches a breaking point in Showtime when Ricky's harness goes missing. Earlier, she gave Ricky and Ashlyn a terrible "motivational" speech, but her telling Ricky to just jump off something high instead of using the missing harness crosses a line. Which she immediately realises, and she removes herself from the situation.
It certainly isn't Miss Jenn's finest moment, but it also made her very human. As a teacher, she should know better than to put such pressure on her students and to make them responsible for fighting her battles. But it's also understandable that she can get caught up in the competition with her ex and that in doing so she's lost sight of the line between bringing out the best in her students and getting them involved in working through her personal issues by putting too much pressure on them. Now it's up to Miss Jenn to find that line again and make amends with her students, who are clearly not doing well under all that pressure.
With Miss Jenn out of the game, the Wildcats are left to fix the mess on their own. In their moment of need, it's Nini who steps up and takes charge. Throughout Showtime, she's been nothing but supportive. She wrote good luck notes to the entire cast and crew, gave Kourtney and Ashlyn the pep talks they needed, and gave the Wildcats a solution for the harness problem. All while playing a fork in the musical. Nini may be looking for a place in the spotlight through her music, but she shines just as brightly when taking on a supporting role for her castmates. Directing suits her, and I really hope the show will explore that role for her more in future seasons.
Enemies or Lovers
It seems we have not one but two budding romances between East and North High. There have been a few hints that something was brewing between Ricky and Lily this season, but Showtime makes it even clearer that Ricky is seeing her differently. He looks for her in the audience several times during the musical. After their few interactions in which Lily could relate to his home situation, it's clear Ricky is starting to see her in a new light. He
even tells Big Red that he's not sure if she's as bad as they thought.
Unfortunately for him, she immediately proves him wrong, as the end of the episode reveals that she's the one who stole his harness.
Kourtney is facing similar issues with Howie. After seeing his talent during his performance at North High, Kourtney is full on crushing on him again. But just as she's seeing something that wasn't there before, Howie starts acting strange. Kourtney thinks it's about her own performance, but I have a sneaking suspicion that Howie's odd behaviour in the hallway is related to the missing harness. I wouldn't be surprised if he's involved in that plot too, which would throw an interesting obstacle at Kourtney and Howie's relationship. Can they overcome him actively choosing to sabotage East High?
Speaking of East High, I just want to take a moment and praise their rendition of Beauty and the Beast. The sets and costumes were amazing, and I have not been able to stop rewatching Be Our Guest and Something There all week! Especially Kourtney's solo in Be Our Guest was incredibly sung and performed. If East High does win that Menkie, I'd say it's well deserved!
Additional thoughts:
- This show does love its mysterious phone calls/texts in the penultimate episode of the season. I wonder what news Mr Mazzara received during Something There.
- On a similar note: what's Big Red's side hustle project in the south hallway? I love how this show subtly sets up things for the finale every season, and I'm excited to see the pay-off!
What did you think of Showtime? Let us know in the comments!