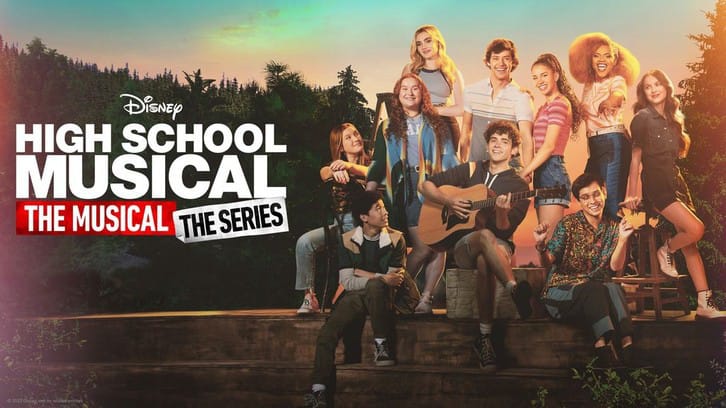 This week's episode was all about love and identity, as the Wildcats focussed on their relationships and Career Day after rehearsals for Beauty and the Beast were shut down for one week. Let's dive in and examine how these relationships grew or changed!
Ricky and Nini Nina
Ricky and Nini may not be in a long distance relationship anymore, but the emotional distance between them has only grown with each episode since Nini's return. This comes to a head in Most Likely To. Ricky is struggling with all the changes in his life and holding on to the last remnant of his past for dear life, which is Nini. But Nini is ready for change, which Ricky struggles with. Nini changing her name to Nina and starting an Instagram page for her music without telling him doesn't sit well with him. They talk about it and Nini tries to get him on board with her new path in life by showing him the comments on her Instagram page. This leads to Ricky making a huge mistake: he deletes a comment that could have been a huge career opportunity for her.
Ricky is faced with the choice to stay silent and keep things the same between him and Nini or to tell her about what he did and risk their relationship falling apart. As he talks to Big Red, he keeps saying everything will be fine if he comes clean to Nini, but this insistence only tells us that he is covering up what he really fears: that everything won't be fine and that things will change. On top of that, his career aptitude test gave him no potential paths in life. Ricky is stuck in the past with no way forward and no control over his life or the people in it.
The situation further escalates when Nini reveals that Ricky wasn't the main reason she came back. Their real feelings come spilling out, and it all leads them to the place where their romantic relationship began: Nini's treehouse. A conversation about their past is followed by what I think is the most mature breakup I've ever seen between two teenage characters. After Ricky comes clean about deleting the comment, Ricky and Nini both acknowledge that they haven't brought out the best in each other lately and that they don't want to hold they other back. So, in a heartbreaking scene, they decide to let each other go.
After watching Gina feel alone and rejected for most of the season, it's very refreshing to see her develop a relationship with a boy who actually pays attention to her and checks in on how she's feeling. EJ and Gina have grown closer since pretending to be a couple at North High and now have a comfortable friendship. But despite EJ's claim that they're just friends, it's clear that something more is brewing underneath the surface as we watch them joke and laugh with each other throughout the episode.

Part of what attracts Gina to Ricky is that they both have to deal with massive changes in their life and can't control any of it. They can relate to each other. But when Gina and EJ talk at Ashlyn's place, she comes to see that she doesn't need that similar experience to connect with someone. While she and EJ come from very different backgrounds, their different experiences are what allow them to see the best in each other and lift each other up. As they tell each other what they see when they look at the other person, they give each other the confidence boost they both needed this season.
This pushes EJ to finally tell his father that he doesn't want to go to Duke. He's ready to forge his own path in life, and I'm excited to see where it'll lead him! Just as I'm excited to see where his relationship with Gina is headed.
Kourtney and Howie
Kourtney has a strong sense of self-worth, which has always been amazing to see and is so important to show to younger audiences. It's wonderful to see her choose herself over her relationship with Howie.
Trust is very important in any relationship and Kourtney deserves the truth from her romantic partner.
But I also understand where Howie is coming from and he makes a good point when he tells Kourtney that he did let her see the real him. His school doesn't define him. Plus, he spends the entire episode working hard to show her that she can rely on him and that he's willing to change for the better for her.
All of this makes it easy to root for him when he sings If I Can't Love Her to Kourtney in the hopes of changing her mind. Whether she does remains to be seen.
Big Red and Ashlyn
Similar to Ricky and Nini, Big Red and Ashlyn feel disconnected this episode after Ashlyn makes the wrong assumptions about Big Red's career aspirations. She encourages him to dream bigger than his career aptitude test results, but doesn't think to ask him what he wants in life. Later, she presents him with a board on which she has collected various career options for him, all of which involve him reaching the top of his field. This only fuels the insecurity about not being enough for her Big Red has been feeling, so he leaves.
This storyline too is handled in a mature way. At the end of the episode, Ashlyn has come to realise that she shouldn't project her own big aspirations onto Big Red. Instead, she shows up at his house, wearing a shirt of his parents' pizzeria. It's her way of showing that she supports his aspirations. They make up with a sweet hug and end the episode watching TV together while comforting Ricky.
Benjamin and Miss Jen
Miss Jen feels a little lost and insecure now that she's officially started competing with North High. So much so that she thinks she needs a back-up career option for herself and ropes Benjamin into helping her film an audition tape for a commercial. But she struggles with the one line she's given, which only fuels her self-doubt. Benjamin takes note of this and finds a way to get her to say the line in a way that brings out her best performance. Like a true director.
Both Benjamin and Miss Jen end up boosting each other's confidence in this episode and support the other in following their dreams. Which, as this episode shows us, is essential in any good romantic relationship. Or any relationship, for that matter. Everyone needs that kind of support to become the best versions of themselves.

What did you think of Most Likely To? Let us know in the comments!