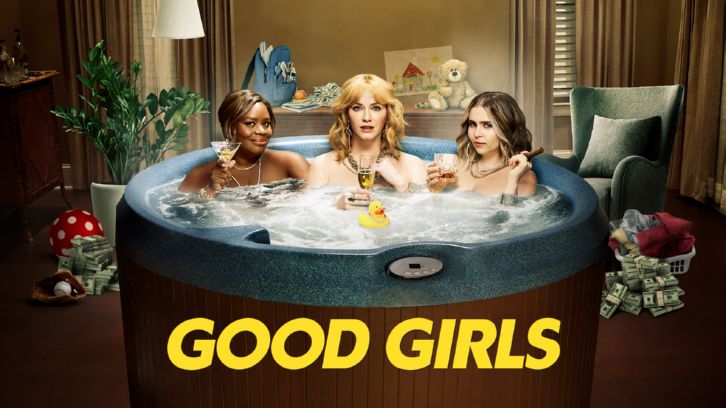 After a fairly entertaining and fast-paced outing last week, Good Girls pressed the breaks a bit this week. While the story did move forward, the outing felt filler-ish and only prolonged the uninvestable.
While the focus of the episode was properly divided between the leading girls, after last week's event the show started to dig into the consequences of what happened to Annie (Mae Whitman). The slight beginning of PTSD are sneaking up on Annie and as always Mae Whitman is wickedly charming in her attempt to stay out of life-threatening danger. Annie's childish couping mechanisms provide a couple of laughs but also balance out the episode well and give more depth to the story told so far. Kevin was also present and gave some support to Annie during these times, and while I enjoy the on-screen moments between Annie and Kevin, I wished that they would step away from the "boyfriend" for Annie trope. Like they are inept to write a story for Annie without her making googly eyes at a basic white boy.
Besides working through her fears, Annie worked with the other two girls to get rid of the shackles that put her in a freezer last week. Unsuccessfully of course. Yet, our 3 leading ladies did secure some independence with their attempt to reopen the Strip club. In usual Good girls' fashion, things get fairly complicated and the girls work their charms to get their new business venture to fruition. This story as expected involves Nick, who is rather smitten with Beth or is working with her like the player his smiles tell us he is. The verdict is still unknown, to us or the writers I assume.
Meanwhile, Ruby was in the dark about Stan joining Dean's very culty alliance. And by saying culty, I mean full-on slasher movie summer camp cult. Breckin Meyer as Vance not only is going on my nerves but is also very creepy and intimidating. For Dean being this gullible and naive is expected, but Stan falling for this play is honestly frustrating. And while Vance is a well versed player, Stan is fairly long in the game. The imminent clash between these two should provide some good fun. I do hope this story will unfold in the remaining episodes of season 4 and wasn't planned for the ill faithed fifth season.
Other Tidbits:
- Girl power is going strong, no matter if in a bathtub or strip club the show gives a major shout-out to women supporting women.
- Vance and Boyscouts a much funnier combination than expected.
- Stanimal is getting a new side hustle, let's hope we see him do that thang.
That is a wrap on my side guys. Hope you enjoy the episode airing 10/9 Central on NBC.